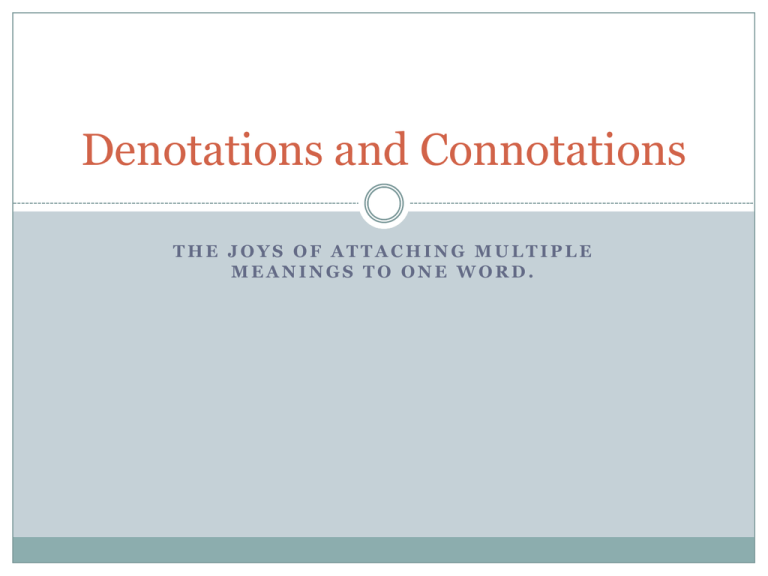 Denotations and Connotations
THE JOYS OF ATTACHING MULTIPLE
MEANINGS TO ONE WORD.
Which word in each group has the most
"romantic" connotations?
 Horse, steed, nag
 King, ruler, tyrant, autocrat
 Chicago, Pittsburgh, Samarkand,
Detroit
Which word in each group is the most
emotionally connotative?
 Female parents, mother, dam
 Offspring, children, progeny
 Brother, sibling
VOLUNTEERS!
 I will need three groups of four.
 Arrange the words in each of the following groups
from most positive to most negative in connotation
Of the following, which should you be less
offended at being accused of?
 Having acted foolishly
 Having acted like a fool
Like archetypes, denotations and connotations
are controlled by context
 What denotation has the word fast in the following
contexts:
 Fast runner
 Fast color
 Fast living
 Fast day
 What are the varying connotations of these four
denotations of fast?
Same denotation, but different connotations?
 First of all, do you think this is possible?
 Examples:

The young princess had blue eyes, golden hair, and a
breast as white as snow.

Confronted with the evidence, the false princess turned as
white as a sheet.
 Connotations? Discuss contexts.
To recap
 Words matter.
 Always consider denotations and connotations of
words.
 Pay attention to context.
 Be on the look out for irony.
 Don't know all of the denotations of a word? Use a
dictionary.