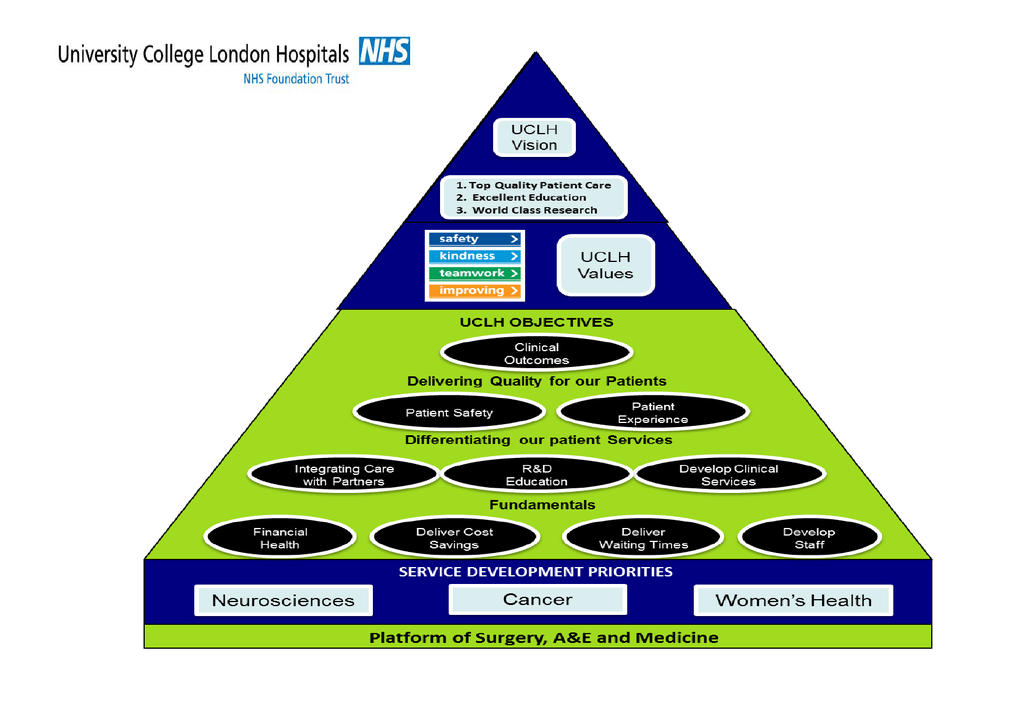 ALISON CLEMENTS
[email protected] Service
19TH
JUNE 2014
/// APRIL 13, 2015
Presentation format
UCLH Stratification of Care
[email protected] background
Partnering with Healthcare at Home
[email protected] service model
UCLH Stratification of Care
Acute Care = Daily access to consultant level advice & intensive nursing/therapy/diagnostic
support
Intermediate care – "hotel +" = Consultant oversight and "risk management" with community
teams
Hotel + ambulant care = Eg Cotton Rooms 'patient hotel'
Hospital at home/Home IV/Outreach v In reach
Augmented self care
Self care
[email protected] Background
30% of patients treated in acute care should be cared for in alternative settings
In our physical acute beds, we should only have patients needing daily consultant review, and
needing access to intensive nursing/therapy/diagnostics support 24/7. In all other circumstances we
need to assess whether care can be facilitated or delivered in another, better value context for the
patient and their carers.
Increasing demand for our physical beds – high occupancy - delays
Stratification of care – implementing the pathways that reduce acute hospital bed stays
Working with CCGs, community health & social care providers, Internal [email protected] service,
Jubilee Ward, Evergreen Ward, OPAT
HaH scoping work May 2013 – potential for 30+ beds worth of post acute patient care provided in
patients' own home – prior to final discharge to GP and/or community teams.
Tender exercise, EB and Trust Board approval – partnership working with Healthcare at Home
A partner with expertise & experience
The two leading specialists in acute home healthcare
Recovery at Home services operating at 17 NHS acute trusts across England
National coverage, local presence
Comprehensive clinical governance framework
24/7 patient support
Local requirements – partnership and integration
A partner with geographical reach.
[email protected] Service Model Overview
Care closer to home: Medically stable patients complete their acute care
pathway in their own home
Core service hours 0700-2200, 7 days per week
Support to patients 24/7: Patient, carer & clinician access to a nurse lead
24hr telephone support centre
Service works collaboratively with existing health and social care
providers, and does not duplicate existing services
Patients are discharged from the service to their GP / community services
[email protected] Service Model Overview
All clinical staff employed are jointly recruited through a UCLH value based recruitment process ,
undertaking UCLH assessment centre process.
All clinical staff employed will comply with UCLH clinical governance arrangements and follow UCLH
Clinical Policies and Procedures.
UCLH hospital Consultants retain clinical responsibility of the patients and will be able to undertake
virtual ward rounds as all clinical care given in the home is recorded electronically and will be available
on the UCLH electronic patient record for the clinical team to view on a daily basis.
On site nurse case finders will work with clinical teams to actively identify suitable patients for
transfer to [email protected] service
Multidisciplinary field team will provide the care for patients in their own homes
The [email protected] service will be managed by the Integration Division
Patient Outcomes
Evidence from current services Healthcare at Home support produce good patient experience and
outcomes:
•
98% patients report being satisfied or very satisfied with the service
•
<2% unplanned transfer back rate whilst on service*
•
<2% emergency 30 day re-admissions rate*
Although difficult to quantify, improving patient flow by introducing a post acute care at home
service can:
•
Facilitate elective surgery work - Good Hope Hospital has seen cancelled operations reduce by
43%
•
Improve management of 'outliers' – ie less patients have to be admitted to incorrect acute bed
base,
•
Reduce delays for patients being admitted from the emergency department
Notes: * for University Hospital Southampton FT service
What the patients say…
Stakeholder Engagement
Extensive clinical engagement within Trust
•
clinical directors and lead consultants, junior doctors, senior nurses, matrons, nurse specialists,
therapy staff, charge nurses
Engagement with various supporting teams and departments e.g.
•
discharge coordination, OPAT, bed management/operations, therapies/equipment, pharmacy, IT,
communications, clinical coding, performance & information
Engagement with Patients
•
UCLH patient forum helping with patient leaflet design, attendance at local area patient groups
Engagement with GPs, CCGs, community services, social services e.g.
•
Camden and Islington GPs helping with discharge process design, district nursing, community
rehab, specialist community nursing teams working with us to ensure seamless discharge to their
services.