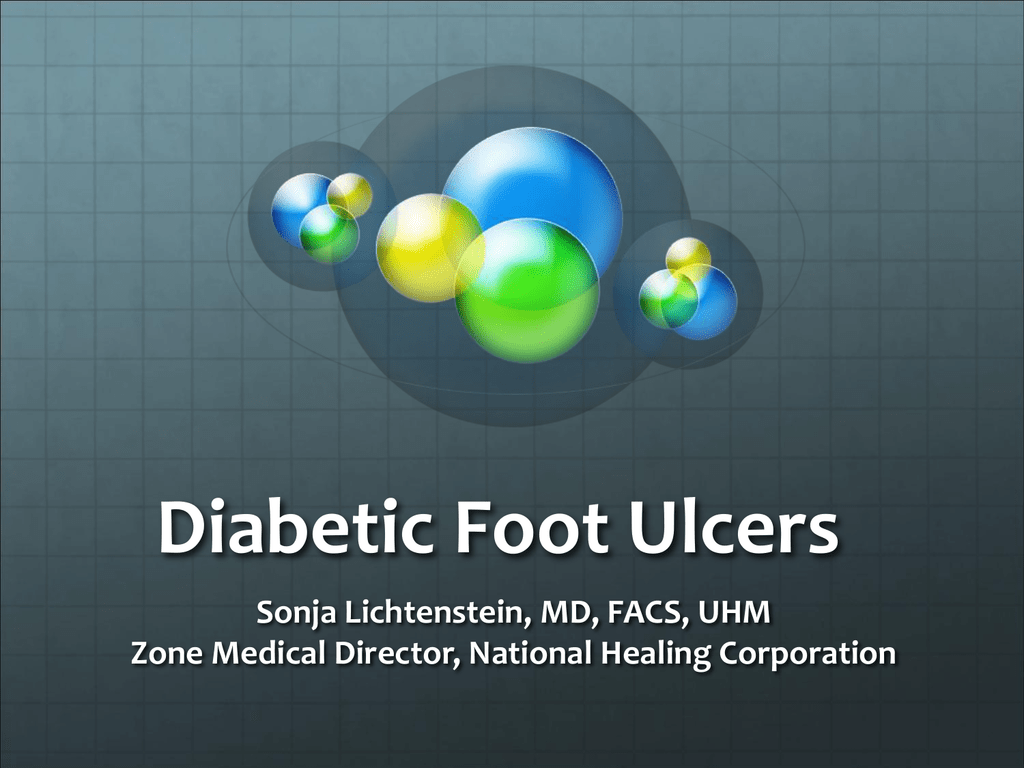 Diabetic Foot Ulcers
Sonja Lichtenstein, MD, FACS, UHM
Zone Medical Director, National Healing Corporation
Objectives
Review the risk factors for development of diabetic
foot ulcers
Methods to use to help prevent diabetic foot ulcers
Basic management of diabetic foot ulcers
Diabetes epidemic
Incidence of diabetes in the world in 2000 was
171,000,000
Projected incidence in 2030 is 366,000,000
In 2010, 12.3% of adults in the United States had
diabetes
Incidence by Country
Society in Transition
Cost in Developed
Countries
25% of diabetic patients develop a foot problem
in their lifetime
2008: estimated 20.8 million with DM in USA
Total of $19bn spent on diabetic foot ulcers
$11bn spent on amputation
Up to $21bn could be saved annually with
practical and effective preventative foot-care
education
Rogers et al, JAPMA,
2008;98:166
Cost in Undeveloped
Countries
2010: estimated 51 million with DM in India
Population-based study from Chennai
Cost of illness study: 4677 subjects screened: 1050
with DM, 718 agreed to take part
Median direct cost for DM $526, indirect $103
Costs increased according to complications
Extrapolated to all India – annual cost of Diabetes in
India – US$32bn.
Tharkar et al, DRCP 2010;89:334
Who is at Risk for
Ulceration?
Neuropathy
Peripheral Vascular Disease
Past history of foot ulceration
Foot deformity
Amputation
Smoking
Poor glycemic control
Callouses
Diabetic Foot Ulcers
63% of all diabetic ulcers are due to a combination of:
Neuropathy
Trauma
Deformity
Many are further complicated by Peripheral Arterial
Disease (PAD) and infectin
How do we screen
patients?
Comprehensive foot exam
HgA1C
History reviewing risk factor
Neuropathy
Incorporates metabolic and vascular defects
Results in neuronal demyelination and atrophy
Motor – muscle atrophy
Autonomic – decrease in perspiration
Sensory – loss of protective sensation
Trauma Resulting from
Neuropathic Changes
Motor neuropathy
Altered gait and foot
deformities
Autonomic
neuropathy
Dry skin and fissures
Sensory neuropathy
Unrecognized trauma
Ill fitting shoes
Stepping on pins,
pebbles, etc
Deformity Resulting
from Neuropathic
Changes
Includes:
Bunions
Hammer-toes
Prominent metatarsal heads
Charcot joint
Deformity Resulting from
Neuropathic Changes
Cause high compressive
& frictional forces
around area of deformity
= skin breakdown
Directly related to ill
fitting footwear
Prevention in Patients
with Neuropathy
Need to screen patient for neuropathy
Test with Semmes-Weinstein
Monofilament
Uses touch pressure sensation by
utilizing a 10 gram monofilament
Defines level of loss-of-protective
sensation
Failed monofilament test defined as
inability to sense 4 of 10 locations
per plantar aspect of the foot
Peripheral Arterial
Disease
• Diabetes Mellitus increases the risk of lower
extremity PAD
• PAD leads to additional healing complications
and increased risk for infection
• One in three patients with diabetes over the age
of 50 has PAD
• The American Diabetes Association recommends
screening for PAD in all diabetic patients older
than 50 years
Screening for PAD
Feeling for pulses at all levels in the lower extremity
ADA/ACC recommend that all those patients
>50 years old should have an annual ABI
Ankle-brachial index
Less than 0.80: abnormal
Less than 0.45: severe, limb-threatening
Absolute toe systolic pressure - less than 45 mmHg is
abnormal
Handheld Doppler
Every patient with a
lower extremity ulcer
receives Hand Held
Doppler assessments
Assesses macrocirculation
Used to auscultate
flow velocity
T.K. Carlson
Structural Deformity
Leads for focal area of high pressure
Due to atrophy of the intrinsic musculature
responsible for stabilizing the toes
Other Factors
Glycemic control
Obesity
Impaired vision
Smoking
Callous
Physician
Responsibilities
Inspect patient's shoes for areas of inadequate
support or improper
Most patients are okay with athletic shoes and thick
absorbent socks
Patients with deformities or special support needs
benefit from custom shoes
Provide education about proper care and follow up
Control blood sugars
Patient Education
Daily foot inspection by the patient or caregiver
Gentle cleansing with soap and water, followed by
topical moisturizers
Minor foot injuries and infections can be
unintentionally exacerbated by home remedies that
impede healing
Avoid hot soaks, heating pads, hydrogen peroxide,
betadine
Cleanse minor wound and apply topical antibiotic to
maintain a moist wound environment
Development of Ulcers
Typically painless, even with severe infection
Often just report soiled socks
A diabetic foot ulcer
should heal if:
There is adequate arterial inflow
Any infection is appropriately managed
Pressure is removed from the wound and its
margins
Diabetic Lower Extremity
Ulcers
Cascade of Events:
• Neuropathy
• Ischemic changes
• Injury
• Massive tissue disruption
(tunneling, undermining, cavity formation)
• Cellular dysfunction leukocytes /
macrophages
• Infection
How Should Diabetic
Foot Ulcers Be
Treated?
Multidisciplinary Approach to Treatment
May involve a number of the following:
Podiatry
Vascular surgery
Dieticians
Infectious disease
Endocrinology
Diabetes Educators
Radiology
Physical Therapy
Orthotist
Nursing
Care Plan Objectives
Determine and Manage Etiologies
Comprehensive History and Physical
Assessment
Non-invasive studies
Management of etiologies
Laboratory Evaluation
Nutrition status
Glucose control
Co-morbid disease management
Ulcer management
Off-loading
Patient Education
Determine and Manage
Etiologies
History and Physical
Patient and their family medical history
History of the ulcer
Thorough assessment of the patient
Lower Extremity Assessment
Semmes Weinstein and Tuning Fork Assesses for neuropathy
Hand-held Doppler - Dorsalis pedis and
posterior tibial pulse signals
Non-invasive studies
Vascular studies
Radiographic studies
Vascular Studies
Transcutaneous Oximetry (TcPO2) – measures the
oxygenation of the tissues around the ulcer
Skin Perfusion Pressure (SPP) - measures the
pressure at which blood flow first returns to the
capillaries following a controlled release of
occlusion from a blood pressure cuff.
Arterial Duplex Ultrasound - Duplex
ultrasonography of the arteries
Ankle-Brachial Index (ABI)/Segmental
Pressures/Toe Pressures - Assess pressure at
multiple levels on the limb or digit
Angiography – invasive study providing detailed
imaging of the arteries
Radiographic
Studies
X-ray – should be performed on all diabetic
foot ulcerations to rule out foreign body
presence
MRI – recommended by ADA as best noninvasive diagnostic imaging for osteomyelitis
Bone Biopsy - the definitive diagnostic study
for osteomyelitis allowing for culture and
sensitivity of the specimen
Management of
Etiologies
PAD and Osteomyelitis are two common
secondary etiologies affecting healing of the
diabetic ulcer
Both must be identified and
corrected/optimized for successful ulcer
healing to occur
Other etiologies also need to be identified and
corrected/optimized for successful ulcer
healing
Ulcer Management
Diagnose and treat underlying
etiologies
Adequate debridement
Dressing choice based on ulcer needs
Treatments that stimulate healing
Negative Pressure Wound Therapy (NPWT)
Biologic products
Bioengineered tissues
Growth factors
Hyperbaric Oxygen Therapy (HBOT)
Offload!!!!
Adequate Debridement
Serial sharp ulcer bed
preparation
Removes senescent
cells, necrotic tissue,
converts a chronic ulcer
to an acute wound,
re-initiates healing
cascade
Centers that utilize sharp
debridement exhibit the
highest degree of
healing.
T.K. Carlson
Approaches to ulcer
Care For the Diabetic
Patient
Simple dressings that meet the needs of the ulcer
Antimicrobial therapy – topically and systemically
Advanced Treatment Modalities
Growth Factors
Bio-engineered Tissue
Negative Pressure Wound Therapy
Hyperbaric Oxygen Therapy
Plastic surgery – skin grafts/flaps
Advanced Treatment
Modalities
Advanced dressings can reduce costs up to
50% particularly when you consider the
cost of an infection
Utilizing the wrong dressing can increase
the cost of treating ulcers and cause
further complications for the patient
Thoroughly assess the "state of the ulcer
bed" before prescribing treatment
plan/dressings
Nothing works well on the DFU without
proper offloading
Off-Loading: A
Standard of Care
Proper off-loading:
Reduces pressure
Reduces shear
Reduces shock
Transfers weigh from sensitive or painful areas
Corrects or supports flexible deformities
Accommodates fixed deformities
Off-Loading: A
Standard of Care
Off-loading includes:
Rest/elevation
Felt/foam
Multi- podus splint/boot
Removable cast walker/walking boot
Total contact casting (TCC)
Wedge shoe
Surgical shoe with pressure relief insole
Other assistive devices used in addition
Crutches
Wheelchairs
Walkers
Orthotic For Ulcers
That Don't Heal
Orthotics For Ulcers That
Do Heal
Therapeutic
footwear should be
placed upon healing
Prevents recurrence
Accommodates
deformities
Distributes the
pressure equally
throughout the foot
(The image is a copyrighted product of AAWC (www.aawconline.org) and has been reproduced with permission)
Patient Education
Must take an active role in their care
Ulcer management
Routine nail care
Disease management
Decreases the chance of reoccurrence
Foot hygiene
Daily inspection
Proper footwear
Prompt treatment of new lesions
Elective surgery to correct structural
deformities before ulcerations occur
(The image is a copyrighted product of AAWC (www.aawconline.org) and has been reproduced with permission)
Summarizing the
Information
With the increase in diabetes in both the
younger and aging population, we are at risk for
greater complications
Total National Annual Cost: $174 billion dollars.5
Common causes of Diabetic Foot Ulcers include:
neuropathy, trauma, deformity, high plantar
pressures
Common secondary etiologies include:
peripheral arterial disease (PAD) and
osteomyelitis
Summarizing the
Information
Treatment Objectives of Diabetic foot
ulcers
Determine and manage the etiologies
Establish blood supply
Off-loading followed by therapeutic footwear
upon healing
Patient education
Off-loading the pressure at the site of the
ulcer is a standard of care
Summarizing the
Information
Treating the diabetic foot often includes:
Debridement (clinical and/or surgical)
Advanced treatment options
HBO
NPWT
Biologic products:
Growth factors
Bio-engineered tissues
Diabetic patients must be active
participants in their care to decrease the
chance of reoccurrence
Thank You For
Your Attention
Any Questions?