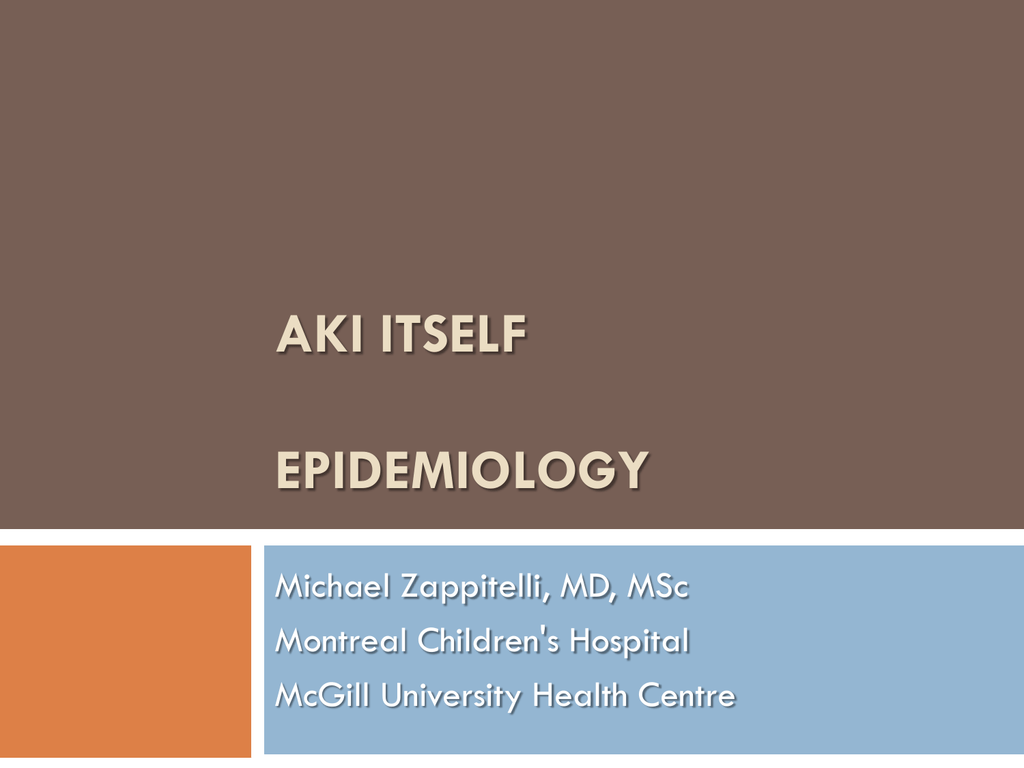 AKI ITSELF
EPIDEMIOLOGY
Michael Zappitelli, MD, MSc
Montreal Children's Hospital
McGill University Health Centre
Epidemiology: Distribution and patterns of



Health-events
Health-characteristics
Their causes, determinants or influences in welldefined populations
AKI
Who, What, When, Where, Why and How?
Past: Pediatric AKI studies
Mostly studies of RRT requirement: rare
Small
Retrospective
Poor outcome
Lack of
understanding of
severity spectrum
Pediatric acute RRT is not easy!
Studies on acute
RRT technique
Pediatric RRT
refinement
Experience
description
Past: Pediatric AKI studies
Pre-2004:
 Descriptions of specific diagnoses 



HUS
Malaria
Glomerulonephritis
Bee stings!!
Changes with Era's
HUS: >25% to ~15%
Heme-Onc: 8 to ~18%
Sepsis:No change (~1/5)
Williams et al, Arch Ped Adolesc Med, 2002
Changes with Era's
Williams et al, Arch Ped Adolesc Med, 2002
Moghal et al, Clin Nephrol 1998
UK, 1984-1991
 52% of AKI referred cases either HUS or "primary renal disease"
 Most patients requiring RRT: "primary renal disease"
DEFINITIONS
Pediatric AKI – around the world!
AKI or AKI recognition may be increasing
Vachvanichsanong et al, Pediatrics, 2006
THAILAND
Overview
Epidemiology Today
Studies using recent definitions
Incidence
Characteristics, patterns
Outcomes, mortality
Highlighting:
Different regions
Studies reporting RRT need
Incidence
Characteristics
Mortality
Diagnostic populations
AKI- using definitions
X X
Goodbye
Incidence: PICU full cohort studies
USA
N=3396
No severe
CKD
Creat
Turkey
N=189
No severe
CKD
Creat
Kayaz et al, Acta Pediatr, 2012
Schneider et al, Ped Crit Care, 2010
Incidence: PICU partial cohort studies
Canada
N=2106
≥12 hours
Creat
USA
N=150
Vent and/or Vaso,
Foley
Urine
Alkandari Creat
et al, +
Crit
Care, 2011
Plotz et al, Intens Care Med, 2008
North India
Netherlands
N=486
N=189
>24≥4
hours,
Vent
days
NO severe
Admx
Creat
Urine AKI
South+India
Creat
N=215
>48 hours
Creat + Urine
Mehta, et al, Ind Ped, 2012
Ackan-Arikan, Ped Crit Care, 2007
Krishnamoorthy, et al, Ind J Ped, 2012
Incidence: Cardiac
2 Canadian studies (646)
Morgan, j Ped, 2012
Zappitelli, KI, 2009
4 US studies (1594)
Manrique, Ped Anesth, 2009
Li, Crit Care Med, 2011
Aydin, Ann Thorac Surg, 2012
Blinder, J Thor Card Surg, 2012
1 Hungarian study (1510)
Toth, Card Anethes, 2012
1 Indian study (124)
Sethi, Clin Exp Nephrol, 2011
Incidence: Nephrotoxins
Vancomycin ≥2 days
N=167
Aminoglycosides ≥5 days
N=557
100
100
80
80
Increasing numbers (≥3)
60 of NTM used
pRIFLE
creat
Increases risk for
AKI in 40
non-ICU children
20
Moffett & Goldstein, CJASN,
2011
60
40
20
0
No AKI
R
I
F
Zappitelli et al, NDT, 2011
~pRIFLE
creat
0
No AKI
AKI
McKamy et al, J Peds, 2012
? independent of ICU/other drugs?
Smyth et al, Thorax, 2008
Case-control study, CF
24 AKI (UK CF Database)
IV Aminoglycoside independent RF
Incidence: Stem cell transplant
& other cancers

Most commonly expressed as SCr doubling

Generally determined 30-100 days post

Range from 5 to 40%!

Many nephrotoxins, critical illness, sepsis

Better understanding of AKI spectrum needed
RRT-requiring AKI
X X
Goodbye
Incidence of D-AKI
Cardiac surgery: 0 to 31%!
~1%
~6%
5-6%
~1-3%
1-2%
~4%
PD>> others
RRT-AKI Mortality high everywhere (almost!)
50-60%
25-50%
42-67%
52-77%
40-45%
40%
33-65%
64%
36%
11%
Characteristics, patterns

AKI due to other causes >>> primary renal disease

Developing countries:
More importance of primary renal disease, Malaria, HUS
 However, now secondary causes emerging


"TOP HITS" around room:
"ATN"
 "Hypovolemia"
 Sepsis
 Nephrotoxic medication – almost always significant when looked at!!
 Heme-Onc
 Cardiac surgery


Majority have multiple organ dysfunction
Characteristics, patterns
Characteristics, patterns
AKI OCCURS EARLY
Distribution of the day of admission that subjects reached pRIFLEmax
(n=123) and pRIFLE F stratum (n=31).
Confirmed in several other larger epidemiologic cohort studies
Outcome associations

In repeated studies last 5 years:

AKI independently associated with





PICU mortality
Length of stay
Duration of mechanical ventilation
Graded response: Stage 1 worse than 2 worse than 3
A few studies: associated with higher costs
Difficult to REALLY know if independent of illness severity
Importance of all these studies
Paradigm changed
PAST


Only severe AKI, requiring
RRT is of serious significance.
AKI is a marker of disease
severity.
CURRENT




People die WITH AKI, not
BECAUSE of AKI.
AKI is a spectrum of disease:
worse AKI = more significance
AKI is more likely and worse,
with increasing illness severity.
AKI itself may be an
independent contributor to
poor outcome.