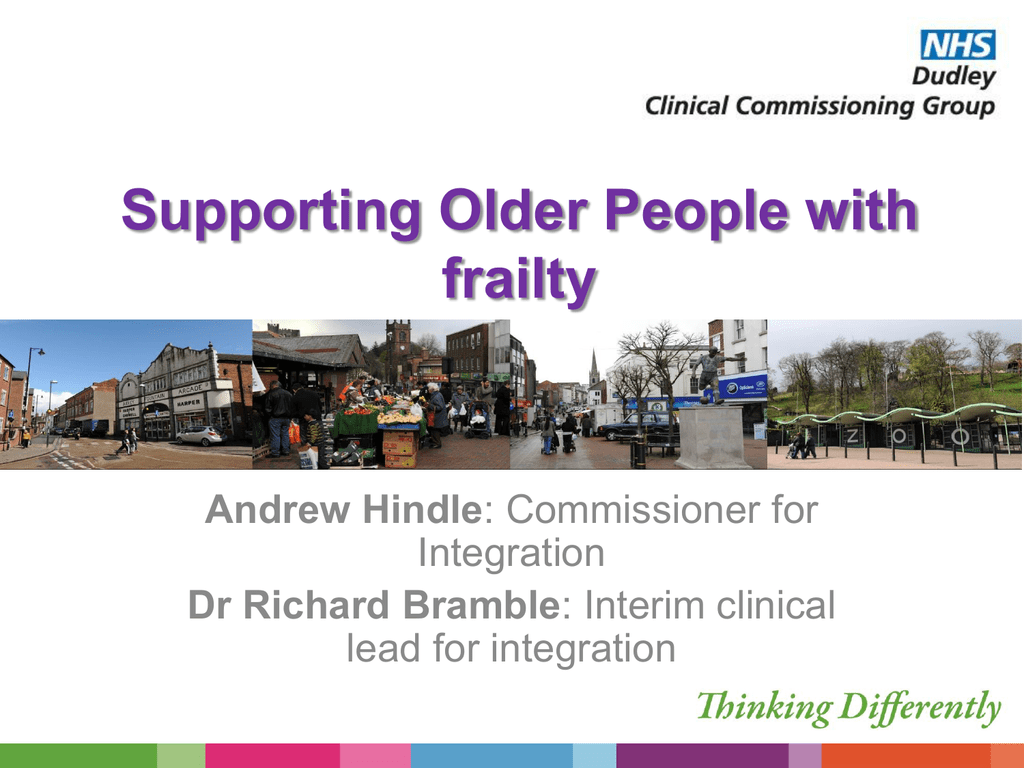 Supporting Older People with
frailty
Andrew Hindle: Commissioner for
Integration
Dr Richard Bramble: Interim clinical
lead for integration
Facts and figures for 2012/2013




19,500+ over 65 arrived at ED
14,500 admissions over 65
10,000+ over 75
85% arrived by ambulance
What are we doing?
 Commissioning a new 'Community Rapid
Response Team' for frail elderly
 A team of eight Advanced Nurse
Practitioners
 Combined with social care professionals
 Improved interface with
primary/community and secondary care
Community Rapid Response Team for Older People with Frailty
Patient seen or contacted by
WMAS
NHS 111
GP
Out of Hours
Virtual Ward
Single Point of Access for
Advanced Nurse Practitioner
Calls Triaged
(1) Refer to ANP for priority assessment
(2) Health/Social Care assistants undertake a preliminary assessment
Care Passport
Assessment By ANP or Care Home Practitioner
Admit to EAU
- Initiate treatment → 48-72 hours (GP informed)
- Initiate care package → up to 7 days (then review)
- Rehab assessment → refer to OT if appropriate
- Night sitting service (MBC Peripatetic) or GP respite
- Refer if appropriate to MDT (specialist teams), CMHTOP, palliative care
Palliative Care Nurse
MacMillan Nurse
Respiratory EOL Nurse
Care Home Palliative Nurses
Discharge to: (1) Step down to care of VW/Community Nursing/GP (2) Respite (3) Community Geriatrician
A new integrated care approach




Teams working together in 5 localities
Caring for the same group of patients
Via a single point of access
To start with health teams from April 1st
then later with social care
 Move to 7 day working
 Identifying people via risk stratification
A new integrated care approach
 Integrated care group: involving older
people's experiences to be meaningful
 Increase CCG support for carers
 CCG working with Age UK Dudley to identify
older people who are lonely and isolated and
provide support services.
 Increase support for palliative care
 advance care plans to avoid unwanted
admissions
 Risk stratification
A new model of care
Questions
?
Discussion
 What do you think of the changes we are
taking forward?
 What would you like to see to support
older people with frailty?