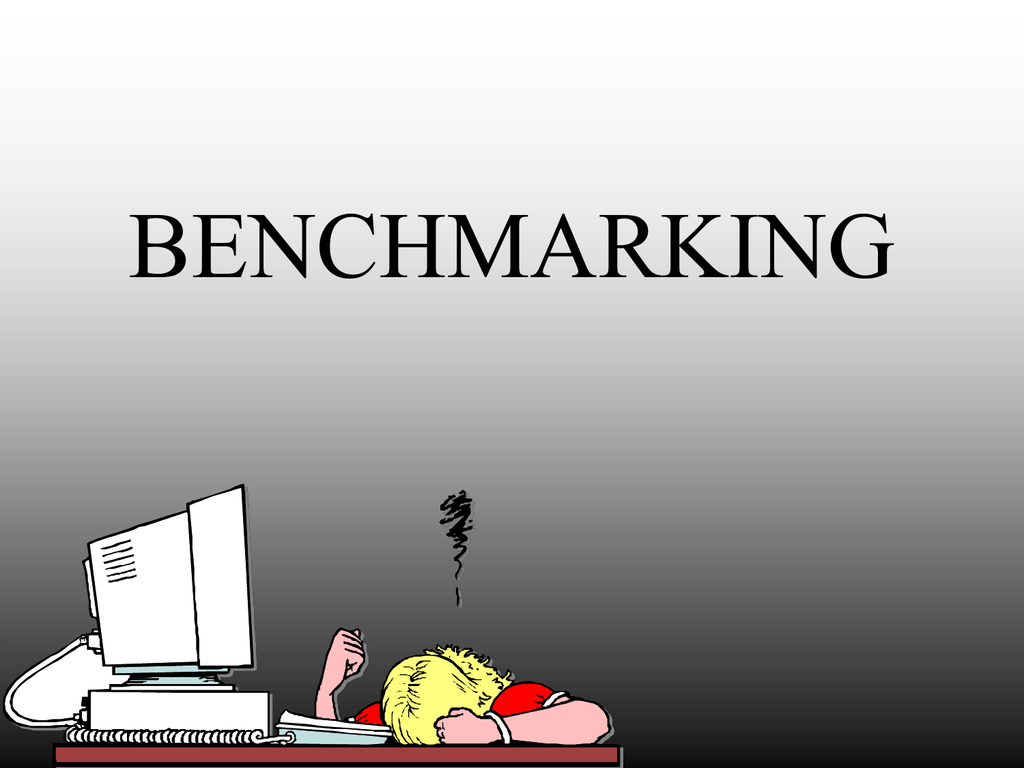 BENCHMARKING
Definition
• The process of
establishing a standard of
excellence and
comparing your center's
business or clinical
functioning to that
standard of excellence.
Internal Benchmarking
• Identify key areas you
would like to monitor.
• Set a standard for each of
those areas.
• Compare your actual
performance with the
goal you have set for
your organization.
Common areas for internal
benchmarking
•
•
•
•
•
•
Infections
Complications
Returns to surgery
PONV
Pain control
Admits within 24 hours
of discharge
Internal Benchmarks
• Compare your
performance quarterly
with your goal
• Use the results as topics
for a QI study
• Report results to the
Governing Body
External Benchmarking
• Choosing performance
measures that are
appropriate for
improving processes or
outcomes of care relevant
to the patient population
served and comparing
them to local, state or
national quality measures
Opportunities for Benchmarking
•
•
•
•
•
•
•
•
ASC Association
AAAHC
Surgical Outcomes
Literature
MGMA
Specialty organizations
Other like centers in the area
National Corporations
Common areas for External
Benchmarking
•
•
•
•
•
•
•
OR times
Turnover times
Patient Satisfaction
Infections
Employee Satisfaction
Discharge delays
Returns to Surgery
Benchmarking
• Most External
Benchmarking groups
allow you to choose
which elements you
would like to benchmark
against.
Data
• Your benchmarking is only as
good as the data you use. Ensure
the validity of the data
• Collect and analyze data related to
specific measures
• Compare your performance
with the quality measure
• If your center falls below the
benchmark, implement change
Benchmarking
• Demonstrate a sustained
improvement over time
• Report results to the
Governing Body.
CMS
• Quality Reporting Program will
provide areas opportunities for
Benchmarking
• Patient Burns
• Patient Falls
• Wrong site surgery, wrong
patient, procedure, implant
• Hospital admission/transfer
• Prophylactic IV antibiotic timing
CMS
• Use of Safety Checklist
• Volume of certain
procedures
• Influenza vaccination
coverage among health
care workers.
• THANK YOU
VERY MUCH
AND I HOPE TO
SEE YOU SOON!