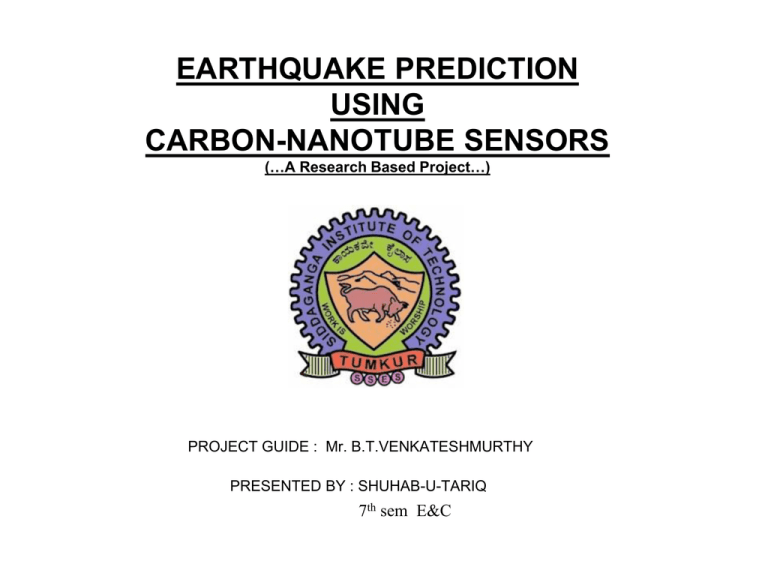 EARTHQUAKE PREDICTION
USING
CARBON-NANOTUBE SENSORS
(…A Research Based Project…)
PROJECT GUIDE : Mr. B.T.VENKATESHMURTHY
PRESENTED BY : SHUHAB-U-TARIQ
7th sem E&C
INTRODUCTION
• Earthquakes…
What ?
Why ?
How ?
• Carbon Nanotubes
Definition
Structure
Properties
EARTHQUAKES
• Vibration of the Earth produced by a rapid release of
energy.
• Occur principally by the sudden displacement on faults.
• Caused by plate movement at subduction zones or other
fault lines.
• Theory of Plate Tectonics
• Rigid plates that collide, separate and then translate.
CARBON NANOTUBES
• Extremely thin hollow
cylinders made of
carbon atoms.
• diameter is about
10,000 times smaller
than a human hair !
PROPERTIES
• Size :
0.6 to 1.8 nanometer in diameter
• Density :
1.33 to 1.40 grams per cubic centimeter
• Tensile strength :
• Resilience :
45 billion pascals
Can be bent at large angles and
restraightened without damage
• Current carrying capacity : Estimated at a 1
billion amps per
square centimeter
PROPERTIES CONTD.
• Field emission :
Can activate phosphors at1 to 3
volts if electrodes are spaced 1 micron apart
• Heat transmission :
Predicted to be as high
as 6,000 watts per meter per kelvin at room temperature
• Temperature stability :
Stable up to 2,800
degrees Celsius in vacuum, 750degrees C in air
• Cost :
$1,500 per gram from Bucky USA in Houston
Effect of Twisting on Nanotube
Electronic Structure:
• the metallic nanotube to a
semiconducting one with
a band-gap that varies
with the twist angle.
Effect of bending:
• Variation of the local density of states (LDOS) along the
length of a (6,6) nanotube as a function of the bending
angle.
Implementation of C nanotube:
• Wheatstone Bridge
Subjecting the circuit to
suitable Frequency vibrations
due to which there should be a
significant change in electrical
property of C-nanotubes
resulting the bridge
unbalanced.
Rx = C - Nanotube sensor
CONCLUSION :
• Detect the precursor waves that precede
any surface or destructive earthquake.
• Earthquake prediction is accomplished
and a significant loss of life and property
could be reduced .