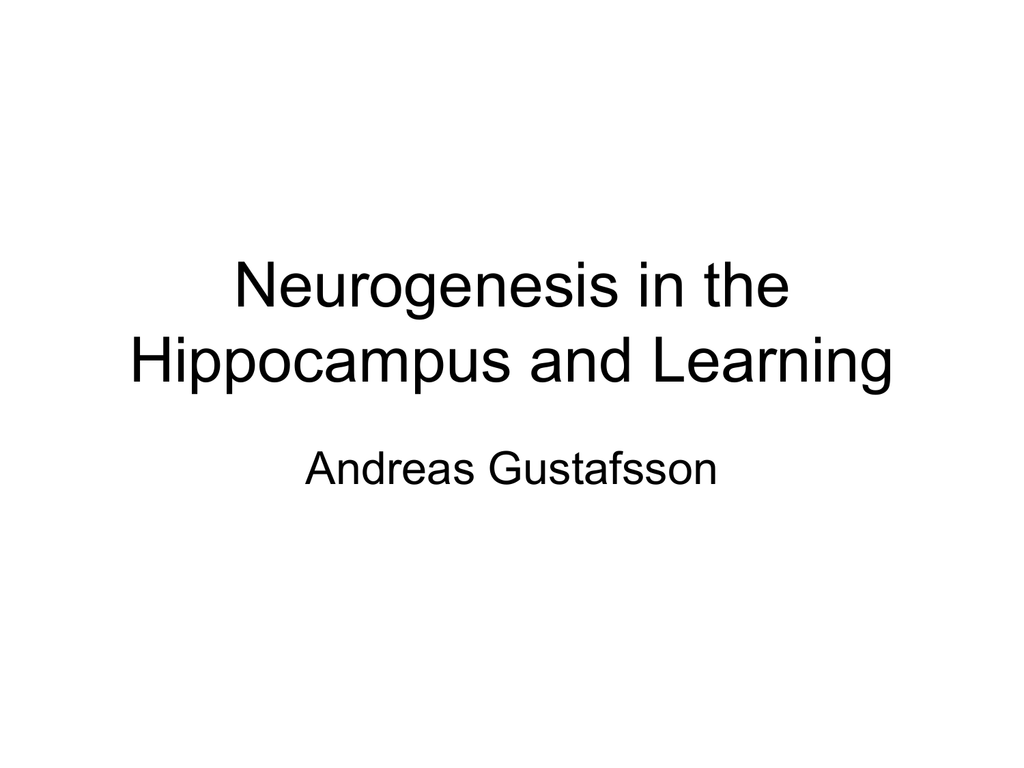 Neurogenesis in the
Hippocampus and Learning
Andreas Gustafsson
http://www.bris.ac.uk/Depts/Synaptic/info/pathway/figs/hippoca
mpus.gif
Hippocampus Shows Spatial
Learning
Place specific behavior is observed in CA3 and CA1, as
well as the Entorhinal cortex (Fyhn)
Cartoon Wiring of the
Hippocampus
EC- Entorhinal Cortex
DG –Dentate Gyrus
SUB – Subicular areas
SI – Sensory Information
Dentate Gyrus
• A portion of the hippocampus
• Three layers- molecular, granule, hilus
• Granule Cells have axons that synapse on
CA3 pyramidal cells
• Recent Studies have shown that the
dentate gyrus undergoes adult
neurogenesis, on the order of thousands
of cells (Cameron)
What are these new cells doing?
• What are the thousands of new cells
generated each day doing?
• What are they responsible for?
• Is it important for memory?
General Approach
1) Block cell division
2) Measure behavioral effect
3) Show anatomical difference between
treated and control animals
Methods
• BrdU – labeled thymidine analog, indicates
mitosis
• Irradiation- kills proliferating cells (Snyder)
• MAM – methylates DNA, preventing
mitosis (Bruel-Jungerman)
Methods
• Water Maze (Snyder)
• Behavior in a novel environment(BruelJungerman)
Cell Staining is Pretty
Behavioral Change
From Bruel-Jungerman
Effect of Environmental Enrichment
and MAM treatment- Cell Count
Water Maze Training
(Snyder)
Conclusions
• Neurogenesis of granule cells is
necessary for long term learning,
seemingly on a two week time course.
• Neurogenesis is promoted by an enriched
environment.
Pathologies Associated with
Aberrant Granule Cell Behavior
• Epileptic patients and model systems
show different granule cell behavior and
morphology. This observation begs the
question "Why?"
Normal Granule Cell Proliferation
Shapiro
Epileptic Phenotype
• A seizer seems to generate to two new cell
types: hilar ectopic granule cells (HEGC)
and and cells with hilar basal dendrites
(HBD)
Epileptic Granule Cell Proliferation
Shapiro
Hypothesis
• The event of a seizure causes massive
cell death in the hilar layer.
• Granule cells, which are always dividing,
fill in the gaps in the hilar layer.
• Abberant placement of granule cells leads
to recurrent excitatory loops.
References
•
•
•
•
•
•
Spatial Representation in the Entorhinal Cortex, Marianne Fyhn, Sturla
Molden, Menno P.Witter, Edvard I.Moser, May-Britt Moser.
Brown, T.H. and Zador, A.M. (1990). Hippocampus. In The synaptic
Organization of the Brain, 3rd ed. (G.M. Shepherd). Oxford University
Press.
Cameron,H.A.&McKay,R.D.G.(2001)Adult neurogenesis produces a large
pool of new granule cells in the dentate gyrus.J.Comp.Neurol.,435 ,406
.417.
Bruel-Jungerman, Elodie, Laroche, Serge & Rampon, Claire (2005)
New neurons in the dentate gyrus are involved in the expression of
enhanced long-term memory following environmental enrichment. European
Journal of Neuroscience 21 (2), 513-521.
A role for adult neurogenesis in spatial long-term memory J.S. Snyder,
N.S. Hong, R.J. McDonald and J.M. Wojtowicza Neuroscience Volume
130, Issue 4, 2005, Pages 843-852
Integration of newly born dentate granule cells into adult brains:
hypotheses based on normal and epileptic rodents. Shapiro LA, Ribak
CE. Brain Res Brain Res Rev. 2005 Feb;48(1):43-56.