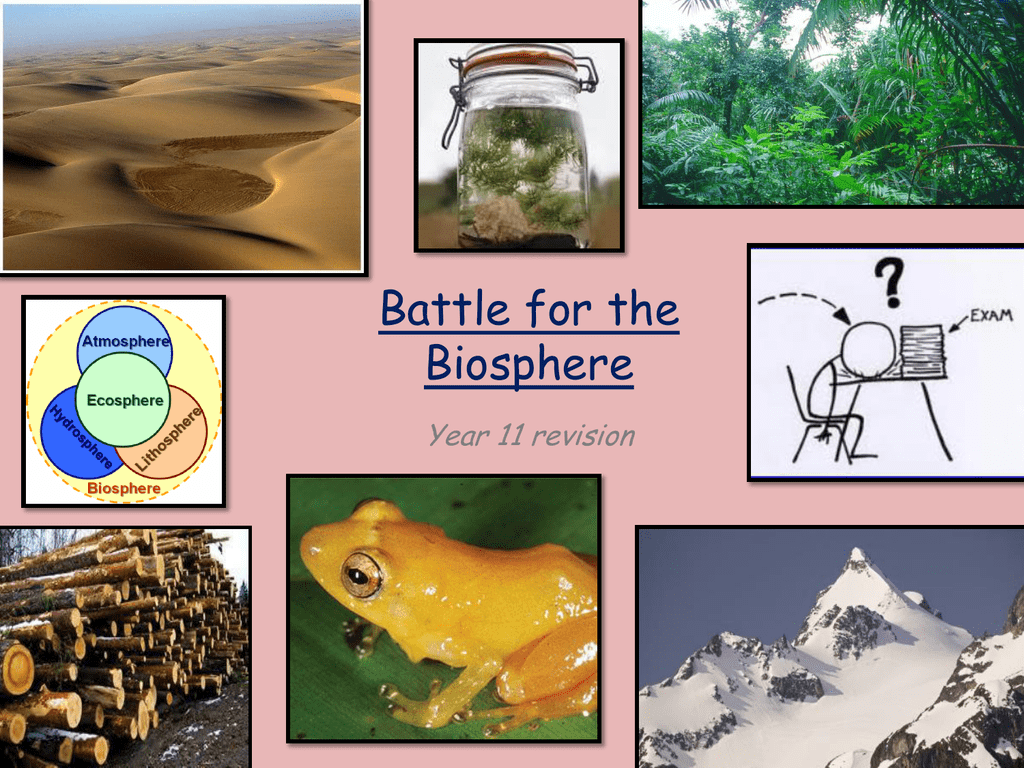 Battle for the
Biosphere
Year 11 revision
Key terms
Key term
Definition
Abiotic
Non – living things (air, water, soil, climate)
Altitude:
The height of something above sea level expressed in metres.
Biodiversity
The number and variety of living species found in a specific area
Biofuels
Fuel sources derived from agricultural crops
Biome
A plant and animal community covering a large area of the Earth's
surface
Biosphere
The living part of the earth (e.g. plants and animals)
Biotic factors
Living things (plants, animals, bacteria)
CITES
Convention on International Trade in Endangered Species of Wild
Fauna and Flora – an international agreement
Conservation
Managing the environment in order to preserve, protect or restore it
Deforestation
The chopping down and removal of trees to clear an area of forest.
(Afforestation = replanting new trees)
(Temperatures drop roughly 0.5oC for every 100metre increase in
latitude)
Key terms
Key term
Definition
Degradation
The social, economic and environmental decline of an
area
Ecosystem
The community of plants and animals in a given habitat
together with their non-living environment
Evapo transpiration
Water loss from plants via evaporation and
transpiration
Fauna
Animals
Flora
Plants
Gene pool
The genetic material contained by a specific
population
Hydrological
cycle
The global stores of water, and linking processes that
connect them
Infiltration
The process whereby water soaks into the soil and
rock
Interdependence
When two things rely on each other
Key terms
Key term
Definition
Latitude
The position of a place north or south of the equator,
expressed in degrees
Ramsar
The Ramsar Convention on Wetlands is an intergovernmental
treaty for the conservation and wise use of wetlands
Services
Things that are provided, bought and sold that are not
tangible.
Superpower
countries
The world's most powerful and influential nations – the USA
and, increasingly, China and India
Sustainability
The ability to keep something (such as quality of life) going at
the same rate or level. From this stems the idea that the
current generation of people should not damage the
environment in ways that will threaten future generations'
environment (or quality of life)
Sustainable
development
Development that meets the needs of the present without
compromising (limiting) the ability of future generations to
meet their own needs
Unsustainable
Unable to be kept going at the same rate/level
Key facts: Ecosystems
Key facts: The biosphere life-support system
The biosphere's
interaction with
other parts of
the physical
world.
Key facts: Latitude
The sun's rays are more
spread out at the poles,
meaning the
temperature is lower
The sun's rays are more
concentrated at the
equator, meaning the
temperature is higher
Latitude: The position
of a place north or
south of the equator,
expressed in degrees.
Biomes
The largest ecosystems in
the world are called
biomes.
Tropical
forests
They are hot and humid and contain a huge variety of plants and animals - around
half of all the world's species. The trees are mostly hardwood. The climate is
called equatorial. Found near the equator in Central and South America, parts of
Africa and Asia.
Savannah
(or tropical
grasslands)
Hot and dry, dominated by grass, scrub and occasional trees. They have two
distinct seasons - a dry season when much of the vegetation dies back, and a rainy
season when it grows rapidly. Found in central Africa (e.g. Kenya), northern
Australia and central South America
Desert
The driest and hottest of areas. The world's largest desert is the Sahara in North
Africa. Areas of scrub land that border the desert are called desert scrub.
Mediterranean Climates are not too hot or cold. They are found around the Mediterranean Sea,
near Cape Town in South Africa and Melbourne in Australia.
Temperate
grasslands
Dominated by grass and trees and large bushes are scarce. They have a temperate
continental climate - the weather is mild with moderate rainfall. Grasslands include
the Puszta in Hungary, and the Prairies in the USA.
Temperate
deciduous
forests
Contain trees that lose their leaves and are found across Europe and USA. The
weather is mild and wet. The climate is called temperate maritime.
Coniferous
forests
Contain evergreen trees and are found in Scandinavia, Russia and Canada. They
have a cool climate with moderate rainfall called cool temperate.
Mountain
Areas can be very cold at night and during winter. The growing season is short and
at higher levels trees will not grow.
Tundra
Surrounds the North and South poles. They have an extremely cold climate, with
limited numbers of plants and animals able to survive there.
Biome distribution
The two main factors that control what ecosystems are like and
where they can be found are:
•
latitude (distance from the equator) and
•
altitude (height above sea level)
Latitude and altitude also control precipitation (rain) and
temperature.
Therefore ecosystems change depending on the altitude and
latitude they are found at.
e.g. the type of ecosystem found at the
top of a mountain is often very
different one found at the bottom.
Biome distribution example:
Tropical rainforest
•
•
Between 10o north and south of the equator
Here the sun's rays are concentrated, heating moist air and causing it to rise.
Heavy rainfall is the result – perfect conditions for evergreen rainforest.
•
The largest continuous area of tropical rainforest is in South America
•
E.g. Brazil, Indonesia
Biome distribution example:
Hot deserts
Deserts cover about one fifth of the Earth's land surface. Most Hot and Dry
Deserts are near the Tropic of Cancer or the Tropic of Capricorn.
•
•
•
Hot and Dry Deserts temperature ranges from 20 to 25° C. The extreme
maximum temperature for Hot Desert ranges from 43.5 to 49° C.
•
Hot and Dry Deserts usually have very little rainfall and/or concentrated
rainfall in short periods between long rainless periods. This averages out to
under 15 cm a year.
Hot and Dry Deserts are warm throughout the autumn and spring seasons, and
very hot during the summer. Winters usually have very little if any rainfall.
The biosphere and the hydrological (water) cycle:
The biosphere and the hydrological cycle:
The biosphere and the hydrological cycle:
The biosphere (e.g. trees and the soil)
supports the hydrological cycle in many
ways:
•
•
•
•
Trees can also help reduce hazards such as flooding
because they absorb lots of water and prevent it from
running off into rivers.
The leaves on trees can intercept rainwater and
therefore protect the soil from being eroded (washed
away)
The soil also acts as a store for water.
Trees take up water from the soil through their roots
and this water eventually ends up back in the
atmosphere by evapotranspiration.
The carbon cycle
How the biosphere regulates
carbon: The Carbon Cycle
The nutrient cycle
Biomass
Litter
The total mass
of living
organisms,
mainly plant
tissue
The amount of
organic matter,
including humus
and leaf litter,
in the soil.
Soil nutrients
Soil absorbs
nutrients from
the decaying
litter.
The nutrient cycle
Biomes – Goods and Services
• Goods – products and items sourced
from the biome for survival or
commercial use.
• Services – measures the biome takes to
serve the planet e.g. regulating the
composition of the atmosphere,
maintaining the health of the soil.
Biomes – Goods
Biosphere goods
Good
Details
Food
When population numbers are low, natural ecosystems can be sustainably
harvested, e.g. Through fruit and berry picking. With larger populations,
there is more pressure to replace natural vegetation with commercial crops.
A good e.g. Cereal production in central parts of USA. 'America's bread
basket' is a region where naturally occurring grasses have been replaced by
wheat and corn – increasingly used for the production of bio fuels as well as
food.
Medicines Many naturally occurring substances act as medicines and remedies. E.g.
Quinine is a plant extract found in the tropical rainforest native tribes
paralyse animals with darts dipped in quinine. We call this natural store of
medicines the gene pool. Genes are the building blocks of life found in the
cells of plants and animals.
The biosphere provides raw materials for industrial activities. The most
Raw
materials important of these is the wood for the construction of houses and boats.
Roofing material for thatched roofs also came from plants. In the dry
savannah grasslands of countries like Kenya, trees have evolved to store
water so they can survive long periods of drought. The baobab tree has a
trunk that stores water like a barrel. It is a vital source of water for people
living in rural areas where rainfall is rare.
Biosphere services
Service
Details
Green lungs
•
•
Water control
•
•
•
Forests remove CO2 from the atmosphere. This reduces
global warming
Forests give out O2 – purifying the atmosphere
Forests protect watersheds from soil erosion and intercept
precipitation – preventing flash flooding
By trapping silt, forests keep water pure
Reefs and mangroves provide protection from costal storms
Nutrient cycling
•
Forests provide leaf litter which forms humus. This makes
the soil more fertile for growing crops
Providing
habitats for
wildlife/
biodiversity
•
Rainforests and reefs are very biodiverse. They provide
'homes' for a huge range of organisms, including some very
rare animals
Recreation
•
Reefs and rainforests provide attractive scenery for
tourism
Biomes – Goods and Services
Biomes – Goods and Services
Key:


Goods
Services
They regulate the
hydrological cycle
They are a source
of Illegal drugs
like cocaine
They are a unique
biome
They provide
saleable
commodities like
Rubber and timber
Many indigenous
people in
rainforests live the
way they have lived
for centuries they
can teach us a lot
25% of all cancer
fighting drugs are
found in the
rainforest
Over 50% of the
biological diversity
on Earth is found
in tropical
rainforests
Plants from
rainforests are
used in the
contraceptive pill
One rainforest
drug is used to
help diabetics
Small monkeys
called marmosets
from rainforests
are used to test
drugs before
human tests
One rainforest
drug, Rosie
Periwinkle
improved childhood
leukaemia
sufferers survival
chance from 10 to
90%
They provide
homes for many
endangered animals
species- such as
Orang-Utans,
Bonobos, Poison
Arrow frogs, etc
Rainforests are
places we can visit
on treks and
holidays, providing
us with ecotourism.
They provide 80%
of all western
foods- like
pineapple, coffee
They provide
nutrients for soil
to be productive
They store carbon,
a contributor to
global warming
The
Destruction of
the Amazon
Impact of people on the rainforest
FACTOR
DESCRIPTION
IMPACT
EXAMPLE
Deforestation
Logging is the
process whereby
trees are removed
in order to make
things with the
wood.
Commercial logging
destroys forest
unless sustainable
forestry principles
are used. It affects
rates of flooding,
soil erosion and
humus formation.
Logging in the
rainforests of the
Amazon and
Indonesia.
Mining and
energy
Mining is the
process whereby
trees are removed
in order to find
precious minerals.
Mining cuts away
whole hillsides.
Opencast mining
destroys the
surface and
restoration is only
partly successful.
Oil drilling also
takes places in
areas of rainforest.
Removal of forests
for mining iron ore
and bauxite in the
Brazilian Amazon.
Tin mining in
Malaysia. Drilling
for oil also began in
the Amazon in
2008.
Impact of people on the rainforest
FACTOR
DESCRIPTION
IMPACT
EXAMPLE / WHERE
Introduction
of alien
species
Bringing in
species of plant
or animal that
are not native to
the area
Sometimes we introduce
new species
deliberately, or they
escape (e.g. Foxes in
Australia). More usually
they arrive by accident,
or through new housing
and gardens. Alien
species often breed well
and take over.
Invasive plant species
brought in as crops or
garden plants on edges
of the Daintree
rainforest (Australia).
Cats and dogs hunt and
feed on birds and small
rodents in the Daintree
communities.
Removal of trees
to make room
for cattle
ranching or
new/bigger
urban (built up)
areas.
Commercial intensive
farming destroys or
alters the ecosystem.
Urban sprawl destroys
ecosystems and
encourages wildfires
Cattle faming in the
Amazon has removed
natural rainforest. Soya
beans are grown for
biofuels.
Conversion to
farmland or
urban use
The urban sprawl of
Brasilia, the capital city.
Climate
Change,
Pollution & the
Biosphere
Polluting the biosphere:
• Climate change is caused by greenhouse gases
such as Carbon Dioxide and Methane.
Direct threats to biomes can be managed and reduced by countries, but
indirect threats are much harder to manage. The main indirect threat is
global warming.
Global warming is occurring too rapidly for many species to adapt to the
changing climate. A rise of 3o could happen by 2060.
Some scientists think this could lead to some species
extinction...already:
 Plants are flowering earlier
 Bird migration patterns are changing
 The Arctic tundra is warming rapidly
 Vegetation zones are shifting towards the poles by 6km every 10
years
Managing our
biosphere
Methods of biosphere management
Method
Description
Scale
CITES
Convention on International Trade in Endangered
Species of Wild Fauna and Flora – an international
agreement.
(global)
Rainforest
conservation
Managing the rainforest in order to preserve and
protect it.
(global)
National Parks
An area of countryside, or occasionally sea or fresh
water, protected by the state for the enjoyment of
the general public or the preservation of wildlife.
Covers 13% of earth's surface.
World Heritage A natural or man-made site, area, or structure
recognized as being of outstanding international
Sites
importance and therefore as deserving special
protection. Sites are nominated to and designated by
the World Heritage Convention (an organization of
UNESCO). Over 950 worldwide.
Wetland
management
Management of wetland areas. The Ramsar
Convention has achieved real success, protecting
wetlands everywhere from unsustainable overexploitation.
(local)
(local)
(global)
What is sustainable development?
"Meeting the needs
of the present
without compromising
the needs of future
generations."
Learn!
Sustainable management of our biosphere:
Social =
Economic =
Environmental =
Sustainable management:
Improved
infrastructure
means more tourists
are attracted, that
spend money in local
businesses.
(soc/econ)
Sustainability
Money earned ensures
people have adequate
housing, electricity & water
(env/soc/econ/sus)
Economic
Improved infrastructure
attracts more investment
& business (soc/econ)
Locals have jobs as
forest rangers
(env/soc/econ/sus)
Money earned
pays for
children to go to
Environmental
school
(soc/econ)
Locals are encouraged to
look after forest and
protect animals as these
attract tourists and
provide an income
(env/soc/econ/sus)
Hunting is kept to a
Only certain trees are
minimum and
allowed to be felled and
endangered species
forest is allowed to reare protected
generate
(env/soc/econ/sus)
(env)
Social
Locals have
jobs as wildlife
Spotters
(env/soc/econ/sus)
Rich biodiversity (env)
Forest
growing freely
(env)
Money
earned pays
for doctors
& health
programmes
(soc/econ)
Money earned
pays for
improved
infrastructure
such as roads
(econ)
Employment
provides people
with skills, pride
& helps reduce
crime
(soc/econ)
Case study:
sustainable
management
Deforestation was
one of the highest
rates in the world,
but now most of the
Costa Rica's
rainforest have
become national
parks.
Small scale
tourism is good
because there is
little
environmental
damage
Talamanca,
Costa Rica
(central
America)
Locals are have
found ways of
earning money
from the forests
without cutting
them down.
The forests
in Costa Rica
attract lots
of tourists
A problem with small
scale tourism is that it
does not bring in enough
revenue.
Case study: Talamanca, Costa Rica
• Small scale forestry with a long-term view.
• To ensure the forest was farmed sustainably, they:
• Do not cut trees down – they only collect timber from fallen trees. They use
buffalo to remove the wood, so there is no need to build roads.
• Timber has been used to build a tourist lodge, so avoid depending on only one
resource (now having farming, timber, and tourism) The lodge is a way of
protecting the forest as here they can educate the tourists about it.
• Plant crops in the spaces between trees
• Plant a variety of crops in amongst the others, copying the rainforest's natural
growth patterns.
• Local
communities
sceptical at
first, but now
on board
Videos:
1.
2.
3.
4.
5.
6.
7.
8.
World Biomes: An Introduction to Climate
Photosynthesis
Rainforest processes - Costa Rica
The carbon cycle 1
The carbon cycle 2
Climate Change Impacts on Biodiversity
Rainforest sustainability - Costa Rica 1
Rainforest sustainability – Costa Rica 2
Links:
Costa Rica - TALAMANCA INITIATIVE
Past GCSE questions: A
1.
Describe the distribution of tropical rainforests (2 marks)
2. Outline how altitude affects biome location (2 marks)
3. Explain how temperature and precipitation (climate) affect the
distribution of global biomes. (4 marks)
4. "The destruction of some forests has made us more aware of the
benefits they can provide." Explain the value of a biome you have
studied. (4 marks)
5. Using examples, describe how the biosphere provides people with
a range of goods and services. (4 marks)
6. Describe two ways in which the biosphere acts as a life support
system (4 marks)
Past GCSE questions: B
7. Explain the role of human activity in the destruction of tropical
rainforest (6 marks)
8. Suggest two reasons why many rainforest areas are being cut
down (deforestation). (2 marks)
9. Describe two effects of deforestation on the environment.
(4 marks)
10.Explain how climate change can lead to degradation of the
biosphere (4 marks)
11. Describe two ways humans can harm (damage) the biosphere
(4 marks)
Past GCSE questions: C
13.Describe one way in which people are trying to conserve the
biosphere. (2 marks)
14.Describe one way of conserving threatened environments.
(2 marks)
15.Describe two ways of conserving (protecting) threatened
environments. (4 marks)
16.Describe one management measure that can be used to conserve
the biosphere. (2 marks)
17.Using examples explain how management measures can help to
conserve the biosphere (6 marks)
Good luck!