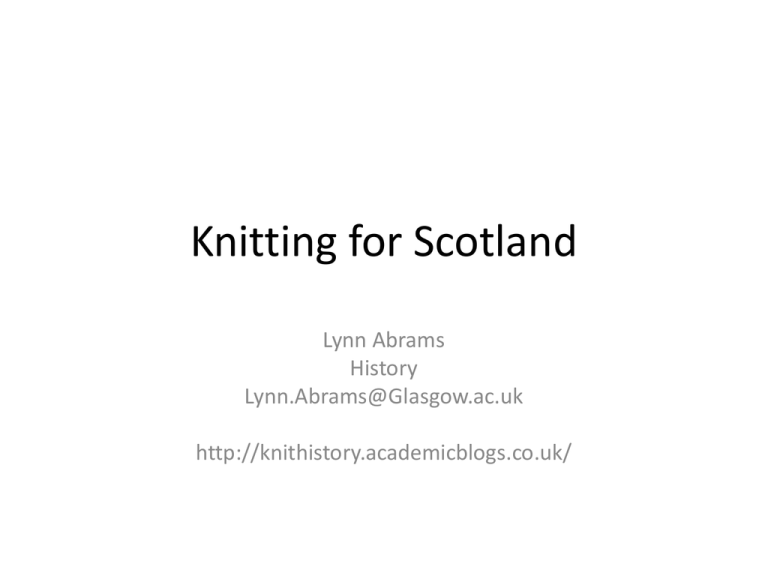 Knitting for Scotland
Lynn Abrams
History
Lynn.Abrams@Glasgow.ac.uk
http://knithistory.academicblogs.co.uk/
Shetland knit
Wool
Knit tradition & heritage
Business
Textile Tourism
Gansey project
Shetland lace project
Sanquhar
Knitting in the round
• Sustainability
• Authenticity
• Creativity
• Partners
•
•
•
•
•
•
Di Gilpin Knitwear Design
Textile Conservation Centre, Glasgow
University
Shetland Museum & Archives
Glasgow Women's Library
Karina Westerman, knitwear designer
Fiona Scott, MakeWorks
Sustainability
• Local, ecological, recycled, re-used,
provenance, training, skills
Authenticity
• Wool like whisky? Small scale, referencing
heritage in materials, design, skills.
Capitalising on Scottish heritage and craft
traditions
Creativity
• Pleasure of making, art, craft and therapeutic
practice
Knitting in the Round events
•
•
•
•
•
•
•
•
Sept 14: Sanquhar Workshop in Sanquhar
Oct 2014: UK Wool Week - Knitter-in-Residence
at Glasgow University
Nov 2014: Community Engagement Event
(planned and inspired by knitter-in-residence) 'Stitching the Community Together' (creativity)
Jan 2014: Community Engagement Event 3:
launch 'Pattern Drive' to document historic
patterns in association with Glasgow Women's
Library pattern collection (authenticity)
March 2015: Public study day 2: Wartime
Knitting and Community Engagement Event 4:
'The Kitchener Stitch: Knit in wartime'
(sustainability and authenticity)
Sept 2015: Public Study Day 3 - Shetland lace
knitting in Lerwick, Shetland (with Shetland
Museum) (authenticity)
Oct 2015: UK Wool Week. Community
Engagement Event 5 - Sustainability (knit a
sustainable scarf) (sustainability)
January 2016: Conference 'In the Loop 5' at
University of Glasgow
Thank You!