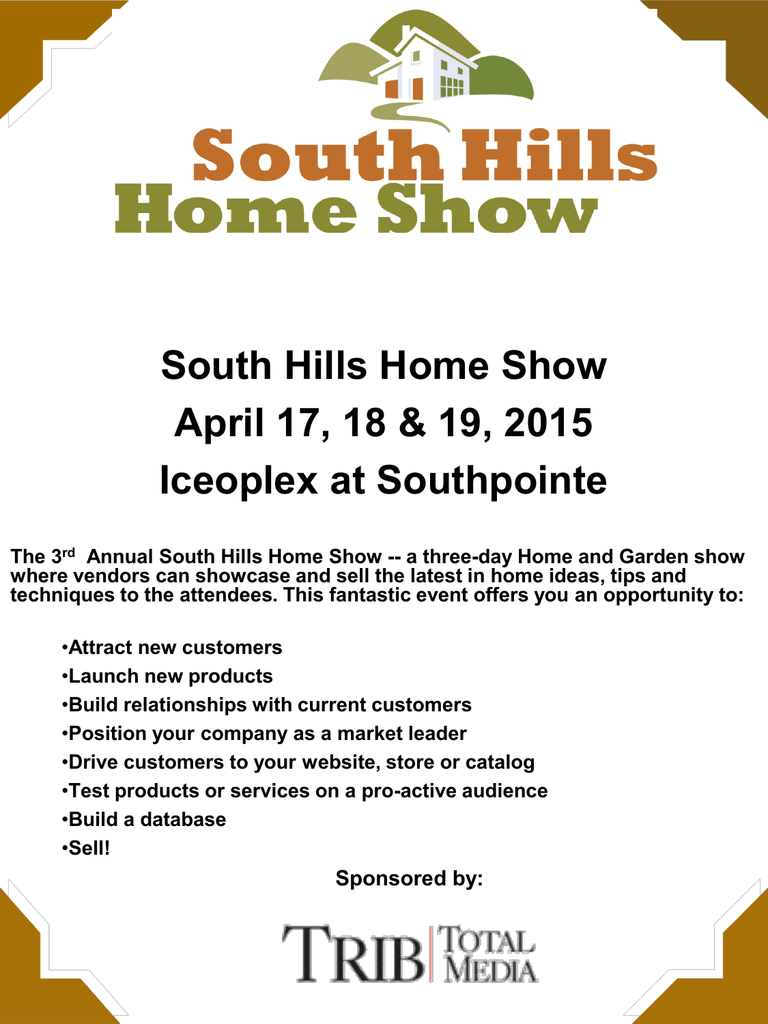 South Hills Home Show
April 17, 18 & 19, 2015
Iceoplex at Southpointe
The 3rd Annual South Hills Home Show -- a three-day Home and Garden show
where vendors can showcase and sell the latest in home ideas, tips and
techniques to the attendees. This fantastic event offers you an opportunity to:
•Attract new customers
•Launch new products
•Build relationships with current customers
•Position your company as a market leader
•Drive customers to your website, store or catalog
•Test products or services on a pro-active audience
•Build a database
•Sell!
Sponsored by:
Show Info
•
Dates: Friday, Saturday & Sunday, April 17, 18 & 19, 2015
•
Show Hours: Friday
Saturday
Sunday
•
Location: Iceoplex at Southpointe
114 Southpointe Boulevard
Canonsburg, PA 15317 (Washington County)
•
Expected Number of Exhibitors: 110+
•
Free Admission and Free Parking!
•
Advertising:
4:00 pm - 9:00 pm
10:00 am - 8:00 pm
10:00 am - 5:00 pm
Radio: WDVE, 3WS, Y108, WJAS
Newspapers: Observer Reporter
Television: Comcast Cable
Misc: Billboards, Internet, Social Media,
Press releases, and other
strategic marketing placements.
Why Exhibit?
•
•
•
•
•
Would It Help Your Business to see and be seen by over
5,000 local consumers?
Would It Help Your Business to make lots of contacts?
Would you like to reach a dedicated audience of pre-qualified
homeowners?
Do you want to increase your sales and reach customers you
have never reached before?
Do you want to have a years worth of prospective customers
in 3 days?
If the answer to any of those questions is yes, you owe it to
your business to be a vendor at The South Hills Home Show.
The investment you make for this show will be paid back to
your business many times over!!
•
•
•
One day at The South Hills Home Show can make your entire
year. Beyond the exposure you'll enjoy at the Expo, exhibiting
gives you pre-show branding as well.
Talk shop with peers- Thousands of Home Improvement
vendors make their way each year to purchase new products,
technologies and services and to make new connections.
Do business!- Public shows are an effective way to build
awareness, generate public relations and achieve branding
initiatives.
Who Should Exhibit?
The South Hills Home Show will features over 100 exhibits covering
20,000 square feet of space at The Iceoplex at Southpointe .Here are some
of the home and garden products and services that are invited to display:
Appliances
Art & Framing
Basement
Waterproofing
Bathroom Remodeling
Bathtub Resurfacing
Builders
Building Supplies
Cabinets & Countertops
Carpentry
Carpeting
Cleaning Services
Closet Organizers
Concrete
Contractors
Cookware
Decks
Electrical Services
Electronics
Equipment Rental
Entertainment Systems
Fences
Financial
Fireplaces
Flooring
Flowers, Plants
& Shrubs
Foundations
Furniture
Furniture Refinishing
Garage Doors
Garages
Gardening
Gates
Gazebos
Generators
Gifts
Glass Block
Gourmet Food Products
Grills
Gutter Protection
Handyman Services
Hardware
Heating &
Air Conditioning
Home Décor
Home Improvement
Lawn Treatment
Insulation
Insurance
Interior Design
Internet/Computers
Kitchens
Landscaping
Mirrors
Mortgages
Nursery
Omni Stone
Paint & Wallpaper
Patio Rooms
Paving
Pest Control
Pianos & Organs
Plumbing
Pools
Power Tools
Publications
Real Estate
Remodeling
Retaining Walls
Roofing
Satellite
Security
Sewing
Siding
Snow Blowers
Spas
Stoves
Tractors
Vacuum Cleaners
Water-Bottled
Water Purifiers
Window Treatments
Windows & Doors
Yard Barns
and more
YOUR BOOTH PRICE INCLUDES:
•
•
•
•
•
•
•
•
8' High Draped Backdrop
3' High Draped Side Rails
(1) 6'Table with Cover & Skirting
(2) Chairs
Name badges
I.D. Sign with Your Company Name
Listing on Website
Non-Union Facility -No added charges for
decorating, setting up or dismantling display
exhibits.
• ONE. . . . . . . . . . .10 X 10....................$650*
• TWO . . . . . . . . . . 10 X 20....................$1,250*
*Corner Booth Add $50 to above prices
All above Booth pricing is based on one company per booth exhibiting
Where else can you speak with
qualified homeowners in three days
under one roof while showcasing a
wide selection of your latest
products and services?
For the local community and the
companies like yours who serve
them, the South Hills Home Show
creates the perfect opportunity for
success.