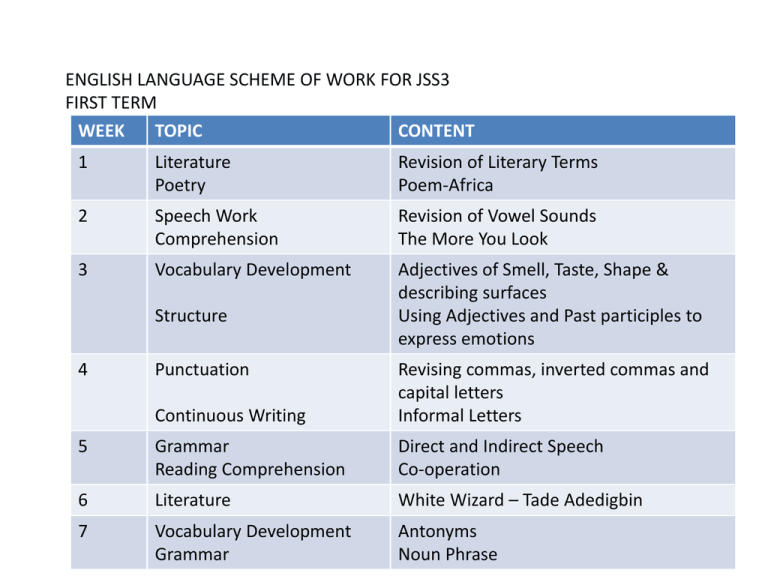 ENGLISH LANGUAGE SCHEME OF WORK FOR JSS3
FIRST TERM
WEEK
TOPIC
CONTENT
1
Literature
Poetry
Revision of Literary Terms
Poem-Africa
2
Speech Work
Comprehension
Revision of Vowel Sounds
The More You Look
3
Vocabulary Development
Adjectives of Smell, Taste, Shape &
describing surfaces
Using Adjectives and Past participles to
express emotions
Structure
4
Punctuation
Continuous Writing
Revising commas, inverted commas and
capital letters
Informal Letters
5
Grammar
Reading Comprehension
Direct and Indirect Speech
Co-operation
6
Literature
White Wizard – Tade Adedigbin
7
Vocabulary Development
Grammar
Antonyms
Noun Phrase
8
Continuous Writing
Grammar
Revising Narrative & Descriptive Prose
Verb Phrase
9
Spoken English
Poetry
Intonation Patterns
Complete Diet
POETRY
AFRICA
By
Awele Okwudarue
Africa Africa
A land so full of power
That stands strong like a tower
You are strong and black
There is nothing you lack
Land and fields are so green
It's part of what makes us seen.
Rich in cultures and customs
There's no other so lucky like you
Your savannahs and wildlife
Have never been seen in any part of the world
Though you were once despised
You have conquered them all
Forced into culture you didn't know
You became victorious on your own
They came to your land
To steal your precious black gold
I am so happy to be a black
And I am so proud of that.
EVALUATION
Answer the following questions.
1. The poem is about which continent?
2. What specifically did 'they' steal from Africa according to the poem?
3. The poet is proud to be a__________.
4. What two things does Africa have that 'have never been seen in any other part of the
world?
5. Africa's land is fill of_______________.
6. Awele Okwudarue in his poem 'Africa' says the continent lacks_________________.
7. What does Awele Okwudarue say makes the African continent prominent in his poem
'Africa'?
8. Awele Okwudarue's poem 'Africa' ends on a note of____________.