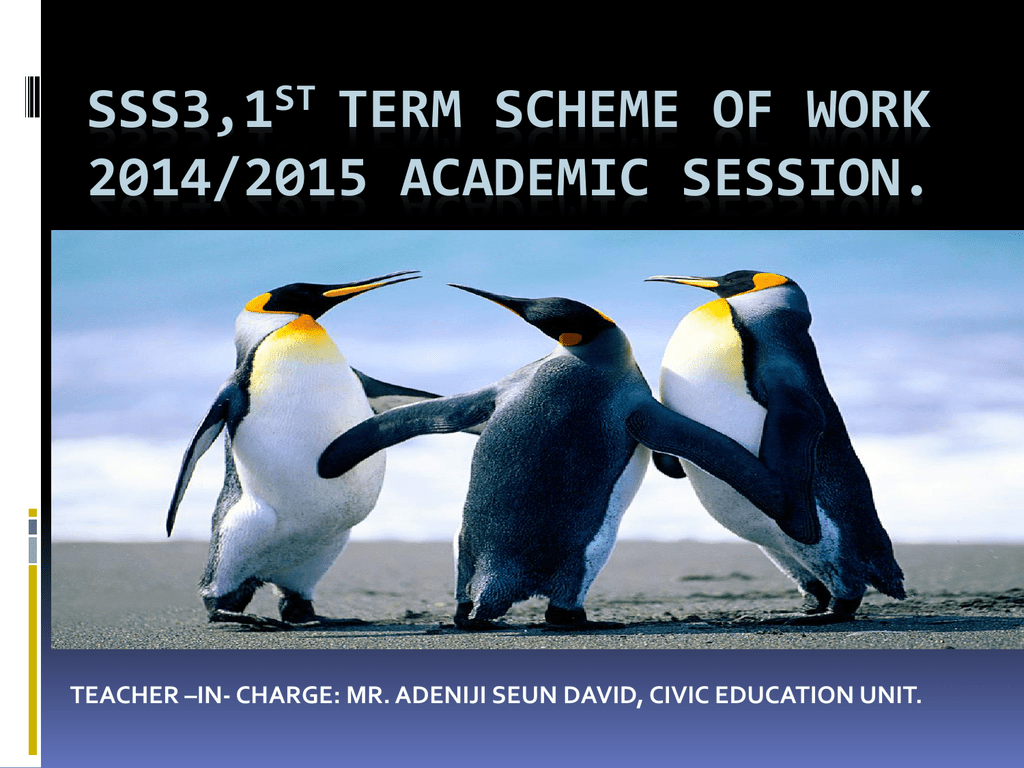 SSS3,1ST TERM SCHEME OF WORK
2014/2015 ACADEMIC SESSION.
TEACHER –IN- CHARGE: MR. ADENIJI SEUN DAVID, CIVIC EDUCATION UNIT.
WEEK
TOPIC
CONTENT
1.
Revision of SSS2 scheme of
work.
- Contents of selected topics
from SSS 2 scheme of work.
2.
Human trafficking
-Meaning of Human
trafficking.
-Causes of Human trafficking.
e.g. poverty, greed, low selfesteem, corruption etc.
-Effects of Human trafficking.
3.
Human trafficking
-Consequences of Human
trafficking.
-Government and individual
efforts to stop human
trafficking. E.g. NAPTIP,
WATCLEF, enactment of law
etc.
4.
UDHR
-Meaning of UDHR.
REVISION OF CONTENTS OF SELECTED TOPICS FROM THE SSS 2 SCHEME
OF WORK
Human Rights
Drug use and abuse
Responsible parenthood
Traffic Regulations
Interpersonal relations
Intercommunal relationship
Fighting political apathy
Public Service
Civil Society
Popular participation
Democracy and constitutional democracy.
HUMAN TRAFFICKING
MEANING OF HUMAN TRAFFICKING
According to the United Nations , human trafficking has been defined as
the recruitment, transportation, transfer, harbouring or receipt of persons by
means of threat or use of force and other forms of coercion , abduction,
fraud, deception, abuse of power or position or vulnerability.
It is the illegal trade in human beings for the purposes of commercial sex
exploitation or forced labour.
It can also be defined as the giving or receiving of payments or benefits to
achieve the consent of a person having control over another person for the
purpose of exploitation.
CAUSES OF HUMAN TRAFFICKING
The following are some of the causes of human trafficking.
Poverty can be identified as the root cause of human trafficking.
Demand for cheap labour and exploitation.
Wide spread corruption.
Greed and lack of contentment.
Lack of access to quality education and information.
Low self-esteem.
Gender discrimination.
Unemployment and limited access to job opportunities.
EFFECTS OF HUMAN TRAFFICKING
The following are some of the effects of human trafficking.
Abuse of fundamental human rights.
Death.
Unwanted pregnancy.
Health hazards .e.g. HIV/AIDS.
Stigmatization.
Psychological effects e.g. low self-esteem, emotional depression, disorientation etc.
Exploitation.
Security threat to the nation e.g. terrorism etc.
WORK TO DO
Write out any 5 forms of human trafficking in Nigerian communities.
Ensure that your answers are neatly presented in a note book for onward
submission at resumption.