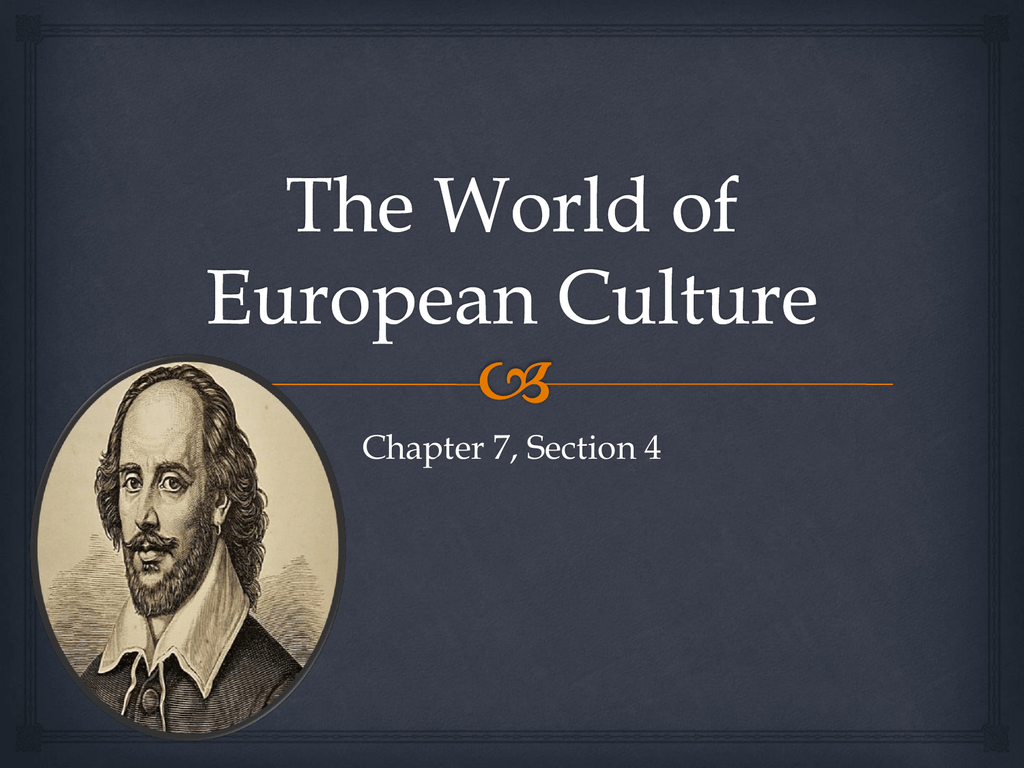 Chapter 7, Section 4
Mannerism
Mannerism emerged in Italy sometime in
the 1520s and 1530s as the Renaissance
came to an end.
•

It reflected this new environment in art
by deliberately breaking down the High
Renaissance principles of balance,
harmony, and moderation.
•
Rules of proportion were deliberately
ignored as elongated figures were used
to show suffering and heightened
emotion.
•
Mannerism reached its high point in the
work of El Greco ("the Greek") who
used elongated and contorted figures to
reflect the religious upheavals of the
Reformation.
The Baroque Period

 The baroque movement eventually replaced mannerism.
 Baroque artists tried to bring together the classical ideals
of Renaissance art with the spiritual feelings of the
sixteenth-century religious revival.
 This artistic style was noted for its use of dramatic effects
to arouse the motions, and in large part, reflected the
search for the power that was such a part of the
seventeenth century.
 Baroque churches and palaces were magnificently and
richly detailed – Kings and princes wanted other kings
and princes and their subjects to be in awe of their power.

Baroque Art
 Gian Lorenzo Bernini was
perhaps the greatest figure of
this period.
 He was known for
completing Saint Peter's
Basilica in Rome and the
Throne of Saint Peter, a
highly decorated cover for the
pope's medieval wooden
throne.
The Throne of Saint Peter

Completed in 1666, Bernini's
"Throne of Saint Peter" took
eleven years to finish.
How do you think Bernini
wanted his work to impact the
viewer?
The Golden Age of Literature

 In both England and Spain, writing for the theater
reached new heights between 1580 and 1640.
 In the late sixteenth century leading into the
seventeenth, a cultural flowering known as the
Elizabethan Era took place.
 Of all the forms of Elizabethan literature, none
expressed the energy better than drama, and of all
the dramatists, none is more famous than William
Shakespeare.
William Shakespeare

 Shakespeare was a playwright, actor and shareholder in the
chief theater company of the time, Lord Chamberlain's Men.
 He wrote around 40 plays and coined more than 1,700 words in
the English language.
 A "complete man of the theater," Shakespeare has long been
viewed as a universal genius and master of the English
language.
Shakespeare's Works

Romeo and Juliet
A Midsummer Night's Dream
Hamlet
Macbeth
Othello
Richard III
Shakespeare's words…

Bedroom
Champion
Lonely
Cater
Love Sick
Accused
Sneaky
Addiction
Gloomy
Green-eyed
Secret
Elbow
Jealous
swagger
Spanish Literature

 Lope de Vega – wrote over 1,700 plays – 500 of which still survive.
They were characterized as witty, charming, action-packed and
realistic.
 Miguel de Cervantes – wrote Don Quixote, one of the crowning
achievements of the golden age of Spanish literature.
 In Quixote, we meet Don Quixote from La Mancha who is so
involved in his ideals that he does not see the hard realities around
him. For example, he wages battle against a windmill that he sees
to be a four-legged beast.
Don Quixote and Sancho Panza

Political Thought

 Thomas Hobbes – wrote Leviathan which was
published in 1651.
 Claimed that before society was organized, human
life was "solitary, poor, nasty, brutish, and short."
 Believed humans were guided not by reason and
moral ideals but by a ruthless struggle for self
preservation.
 Thought that only a powerful government could
create a peaceful and orderly society.
Political Thought

 John Locke – wrote Two Treatises of
Government.
 Locke argued against the absolute rule of
one person.
 Believed that before society was organized,
humans lived in a state of equality and
freedom.
 Said that humans had certain natural rights
– life, liberty and property.
 Believed government would protect the
rights of the people and they would act
reasonably toward the government. BUT, if
the government broke the contract, the
people might form a new government.