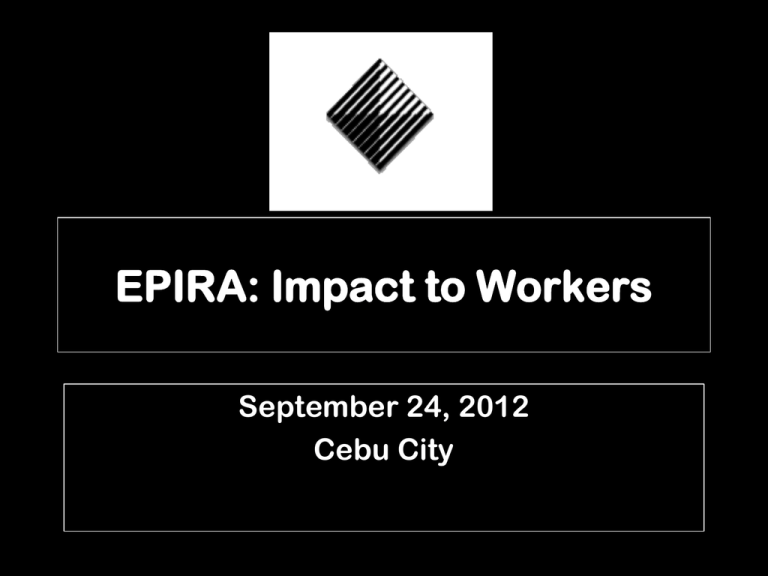 EPIRA: Impact to Workers
September 24, 2012
Cebu City
The EPIRA IRR, Rule 33, Section 5.
mandates "The Preferential Rights of
Employees"
Displaced or separated personnel as a result of
the restructuring and privatization of NPC
assets shall be given preference in the hiring of
manpower requirements of the newly-created
offices or the privatized companies: Provided,
That the displaced or separated personnel
meet the prescribed qualifications. With
respect to employees who are not retained by
NPC, the DOLE shall endeavor to implement retraining, job counselling, and job placement
programs.( But this never happened)
What happened? Massive job
losses due to retrenchment
WORKERS
1994
1997
NAPOCOR
17,000
13,500
TRANSCO
NPC
Residual
Force
2003
2012
7,400
1,500
200
NGCP
4,500
TOTAL
6,200
GR No. 156208, NPC DAMA vs. NPC,
September 17, 2008
• What the Supreme Court says?
• NPC employees, who were illegally terminated to give
way to the re-organization of the corporation in 2002,
are entitled to separation pay, back-wages, wage
adjustments, and other benefits accruing from January
31, 2003 to the date of payment under a validly
approved Separation Program.
• The Court said that as a logical and necessary
consequence of its earlier decision, the terminated
employees have the right to such benefits as it is
already impossible for them to be reinstated.
• ADB says (PHP 34.7 B) is part of the cost of the Power
Sector Restructuring Program.
The restructuring lead to a systematic
dislocation of regular work!
Illegal dismissal
Retrenchment
Privatization of
NAPOCOR and
TRANSCO
Probationary of 165 days
Multi-skill and multi-tasks
Discrimination on wages
Roll back benefits
Non recognition of union
Anti union bias
Violation of
Trade Union
Rights
• SC in G. R. 62386, entitled, BATELEC I Labor Union vs
Young, G. R. No. 70880, entitled Bulacan II Electric
Coop., vs Penaflor and G. R. 74560, entitled ALECO I vs
Trajano, all dated November 9, 1988, which reads:
• "The common issue raised is whether or not employees
of electric cooperatives are qualified to form or join
labor organizations for purposes of collective
bargaining"
• In Cooperative Rural Bank of Davao City, Inc. Vs Pura
Ferrer-Calleja, Director, Bureau of Labor Relations, et
al., G. R. No. 77951, September 26, 1988, it was held
that an employee of a cooperative who is a member and
co-owner thereof cannot invoke the right to collective
bargaining.
• This drives the workers in the ECs to form "Employees
Association" dependent on NEA policies and divisive to
labor rights.
NEA Prescription to Curable and Incurable ECs :
Corporatization- a Threat to Workers!
•
•
•
•
Creditors Offer - due to obligations owing to them, the creditors
will be given first preference to make an offer to manage, operate
and invest in ALECO
Concession/Lease – for a concession/rental fee, allows the
investor to manage, operate, repair, decommission and refurbish
facilities in the service area (concession), pay obligations, for a
term usually within the franchise period
Investment Management Contract – involves substantial
investments in and management of the EC by a private investor,
the specific terms of which are governed by a contract
Management Contract
- private sector initiatives similar to
Investment Management Contract except that, in this case, only
management expertise is infused
The appropriate initiatives shall be determined by ALECO and
7
the investor with the best offer.
Investor Owned Utilities under
EPIRA: Effects to Unions
•
2008, when the consumers petition the high
electricity rates of Davao Light Power which are
charged to system loss, the union "free light services"
were roll-back, now case pending at Court of Appeals;
• Presently,
the Mactan Electric Company are
arbitrarily terminating regular workers for rendering
"flying connection services" to
consumers and
hazards to safety and accidents are prevalent;
• In both IOUs, in violation of the DO No. 18-A series of
2011; contractual work are rampant ;
• Trend of electricity skilled workers are applying for
abroad- a manifestation that the industry is not
competitive in terms of wages and benefits.
While jurisprudence states...
• The preservation of the lives of the citizens is a
basic duty of the State, more vital than the
corporate profits. (Manila Electric Company vs.
NLRC, G.R. No. 78763, Jul. 12, 1989)
• Coupled with the concept of collective
negotiation is the right of workers to
"participate in policy and decision-making
processes affecting their rights and benefits as
may be provided by law." (1987 Constitution in
Art. XIII, Social Justice and Human Rights)
• In most instances, these are denied and
violated.
• Why? Because of corporate control
and grave abuse of management
discretion…
A disaster to the working class: Loss of Load
Expectation of 180-days brownout in 2013 by
curtailment at Mindanao (UP NEC Simulation)
Operating
outage
1
Scheduled Maintenance and Forced Outage Rate
Hydro Power Plant Water Availability 1,400
1,200
2
1,000
800
MW
600
3
400
Load Variations
200
0
Typical Power Generation of Hydro Plants
0
12 24 36 48 60 72 84 96 108 120 132 144 156 168
Typical Weekly Load of Mindanao
Where are the workers?
WORKERS
NPC
TRANSCO Residual Force
NGCP
Electric Cooperatives
Investor Owned Utilities
ESTIMATED NUMBER
1,500
200
4,500
24,000
19 private companies
Contractual Workers
unaccounted
MERALCO Consumers
4 Million
RECs Consumers
8 Million
If those numbers are translated into a strong
united labor front, then unions as vehicle can
transform the situation…

Policies therefore, reflects a compromise in a
social struggle between workers
and
employers…

If No Struggle = there is No Threat
= and No Compromise
Compromise shifts the balance of power
relations!
And Laws are Revised to reflect this shift.


• In other words, workers have a stake in
transforming the power industry.
• To do so, workers need to reclaim power –
Political Power!
• But to reclaim political power, we need to:
Unify
strong
workers
unions
Unify
vigilant &
progressive
consumer
groups
Unify
effective &
efficient
management
Democratic
power
governance is
institutionalize
Is Democratization and Reform of the EC
possible? I subscribe Yes...
Based on the ALEO experience:
• What was the context?
• Why the workers union lead?
• How do workers and consumers do it,
their role and significant contribution in
the struggle?
• What is the alternative?
• The ways forward!
Thank you!