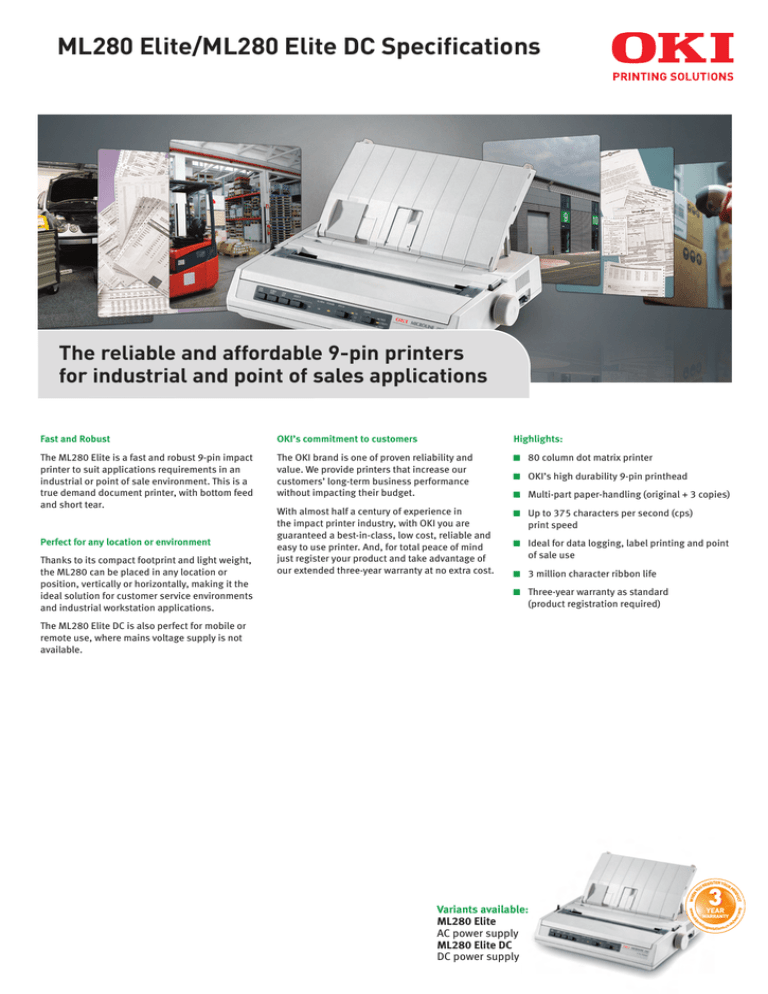 ML280 Elite/ML280 Elite DC Specifications
The reliable and affordable 9-pin printers
for industrial and point of sales applications
Fast and Robust
OKI's commitment to customers
Highlights:
The ML280 Elite is a fast and robust 9-pin impact
printer to suit applications requirements in an
industrial or point of sale environment. This is a
true demand document printer, with bottom feed
and short tear.
The OKI brand is one of proven reliability and
value. We provide printers that increase our
customers' long-term business performance
without impacting their budget.
g
Perfect for any location or environment
Thanks to its compact footprint and light weight,
the ML280 can be placed in any location or
position, vertically or horizontally, making it the
ideal solution for customer service environments
and industrial workstation applications.
With almost half a century of experience in
the impact printer industry, with OKI you are
guaranteed a best-in-class, low cost, reliable and
easy to use printer. And, for total peace of mind
just register your product and take advantage of
our extended three-year warranty at no extra cost.
80 column dot matrix printer
OKI's high durability 9-pin printhead
g
Multi-part paper-handling (original + 3 copies)
g
Up to 375 characters per second (cps)
print speed
g
Ideal for data logging, label printing and point
of sale use
g
3 million character ribbon life
g
Three-year warranty as standard
(product registration required)
g
rin
rra
nty
YEAR
WARRANTY
tin
/w
a
ip
. ok
w ww
Variants available:
ML280 Elite
AC power supply
ML280 Elite DC
DC power supply
GISTER YOUR
RE
P
OU
CT
DU
RO
WHE
NY
The ML280 Elite DC is also perfect for mobile or
remote use, where mains voltage supply is not
available.
.u
gsolutions.co
k
ML280 Elite and ML280 Elite DC - Dot Matrix Printers
Printer
General Features
Number of pins 9
Columns 80 (10cpi); 160 (maximum in compression mode)
Character pitch 10/12/15/17.1/20 pitch and proportional
Graphics resolution Up to 240 x 216dpi
Print speed
ML280 Elite: Super Speed Draft: 375cps (12cpi); High Speed
Draft: 333cps; Utility: 250cps; Near Letter Quality: 62.5cps
ML280 Elite DC: Super Speed Draft: 300cps (12cpi); High Speed
Draft: 240cps; Utility: 200cps; Near Letter Quality: 50cps
Input buffer 128Kbytes
ML280 Elite: Single phase 220 to 240VAC, +/- 10%,
Power supply frequency 50/60Hz
ML280 Elite DC: 9.6 to 31.2VDC
ML280 Elite: Rolling ASCII, Utility: 60W; Sleep mode with
Power consumption RS-232C board: 10.55W or less
ML280 Elite DC: Rolling ASCII, Utility: 60W; Idle : Max 28W
Noise level ISO7779: 51dB(A) (quiet mode); 58dB(A) (Utility mode)
Dimensions (HxWxD) 80 x 372 x 275mm
Interface and Emulations
Interfaces Centronics parallel interface, USB 2.0
Optional interfaces Serial RS 232C, Serial RS 422
Emulations Epson LX, IBM Graphics, Microline
Typeface & font SSD, HSD, Utility, NLQ, Barcodes
Emphasised, Enhanced, Double Width, Double Height, Italics,
Typestyle
Underline, Overscore
Weight 4.5kg approx
200 million characters (average) in 10cpi Utility mode at normal
Print Head life
25% duty cycle, 35% page density
Reliability MTBF: 20,000 hours (duty cycle 25%, page density 35%)
Warranty
3 years extended warranty upon registration within
30 days of purchase
Product order numbers ML280 Elite: 01138601; ML280 Elite DC: 01138610
Accessories (Order Numbers)
Pull Tractor (bottom feed) 09002363
Paper Handling
Continuous paper 76.2 - 241.3mm
First printable line Continuous (multi-parts): 16.9mm;
(from top of page) Cut sheet (single sheet): 15mm
Roll Paper Stand 09002334
Serial RS 232C 09002353
Serial RS 422 09002357
Copy capability Up to 1 original + 3 copies (continuous paper only)
Paper feeding
Autoload single sheet, Platen pin feed, Low tear-off,
Paper end detection
Optional paper feeding Pull tractor (bottom feed), Roll paper stand
Consumables (Order Number)
Ribbon
09002303
(3 million characters)
Simply Unique - 3 Year Warranty
GISTER YOUR
RE
P
OU
rra
nty
YEAR
WARRANTY
tin
/w
a
ip
. ok
w ww
rin
CT
DU
RO
WHE
NY
Consumables Information: Only use genuine OKI Printing Solutions Original consumables to ensure the best quality and performance from your hardware. Non OKI Printing Solutions Original
products may damage your printer's performance and invalidate your warranty.
.u
gsolutions.co
k
Our devices are manufactured to the highest standards of quality and technology, which has been confirmed by independent tests. We are so convinced of the high quality of our
products that we are offering you an extension of the standard warranty period to 3 years – for free! Simply register your product within 30 days of purchase to be eligible for our
unique all inclusive offer. Fully covered by OKI! For further information please visit: www.okiprintingsolutions.co.uk/warranty
Without registration, the standard pan-European 1 year warranty applies.
Oki Europe Ltd.
Blays House, Wick Road
Egham, TW20 0HJ
United Kingdom
T +44(0) 20 8219 2190
F +44(0) 20 8219 2199
www.okiprintingsolutions.com
© 2011 Oki Europe Ltd. Oki Printing Solutions is the trading name of Oki Europe Ltd. Version 2.0 02/2011.
Specification subject to change without notice. All trademarks acknowledged.