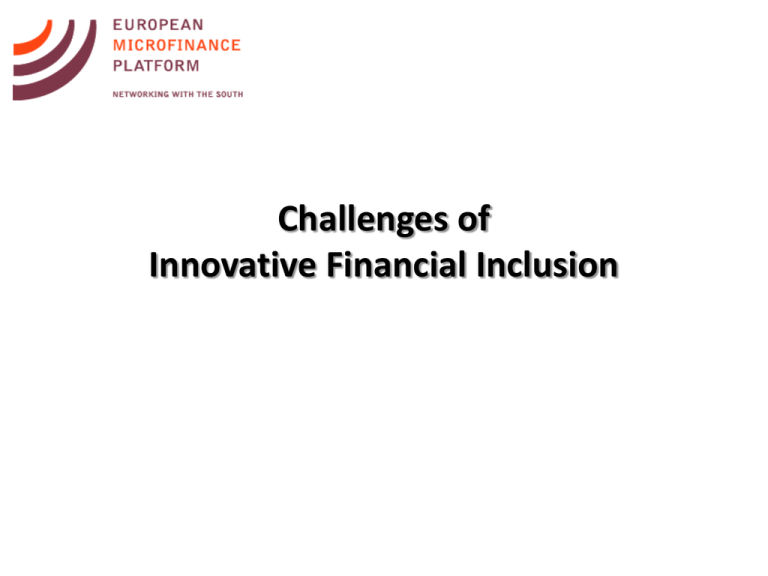 Challenges of
Innovative Financial Inclusion
Examples of innovation - Revolutionizing the sector
1. Transformation of MFIs into regulated financial institutions.
• This has led to:– Entry of conventional banks into the microfinance space.
– Increased Competition
– Introduction of many new products.
– Increased access to financial services (financial inclusion)
– Attraction of new capital from local financial markets and
foreign sources.
– Partnerships in new products
– Reduction of interest rates
Examples of innovation - Revolutionizing the sector
• Examples of New Products
• Value addition Community based enterprises, such as.
– Community water projects
– Leasing of small holder farmers equipment
• Proliferation of investment clubs with links to microfinace, as
suppliers of capital to CBEs
Examples of innovation - Revolutionizing the sector
2. Mobile Banking Systems.
– The famous M-Pesa made & continues to make big impression.
– Current innovation: MFI/Bank mobile banking systems
• Links to banking, payment systems & M-Pesa likes
• Facilitating payments for goods, services & utilities
• Opening access to many more customers
–
Over 2,000 entrepreneurs participating in the iHub
• A forum (technology hub) - entrepreneurs who seek to leverage on
mobile technology.
• Developing solutions for MFIs/Banks & other sectors which will
further open access.
Examples of innovation - Revolutionizing the sector
–
Examples
Recommendation/role for European Microfinance Platform
members
1. Support Regulators to
–
Develop policies & regulations for mobile systems
2. Support innovation accelerator initiative – seeking to
–
Help stimulate a startup of technology based SMEs to provide
services to masses.
– Bring in Angel/seed capital
– Mentorship to young entrepreneurs
The Midnight Sun Group (innovation Accelerator), ihub & mlab – examples
of players in this space.
3. To further deepen outreach:
–
–
Support funds that focus on smaller & rural based MFIs
Support activities that bring together investors & MFIs in Africa.