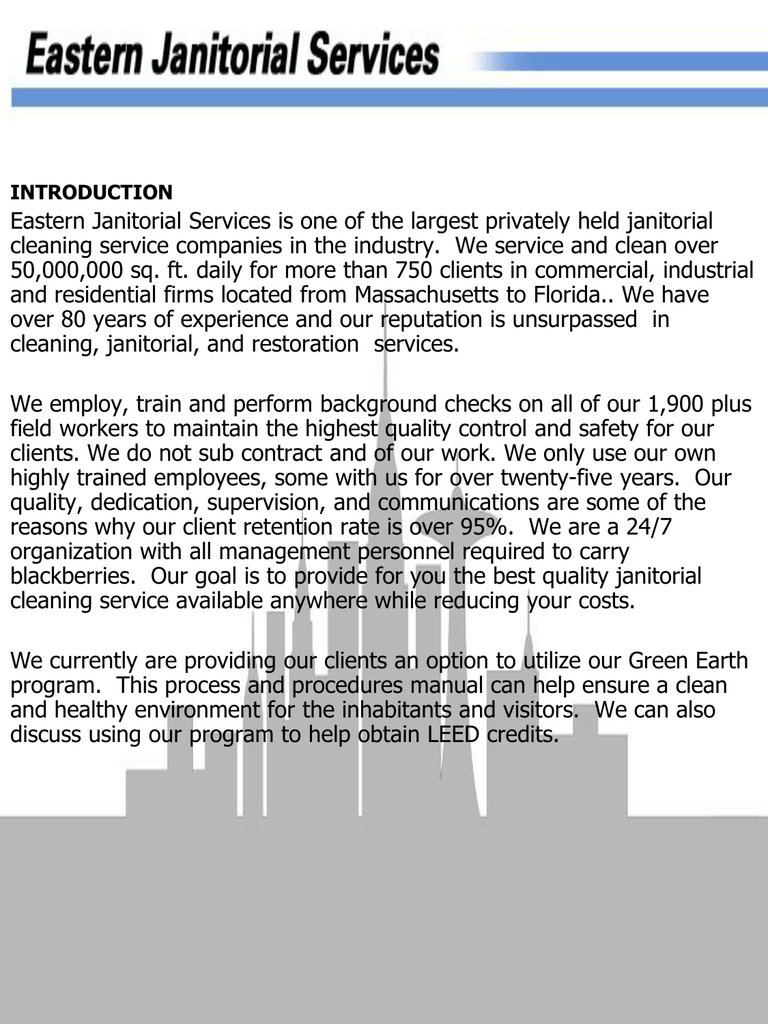 INTRODUCTION
Eastern Janitorial Services is one of the largest privately held janitorial
cleaning service companies in the industry. We service and clean over
50,000,000 sq. ft. daily for more than 750 clients in commercial, industrial
and residential firms located from Massachusetts to Florida.. We have
over 80 years of experience and our reputation is unsurpassed in
cleaning, janitorial, and restoration services.
We employ, train and perform background checks on all of our 1,900 plus
field workers to maintain the highest quality control and safety for our
clients. We do not sub contract and of our work. We only use our own
highly trained employees, some with us for over twenty-five years. Our
quality, dedication, supervision, and communications are some of the
reasons why our client retention rate is over 95%. We are a 24/7
organization with all management personnel required to carry
blackberries. Our goal is to provide for you the best quality janitorial
cleaning service available anywhere while reducing your costs.
We currently are providing our clients an option to utilize our Green Earth
program. This process and procedures manual can help ensure a clean
and healthy environment for the inhabitants and visitors. We can also
discuss using our program to help obtain LEED credits.
Services Available
Eastern Janitorial Services can provide the following services listed below:
•
•
•
•
•
•
•
•
•
•
•
•
•
•
•
•
•
•
•
•
•
•
•
•
•
•
•
•
Brass Cleaning
Carpet Cleaning
Ceiling and Wall Cleaning
Commercial/Industrial and Residential Cleaning
Construction/Fire/Flood Cleanups
Deodorization
Elevator and Metal Polishing
Furniture/Carpet Stain Removal
Garage Sweeper Service
Graffiti Removal
Granite and Hard Floor Care
Green Cleaning
Janitorial Restroom and Paper Supplies
Laboratory and Medical Room Cleaning
Light Maintenance
Marble Floor Polishing
Power Washing
Restroom Cleaning Restoration Services
Sanitation
Security Guard Service (Through our subsidiary, Colonial Security
Service)
Staffing - (Including light/heavy maintenance and doormen)
Stone and Terrazzo Floor Cleaning and Polishing
Strip/Wax and Polish VCT/ceramic tile resilient floors
Tenant Cleanups
Trash Pick Ups
Warehouse and Plant Cleanup
Window Washing (Exterior/Interior) and Blind Cleaning
Wood Panel Refurbishing
Industries Served – Building Types
Commercial Buildings
Developers
Property Mangers
Multi Tenant
Owner Occupied
Manufacturing
Industrial
Distribution
Arenas
Research Laboratories
Schools-Universities
Medical Facilities
Hotels
Operations Centers
Religious Institutions
Residential
Our Corporate Values and Organization
Quality - As an organization we understand the importance and accept the
challenge of providing the highest level of service.
People - Our employees are a reflection of our commitment to customer
satisfaction.
Training - A well trained employee is crucial in providing A-1 service.
Technology - Staying up to date with the latest in equipment and products
keeps our company on the cutting edge.
Support - The backbone of our strong organization is the support provided by
management and the home office.
Trust - Nothing is more important than the trust between customer, company
and employee.
Professional Affiliations - We are affiliated with the Building Contractors
Association International, BOMA and IFMA.
Why Our System Works
Supervision - We believe this is one of the most important elements to any
successful on-site operation.
Responsive - Our goal is to be proactive not reactive.
Employees - Eastern Janitorial Services has loyal and dependable employees
which reflects on the quality of our work and success. We have Supervisors who
have been employed with us for over twenty years. We believe that respecting
our employees provides a better environment for our clients.
Training - Every worker is thoroughly trained, re-trained, monitored, and
graded to maintain a certain work standard. This includes the use of training
tapes, booklets, and hands-on mentoring.
Incentive Program - If our porters meet certain objectives set in our
Employee Incentive Program, they are awarded with bonuses for their good
work and client satisfaction approval at the end of the year.
Communications - Eastern Janitorial is a 24/7 company. Our supervisors and
management must have blackberries and cell phones on their possession at all
times in case of an emergency.
Quality Control - We do not subcontract. We have the resources with over
1,900 field workers.