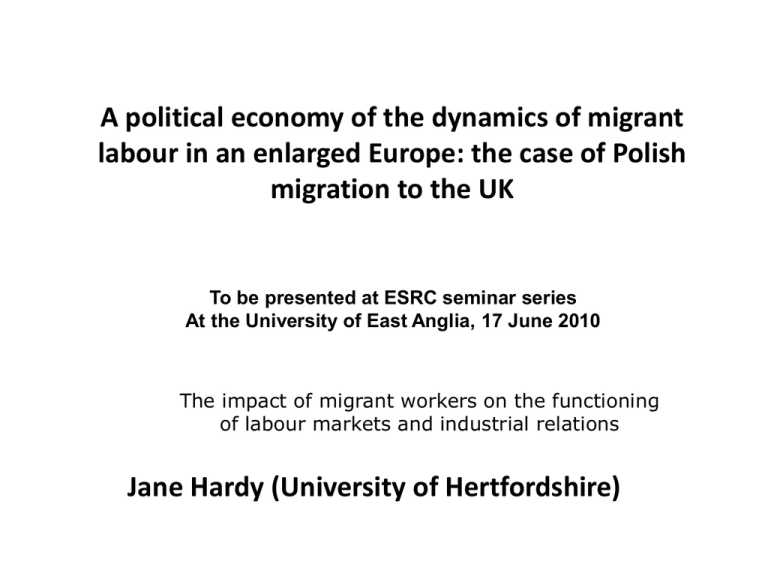 A political economy of the dynamics of migrant
labour in an enlarged Europe: the case of Polish
migration to the UK
To be presented at ESRC seminar series
At the University of East Anglia, 17 June 2010
The impact of migrant workers on the functioning
of labour markets and industrial relations
Jane Hardy (University of Hertfordshire)
Conceptual framework
• Uneven development creates structural
conditions of push and pull
• Specificity of migrant workers at the point of
production in the context of an intensification
of competition
• The role of the state in managing competing
demands of capital
• Individual and collective agency of migrant
workers
Uneven development in an
enlarged Europe
Table 1
GDP per capita and unemployment for selected countries, 2004 and 2008/2010
Country
GDP per capita
Unemployment
EU 27 = 100
(% of working
population)
2004
2008
2004
2010
Slovakia
57
72
18.2
14.1
Czech
76
80
8.3
7.7
Hungary
64
64
6.1
10.4
Poland
51
56
19.0
9.9
Ireland
142
135
4.6
13.2
Latvia
46
57
10.4
22.5
Lithuania
51
62
11.4
17.4
United
124
116
4.7
7.9
Republic
Kingdom
Intensification of competition
and drive to flexibility
Mobile and immobile capital
The role of migrant labour in
production
Reserve army of labour
Extensive accumulation
Expendable during downturns
Provision of labour under 'special conditions'
Can obtain labour at lower costs and/or
increased flexibility
Divide and rule
Increase intensity of exploitation
Table 2: Sectoral profile of A8 registered workers
Sector registered
Number of
workers
registered
Administration, business &
317,540
management
Hospitality & catering
151,945
Agriculture
80,310
Manufacturing
58,810
Food/fish/meat processing
39,145
Health & medical
34,915
Retail
35,230
Construction & land
33,105
Transport
21,425
The role of employment agencies
Advert from web page:
Specialist Suppliers of Personnel from Eastern Europe
OTTO Uitzend Kracht BV was established in the
Netherlands in 2000. Frank van Gool
identified a demand for reliable, hard working
and motivated personel within the Dutch
marketplace, and he saw an opportunity to bring
these types of personnel from Poland to the
Netherlands.
OTTO in the Netherlands is now the market
leader in the supply of temporary Polish workers
and Eastern European personnel.
Why are we different?
We only offer our clients recruitment solutions in
the form of personnel from Eastern Europe. Our
clients are generally companies, who have
difficulty finding, and retaining, production /
shop floor personnel.
.
Migrant workers in the food retailing value
chain
'Picking it, sorting it, moving it, selling it'
The UK state: contradictory
views, competing discourses
Managing tensions and
contradictions: the state
• Maximise the supply, flexibility and skills of
labour
• Minimise the cost of reproducing and
maintaining workers
• Balance the demands of different sections of
capital
• Involves intensive management of labour
mobility and hierarchy of status for migrant
workers
Story 1 UK Home Office
' there are obviously enormous benefits of
immigration…There is a big positive impact on
the economy which is worth £6 billion.
(Immigration Minister)
'The empirical literature from around the
world suggests little or no evidence that
immigrants have had a major impact on native
labour markets outcomes such as wages and
unemployment' (Danny Blanchflower speech
to Bank of England)
Story 2 UK House of Lords Report
• Immigration has a positive effect on the wages
of higher paid workers
• There is pressure on the wages of the worst
paid workers
The Polish State
• 2004 safety valve for unemployment
• Emergent labour shortages (geographically
specific)
• Emergence of 'brain drain' argument
• Ran 'return to Poland' campaigns
Individual and collective agency in
the context of supermobility
Migrant workers as complex agents:
individually and collectively
It is their [migrant workers] humanity that causes
authorities (and employers) problems. They don't
only migrate to work. The categories – refugee,
economic migrant, tourist, family member, business
visitor, student, stubbornly merge one into another,
and people impose their own wishes on the system.
All of them, apart from the very rich, need some
means of material support, but this is not necessarily
the only reason why they move, or stay. When I
asked a (small) sample of people who had settled,
none of them planned to, but most of them did
because they fell in love. (Nick Clark)
Harvey (1982)
• argues that workers are active agents in trying
to manage the differential of uneven
development to their own advantage. He
describes workers as;
• creative subjects...perpetually roam the world
seeking to escape the depredations of capital,
shunning the worst aspects of exploitation,
always struggling, often with some success, to
better their lot (: 380)
Historian James Barrett (2000) found that;
'the existence of separate racial and ethnic
continuities could lead to either unity or
fragmentation, depending on the role played
by important community leaders or
institutions.'
Labour organisations and cross
border solidarity
• Inclusion or exclusion
• Strength of labour in sender and receiver
countries
• Rhetorical or concrete solidarity
Migrant workers, crisis and
recession
• World recession widespread job loss
• UK experience contradictory
2008
• Employment of UK nationals 27.12m. to
26.74m.
• Employment of non-UK nationals 2.29m to
2.35m
According to a public policy advisor 'The idea
that migrant workers comprise a marginal
segment of the UK workforce that is dispensed
of when times are tough is clearly wide of the
mark' (Churchard, 2009).
Migrants choosing to stay in adopted
countries rather than return home despite
high unemployment and lack of jobs.