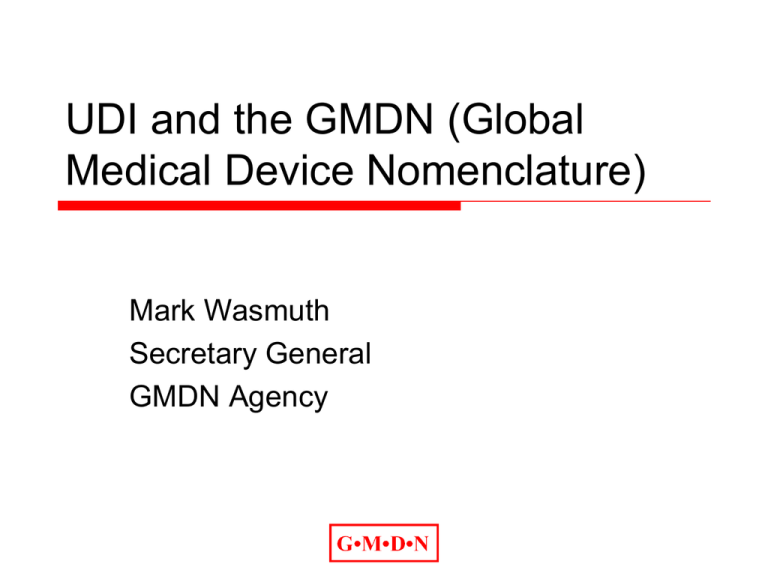 UDI and the GMDN (Global
Medical Device Nomenclature)
Mark Wasmuth
Secretary General
GMDN Agency
Contents







Background to GMDN & GHTF
Development of GMDN Codes
Scope of GMDN
Who uses GMDN and why
GMDN Data Structure
Using GMDN Database
GMDN and UDI
Need for Harmonisation
 Provide consistent application of regulatory
principles and approaches
 Improves regulatory system efficiency and
effectiveness
 Reduces duplication
 Rationalise time and cost
 Allow new product / technology to enter market
place
 Create transparency
 Regulatory programmes are expected to:
 Use available international standards
 Proactively influence their development
 Consult with stakeholders
Global Harmonisation Task Force
 Voluntary group established in 1992
 Founding Members: USA, EU, Canada,
Australia, Japan
 Partnership between regulators and
industry
 Liaison with:




Asia Harmonisation Working Party (AHWP)
World Health Organisation (WHO)
Pan American Health Organisation (PAHO)
International Standards Organisation (ISO)
GHTF Purpose





Encourage Regulatory Convergence
Promote innovation
Facilitate Trade
Information exchange forum
Study Groups established
 More at www.ghtf.org
Role of Global Nomenclature
 Global Medical Device Nomenclature
 Single nomenclature for GHTF regulatory
Model
 Provides Generic terms with definitions
 For efficient exchange of information
between regulators and others
 Analysis of data supports patient safety
Nomenclature – Pre 1993
 No Consistency in Regulation (pre 1990)
 Europe, USA, Canada, Japan, Australia and many
other parts of the world have little or no established
regulations
 Result = Initiative to investigate global procedures
 Conference In Brussels (Autumn 1991)
 To explore existing MD nomenclatures
 Result = No conclusion!
 First Formal Meeting of GHTF in Tokyo (1993)
 To establish a consistent approach to GMP, by using
as a basis ISO 9001 as the reference for regulations,
introducing the use of Quality Systems
 Need for Global Nomenclature identified
GMDN Source Nomenclature
Baseline data was adopted from established
Nomenclature:
 ECRI - UMDNS
 FDA - Procodes
 ISO 9999
 EDMA
 JFMDA
 NKKN
GMDN Development 1993 – 2011
 International Standard structure
 Resulted in ISO 15225:2000
 Updated as ISO 15225:2010
 Development to date:





18,933 Preferred Terms
1,980 Collective Terms (Device Attributes)
16 Categories (Scope)
Translation to 23 languages (ongoing)
Web-based access
GMDN Categories (Scope)
1.
2.
3.
4.
5.
6.
7.
8.
9.
10.
11.
12.
13.
14.
15.
16.
Active implantable devices
Anaesthetic and respiratory devices
Dental devices
Electro mechanical medical devices
Hospital hardware
In vitro diagnostic devices
Non-active implantable devices
Ophthalmic and optical devices
Reusable devices
Single-use devices
Assistive products for persons with disability
Diagnostic and therapeutic radiation devices
Complementary therapy devices
Biologically-derived devices
Healthcare facility products and adaptations
Laboratory equipment
Use of GMDN
 The GMDN is requested by the Medical Device
Regulator when products are registered in a
country
 The introduction of UDI has required us to
standardise on GMDN
 The GMDN is also being used by hospitals to
reference their inventory
 Governments use GMDN to analyse the
expenditure on Medical Devices
 The EU is implementing a data exchange system
(EUDAMED) that collects information on Medical
Device failures
EUDAMED
 European commission commenced development
of European Database for Medical devices
(EUDAMED) to establish reporting link between
all European Union regulatory bodies + EFTA
countries.
 EUDAMED is an information system for
exchanging legal information related to the
application of European Union Directives on
medical devices between the European
Commission and the Competent Authorities in the
European Union Member States.
 More information on EC website
Adoption of Nomenclature
 The following countries require the use of GMDN for product
registration (known about):
 Australia
 Japan (local variant)
 Italy
 Greece
 Poland
 Czech Republic
 Turkey
 Croatia
 Peru
 Mozambique
 Other countries are planning or in the process of adopting, so
we are in a transition period!
GMDN – Members by Country 2009
Manufacturer by Country / Value EUR
USA
UK
Germany
Switzerland
France
Italy
119400, 35%
Japan
Denmark
Belgium
Netherlands
Australia
Norway
Ireland
41945, 12%
34850, 10%
Sweden
Korea South
Canada
China
Other
GMDN – Preferred Term Structure
Term Name
Non-evacuated blood collection tube IVD, EDTA
Code
57900
Definition
A non-evacuated sterile glass or plastic tube,
sealed with a stopper, containing the
anticoagulant ethylenediaminetetraacetic
acid (EDTA). It is intended to be used for the
collection, and preservation and/or transport,
of blood for analysis and/or other
investigation. This is a single-use device.
GMDN Structure
 GMDN is a polyhierarchical system
 Preferred Terms are flat and linked to
Collective Terms (device attributes and
high-level terms) which are used to create
polyhierarchies
 Collective Terms allow searches by subject
group
 CTs allow analysis of the GMDN by
product attribute or feature
GMDN – Collective Term Structure
Using GMDN (website access)
Using GMDN (searching for terms)
Using GMDN (selecting the term)
Using GMDN (multi-lingual display)
GMDN and UDI
 GHTF (following the lead by FDA) are
preparing guidance on UDI and UDI
Databases (Master Data)
 The GMDN is the chosen nomenclature
 Part of the Master Data (not on the label)
 The challenge for manufacturers:
 Get your Master Data in order
 Manage your UDI and GMDN Codes (ongoing)
 Publish the data (where needed)
GMDN and UDI Relationship
Device Type = UDI
Generic Device Group = GMDN
Hudson
Hudson
1234567890
1234567890
Brooks
2234567890
Woods
3234567890
Summary
 Being used by more Manufacturers,
Regulators and Hospitals
 Has the necessary detail and tools to meet
Stakeholder needs
 Database is updated daily following
Manufacturer requests for new terms and
users are informed of changes
 Questions?