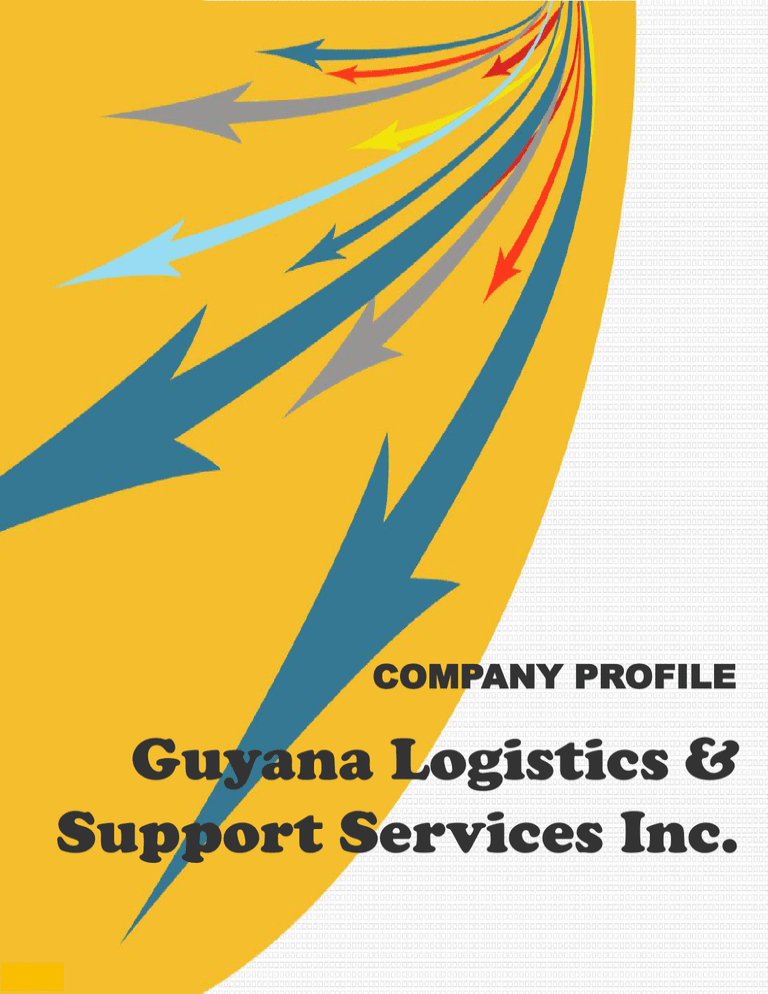 COMPANY PROFILE
Guyana Logistics &
Support Services Inc.
Introduction
Guyana Logistics and Supply Services is a startup company designed to ensure the
efficiency and effectiveness of your business processes. International companies
conducting business in Guyana are very mindful of this and obtain logistics support from
local providers, relying on their experience and knowledge of local business procedures.
But while there are many logistics providers available, they are mostly specialists who
focus on one or two areas of specialty. You may need to acquire the services of a
number of companies to meet your needs and getting things done might mean extra
cost and extra complications for you in terms of tracking your service providers. GLASS
Inc.., however, is a "one-stop shop" satisfying all of the logistics and support service
needs of your Company at a reasonable cost and great customer satisfaction making
sure that doing business in Guyana is next to effortless.
We endeavor to have everything that you may need at anytime you need it to keep
your business working efficiently and cost effectively.
Business & Contact
Information
•
Business Name: GUYANA LOGISTICS & SUPPORT SERVICES Inc..
•
Business type:
Private Limited Company
•
Tel:
592-226-8034, 592-624-0861
•
E-mail:
glass.info247@gmail.com
•
Website:
guyanalogistics.com
•
Office Address: 44 'B' High Street
Kingston
Georgetown
Demerara
Guyana
•
Directors:
JOHN LEWIS – Managing Director
CHARISSA CHEONG-SEWARD
HEWLEY NELSON
KOMAL SINGH
RAMONA VANSLUYTMAN
•
Corporate Secretary: RAMONA VANSLUYTMAN
•
Operations Manager GLENN LOW-A-CHEE
Mission Statement
•
To provide high quality services that combines performance with competitive
pricing, while establishing a successful relation with our customers and suppliers.
•
To continuously strive to meet our customers' needs and expectations of price,
service and selection.
•
To stay ahead of the competition by innovation, based on the needs of our
customers and market demand.
•
To develop an organization that will encourage all employees to prosper and grow
to their maximum potential.
•
To conduct our business with the highest levels of integrity in the interactions with
our customers and suppliers.
Company Description
•
Guyana Logistics and Support Services Inc. (GLASS Inc.) is a registered private
limited liability company. GLASS Inc. is in the business of logistics, custom
brokerage and support services, focusing mainly on the provision of such services
to foreign clients operating in Guyana.
•
The Services offered by GLASS Inc. are:
1. Documentation and License Processing
2. Procurement
3. Brokerage Services
4. Travel and Immigration
5. Shipping Agency and Stevedoring
6. Transportation
7. Relocation and Domestic Support
8. Security
9. Equipment and Vehicle Rental
10. Office And Residential Rental
•
Guyana Logistics and Support Services Inc. main target market are expatriate
companies that will be working specifically for the Oil Gas and Mining Industry and
other expatriates who are in the country to provide services to these Companies a.
•
GLASS Inc. intends to expand and evolve it services in the near future as driven by
increased activities in the above mentioned service areas.
•
Presently GLASS Inc. has no direct competitor but there are a number of local
businesses who offer a few of the services. However we believe that there are
many shortcomings in the delivery of services by these Companies, it is our aim to
deliver superior services.
SERVICES
DOCUMENTATION AND LICENSE PROCESSING
GLASS Inc. will assist clients to significantly reduce issues brought about by unfamiliarity
with the processes in securing permits in Guyana. GLASS Inc. will manage in a timely
manner the processing of the documents and licenses required by companies to
commence, carry on and/ or to continue operations within Guyana.
With our experienced professionals, the company has in-house experts to handle the
following:
Local Business Permits
Tax Exemption Certificates
Industry-Related Certificates
Explosive Permits/ Certificates
We can procure and provide any other services our Clients may require that is not listed
here.
SERVICES
PROCUREMENT AND CUSTOMS BROKERAGE SERVICES
GLASS Inc. assists its clients with procuring materials and services required for their
operations of their businesses, both within Guyana or to send overseas. With a network
of trusted providers of products and services Guyana Logistics and Support Services Inc.
makes everything readily available to clients. GLASS Inc. also ensures that the highest
quality products and services are provided to its clients as per their specific
requirements.
Our expert staff also takes care of all customs brokerage service requirements for easy
clearance of products imported or exported by clients.
TRAVEL AND IMMIGRATION
GLASS Inc. can arrange and provide complete travel needs and requirements that
ordinary travel agents cannot provide. The company acts in the capacity of a 'Travel
Agency Plus' and in addition to organizing flights reservations it can arrange immigration
clearance, transportation to and from the airport and accommodations.
GLASS Inc. also manages the processing of Visas for foreigners to enter Guyana and
their approvals for Work Permits.
SERVICES
SHIPPING AGENCIES
Guyana Logistics And Support Services Inc. also provides vessel clearance services for
all types of vessels from all relevant authorities e.g. Customs, Port Health and
Immigration.
TRANSPORTATION AND SECURITY SERVICES
The Company provides ground transportation services for the movement of personnel,
equipment and machinery. Business executives also have the pleasure of choosing from
a fleet of service vehicles that can match their transportation needs.
GLASS Inc. also offers an elite service in VIP transportation and security.
Our well-maintained fleet of vehicles comprises of SUVs, pickup trucks and cars with
well- trained drivers who value promptness and efficiency. SOS transportation services
are available 24 hours a day, 7 days a week.
SERVICES
HUMAN RESOURCES (LOCAL MANPOWER)
Our executive staff is in the process of expanding our job bank of skilled and unskilled
persons in the local labor force and has developed a network relationship with these
personnel. GLASS Inc. is confident in its ability to provide the right personnel to meet
companies' needs.
Additionally, we can also manage the payrolls (salary, allotments, benefits, and
remittances) of the supplied manpower and secure and manage the insurance
requirements of the supplied personnel.
RELOCATION AND DOMESTIC SUPPORT
GLASS Inc. recognizes that setting up a business in a foreign country is not limited to
establishing an office. The company also assists its clients in finding temporary homes
for their personnel in Guyana depending on their preferences and budget (e.g. hotel,
serviced apartment, or residence in a safe, exclusive village) at great deals.
EQUIPMENT RENTAL
GLASS understands that foreign companies may not have access to equipment such a
Cranes, Forklifts, Lighting Towers and other such heavy duty equipment. As a result the
company has taken the initiative to make equipment available for our clients to rent at
very competitive rates so they can get the job done and avoid needless capital
expenditures.
OUR TEAM
John LEWIS
• Bsc. Mechanical Engineering
• Various Executive Portfolios in the Mining Sector for 30 years
• 20 years Business Experience
Komal SINGH
• Managing Director/ Owner – Gaico Construction & General Services
• 17 years experience in Accounting and Marketing – Texaco West Indies Ltd.
Accounting and Marketing
• MBA Finance – University of Colorado
• Msc. Management – Colorado Technical University
Hewley A. NELSON
• General Manager – Hand –in- Hand Trust Corporation
• Bsc. Public Administration
Ramona VANSLUYTMAN
• Corporate Attorney-at-Law – Company Secretary
• Investment Promotion Consultant
• Business Law Lecturer
• Business Operations Adviser
Murland SMITH
• 28 years Customs Broker experience
• Dip. Shipping and Logistics (Jamaica Maritime Institute)
• IMO and IATA Dangerous goods certified.
• IMO Certified Port Facility and Security Officer.
OUR TEAM
Glenn LOW-A-CHEE
• 6 Years Accounting and Auditing Experience
• 4 Years Transportation and Logistics Experience
• Certified Accounting Technician
Steve MOORGAN
• 10 years Information Technology experience
• Network Engineer
• MCITP Enterprise Administrator
• B.A. History ( University of Guyana)
• MCSA Security, Security
Gregory SUKULL
• 14 Years Military Service
• 10 Years Intelligence Experience
• Civil Defence Training
• Dip. Computer Science
Reshma LATCHMAN
• 3 Years Banking Experience
• Certified Accounting Technician.