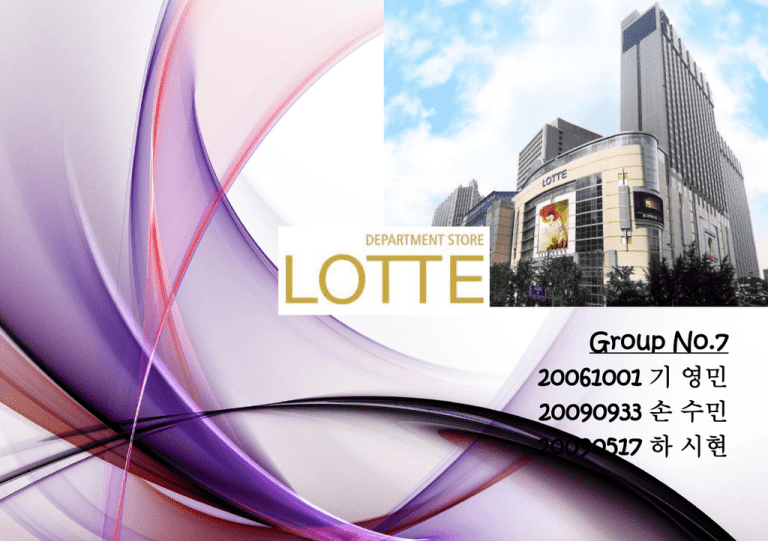 L/O/G/O
Group No.7
20061001 기 영민
20090933 손 수민
20090517 하 시현
Contents
1
Lotte Department Store
2
Electronic Data Interchange
3
SWOT Analysis
4
Value Chain
5
Porter's Five Forces
6
Hammer's Reengineering Principles
LOGO
1
Lotte Department Store
• Lotte Department Store is a Korean retail company
established in 1979 and headquartered in Sogong-dong
Jung-gu, Seoul, Korea.
• Lotte Department Store offers retail consumer goods and
services and is one of eight business units of Lotte
shopping.
• Lotte Department Store has opened thirty four branches as
the largest firm in Korea.
LOGO
1
Current Market Situation
 Lotte Department Store has the highest market share, 42% in 2010.
 Lotte, Hyundai and Shinsegae are the nation's top 3 companies.
 The Concentration Ratio of 3 Companies is 82%.
LOGO
1
Visions
 Lotte Shopping including Lotte Department Store
ranked sixth in department store section of 'Global 2000'
which is selected by Forbes, the U.S. business magazine.
 'Global 2000' is the international ranking determines
by Forbes based on assets, sales, net profit and market
capitalization of each company.
LOGO
2
SCM & EDI
Supply Chain Management
Electronic Data Interchange
Strong Relationship between the retailer and suppliers
Place right amount of products in the right position
LOGO
2
Advantages of EDI
Cost Saving
EDI save a company
money by providing
an alternative to, or
replacing information
flows that require a
great deal of human
interaction and
materials such as
paper documents,
meetings, faxes, etc.
Error Reducing
All transactions are
accomplished in
network systems, so it
prevents occurrence of
errors and makes fast
and correct
information exchanges
possible.
Time Saving
The trading partner
receives and
incorporates the
information into their
system thus greatly
reducing cycle times.
LOGO
2
Lotte EDI system
WEB-EDI serving information like delivery, sales, price and tax in 2003.
 Lotte EDI system to reduce office hour times and cost for document
organization and optimization
 Lotte EDI system sharing the information with online market
LOGO
2
Lotte EDI system
Item information
Order information
 Registration of product numbers
 Present condition of product numbers in
branch stores
 Registered information about each
product
Supply information
Deliver information on date and
margin
Concrete delivery condition
information
Registration and Correction of delivery
and delivery condition
 Information statement or TAG.
QR processing
Lotte EDI
System
Account information
Information payment breakdown on
each item and margin
Information about delayed, deducted
payment breakdown
LOGO
2
Innovation of Lotte EDI system
Product Order to Stock
Time to Check Data: 70 minutes
Office Hour: 97 minutes
Time to Check Merchandise: 4 hours
Monthly Bookkeeping Deadline: 6 hours
Only 3 days taken to Ordet and Stock Product
Time to Check Data: 30 minutes
Office Hour: 54minutes
Time to Check Merchandise: 1 hours
Monthly Bookkeeping Deadline: 3 hours
LOGO
3
SWOT Analysis
Strengths
Weaknesses
The nation's No.1 highstreet retailer
High dependence on
Main store
Strong brand power
The largest total
number of stores in
Korea
The largest distribution
network
Well equipped with
merchandise of various
types and prices
Exaggerated weight on
clothes among overall
sales
Low ratio on direct
purchase below 10
percents
High dependence on the
sales of masterpiece
made in foreign country
LOGO
3
SWOT Analysis
Opportunities
Threats
Possibility of consumption
activation by connecting
online and offline
Intense chase of rival
companies
Increased demand on
high-priced article
Appearance of new
customer base (LOHAS,
BOBOS, slow food,
downshifts etc
The sudden increase in
competitive 20 to 30
young people
The rise of home
shopping industry and
discount industry
Deepening price
competition by internet
or online trade
Deepening competition
by saturated domestic
distribution market.
LOGO
4
Value Chain
LOGO
4
Value Chain &Technology
Inbound
Logistics
Transportation
Material
handling
Material
Storage
Communication
Testing
Information
System
Firm Infrastructure
Human Resource Management
Technology Development
Procurement
Operation Outbound Marketing
Logistics
&Sales
Process
Materials
Machine Tools
Material
Handling
Packaging
Maintenance
Testing
Building Design
Information
System
Transportation
Material
Handling
Packaging
Communication
Information
Systems
Media
Audio
Video
Communication
Information
Systems
Service
Testing
Communications
Information
Systems
LOGO
5
Porter's Five Forces
Database
Customization
Easier Access
Satisfaction
Customer Trend
Brand Image
Distribution Channel
High Scale Threshold
Short Supply of
Good Quality Products
Discount Stores
Home shopping
Online Shopping Malls
After the financial turmoil in 1997,
High Concentration Ratio
Customized Strategy
Differentiated Product
LOGO
6
Hammer's Reengineering Principles
High Dependence
on Main Store
↓
↓
Bridge the Gap between
Main Store and Chain Stores
LOGO
L/O/G/O
Thank You!