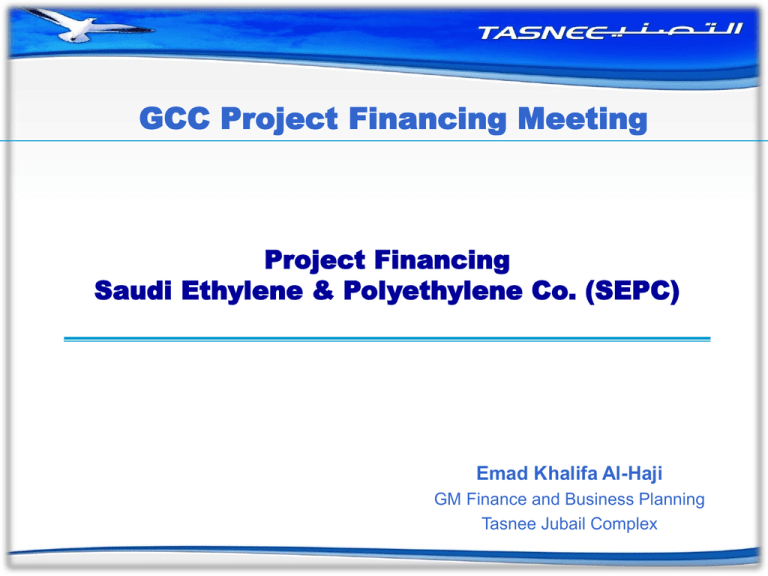 GCC Project Financing Meeting
Project Financing
Saudi Ethylene & Polyethylene Co. (SEPC)
Emad Khalifa Al-Haji
GM Finance and Business Planning
Tasnee Jubail Complex
Tasnee Introduction
 Tasnee is a Saudi Joint Stock Company established
in Year the 1985.
 Managing a diversified investment of more than
SR33 billion in various business sectors, with total
turnover of SR11 billion as of Y2009.
 In the year 2000, decided to 'Construct and Own'
Petrochemical Plants in Al-Jubail Ind. City.
 First investment, PDH and Polypropylene Plants of
450 KTA Capacity each, completed in Y 2004.
 PP expansion to 720KTA was completed in Y2009 to
be one on the largest PP producer in the region.
 Second
Ethylene
Project investment was an Integrated
&
Polyethylene
Plants
with
production capacity exceed 2.1 million TA.
2
total
Project Sponsors
Saudi
Shareholders
Foreign
Shareholder
Tasnee 45.34 %
Sahara 24.41 %
GOSI
5.25 %
Lyodellbasell
25 %
Saudi Ethylene & Polyethylene
Company - SEPC
3
Project Overview
Saudi Aramco
Ethane Propane
Linde
Ethylene Plant
Technology
Ethylene
Basell
Polyethylene Unit
HDPE
ACP Technology
Basell
Lupotech Technology
HDPE
400 KTA
4
Ethylene
Ethylene
200 KTA
Polyethylene Unit
LDPE
LDPE
400 KTA
Propylene
285 KTA
Intended Products - HDPE
Film Grade
SMALL BLOW
MOULDING
Application in small
container, Packaging
Pressure Pipe
Grade
Blow Moulding
Small
Blow Moulding
Medium
Blow Moulding
Large
FILM GRADE
Application in carrier
and Garment bags
PIPE GRADE
Application in drinking
water pipes, sewage and
gas transportation lines.
5
Intended Products - LDPE
Cable
Insulation
Grade
Heavy Duty
Film
Hygienic Film
High Clarity
Film
GP
• Food packaging.
• Laboratory containers.
• Computer components.
• Medicine field.
• Dispensing bottles.
• Plastic bags.
6
Investment Advantage in Gulf Region
 Availability of Oil & Gas resources and related industries, has
created great business opportunities.
 Strong government commitment to derisively the NDG income
resources.
 Distinguished geographic location closer to the East & Fareast
and European markets.
 Booming Project Finance Industry has resulted in competent
and competitive financing resources.
 Steady growth in Global Market Demand on the basic and
primary industrial materials.
 Established regulatory laws that helped to attract Private
Investors (Local and Foreign).
7
Investment Advantages in Saudi Arabia
 Strong government support by providing feedstock and Utilities
at attractive prices, government loans, customs and Taxes
waivers etc.
 Creation of Industrial cities with strong infrastructure foundation
for manufacturing and supporting industries.
 Sufficient Power and Industrial Water Requirements.
 Availability of experienced resources.
 Largest Project Financing Market in the Middle East.
 Steady evolution of the legal framework by the Government has
facilitated to attract more foreign investments.
8
Investment Advantages in Saudi Arabia
Feedstock &
Utilities Cost
Advantageous
Industrial Cities
Infrastructure
Investor
in Saudi
Arabia
Availability of
Government &
Commercial
Loans
Evolving of
Government
Investment Laws
Experienced
resources
9
SEPC Project Financing Alternatives
 Ongoing Industrial Boom has stretched the financing capacity of
Commercial Banks in the Region.
 Project Sponsors have evaluating other commercial funding options
such as Export Credit Agencies (ECA) , which are more economical.
 Creation of complex Financing Structure, where different financing
tranches are linked together.
 Common Term Agreement (CTA) concept would be helpful in
compiling different Loan agreements terms and condition in one
agreement.
 Disadvantage of multi-sourced financing is the complexity of the
terms and conditions.
10
SEPC Financing Structure
30%
41%
16%
13%
Equity
SIDF Debt
PIF Debt
Banks and ECAs
Estimated Project Cost is USD 2.5 Billion
11
Sources of Government Loans
 Saudi Industrial Development Fund is providing loans to industrial
investment along with technical, administrative, financial and
marketing advices and it is affiliated to Ministry of Finance.
 PIF established to provide financing to commercial projects which are
strategic for the development of the national economy and it is
affiliated to Ministry of Finance
 SIDF grants short/medium term loans up to SR 600 Million for each
project and charges no interest, but fees for administrative expenses.
 PIF grants Long term loans up to $400 Million and following the
commercial banks loan structure but with attractive rates.
 Total government loans obtained was $720 Million.
12
Sources of Commercial Banks and ECA Loans
 Commercial Banks: Leading foreign and local banks were participating in
SEPC financing structure, total Commercial loans received were $457
Million including working capital.
o
Saudi British /HSBC/SAMBA Financial Group/ Saudi Fransi
Calyon, London / Societe Generale, France/West LB, London/ Royal
Bank of Scotland.
 ECA's: private or semi-governmental bodies that extends credit to local
suppliers and provide necessary Guarantee (buyer receives good or
service in advance and makes payment later, as well as provide
insurance for export. Total ECA's loans received were $730 Million.
o
o
HERMES (Germany), SACE (Italy), KEXIM/KEIC (South Korea).
 Project Information Memorandum was issued to Potential Lenders in
September 2005, and Loan Agreements were signed in June 2006.
 Bridge loan were arranged until Financial closure was achieved in Dec
2006 before the depletion of equity money.
13
Success Factors
 Promoting safety culture.
 Strong Sponsors commitment from both owners and partners side.
 Early identification of project scope.
 Experienced EPC Contractors.
 Setting
dependant project organization IMT with experienced and
diversified team.
 Successful loan bridging strategy.
 Strong Financing Structure, and timely completion of financial closure.
 Early preparation for plant operation activities.
 Project completion on schedule and within budget.
14
Best Deal Award for SEPC Financing
 SEPC's
Financing has been
awarded 'Best Deal of the Year
2006'
by
Project
Finance
International,
a
leading
publication in Project Financing
 The Award is for Petrochemical
Sector in Europe, Middle East
and Africa
 SEPC won the award ahead of
the projects sponsored by Dow
Chemical,
Saudi
Aramco,
SABIC,
Kuwait
Petroleum,
Oman Oil Company and LG
Group
15
Tasnee Main Ranking
1st
2nd
Industrialization Joint-Stock Wholly Owned by Private Sector 1985
Largest Saudi Industrial & Petrochemical Company
13th
2nd
Largest Global Producer of Titanium Dioxide
Top
1st
Project Finance Award 2006
Best Work Environment in Saudi Petrochemicals 2008 & 2009
1st
16
Largest Saudi Company
Saudi Company of The Year 2008
Global Impact / challenges of project Financing
Some of the major factors that impact the project financing are:
 World wild recession and the impact of the financial crisis.
 The exposure of local banks overseas assets to the financial crisis
(subprime mortgage ) has limited the banks financing capabilities.
 Bank adoption of stringent lending policies has limited banks growth.
 Drop in oil prices limited the government spending which has resulted
in slowing the domestic growth.
 Drop in demand for the basis building and manufacturing materials has
resulted in major prices turn down and limited growth opportunity.
 Changes in Project Economics
17
Thank You!