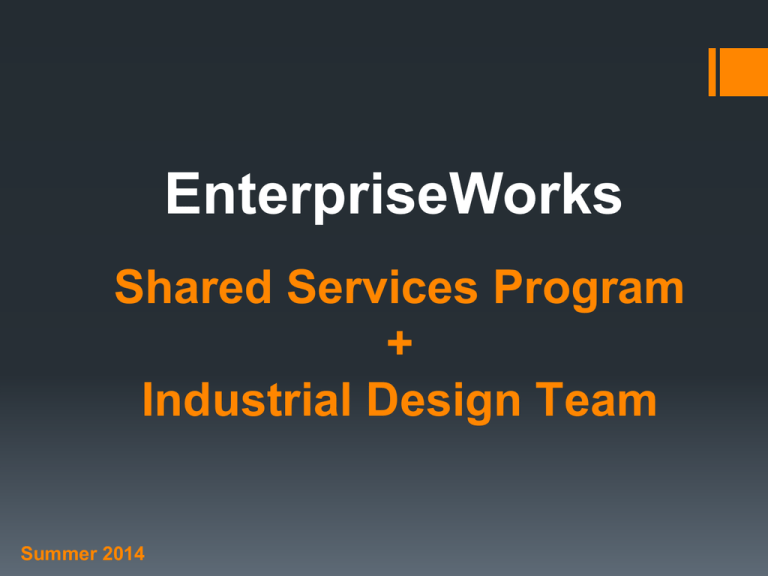 EnterpriseWorks
Shared Services Program
+
Industrial Design Team
Summer 2014
Shared Services Program:
What Is It?
 EnterpriseWorks offers Shared Services to help
entrepreneurs and their companies with project needs
 Our diverse team can help you with short-term projects
that you may not be able to complete on your own
 Shared Services is a free service! We are here to help
you!
 We will actively seek feedback to ensure our program is
providing exceptional work!
Shared Services Team Skills
 Business Plan
 Project Timelines/Roadmap
 Financial Plan
 Pricing Strategies
 Marketing Plan, Market Assessment
 Financial Forecasting
 Branding Solution
 Revenue Models Generation
 Logo Design
 Competitor/Industry Analysis
 Website Design
 Pitch Review
 Mobile App Development
 SWOT Analysis
 Social Media Marketing and
 Google Ad-Words
Advertising
 Business Development Plan
 Presentation Setup – Slide
 Writing Press Releases and Creating
Deck/Template Formatting
Social Media Plans - Writing, Editing,
 Market Research
 User Experience
 Potential Customer Interviews – NSF
 Product Design
Funding
The Shared Services Team
Abraham (Abe)
Marketing & Business Development
Intern
Abraham is a first year MBA student at University
of Illinois Urbana-Champaign, He is concentrating
on Strategy and Technology. Abe has 6 years work
experience at Information Technology (IT)
companies at various job roles such as Technical
Consultant, Product Manager and Business
Development Manager. He is interested on
helping startup or small businesses to create a
solid business development plan and go-to-market
strategy.
Alex
Marketing & Business Development
Intern
Alex Lee is a UIUC graduate student in the M.
S. Technology Management program. He
majored in Technical Systems Management,
learning about agricultural engineering
technologies, with a minor in Business.
Before EnterpriseWorks, Alex was a
Passenger Service Agent at O'Hare
International Airport with Lufthansa and Air
France. During his free time he relives his
glory days by playing sports, catching up on
movies and the 90s."
Ian
Graphic Design Intern
Ian Taylor is a junior at UIUC in Graphic
Design. He has done his internship with
Lost Points LLC, studied drawing,
traditional and digital media. Ian is also a
schedule management and coach for
Parkour Illinois club. In his spare time he
looks for indie games and train parkour
around town.
Jenna
Communication & Social Media
Intern
Jenna is an incoming junior, pursuing a
bachelor's degree in Advertising at the
University of Illinois. She is minoring in
Spanish and has strong interests in culture
and traveling. As an intern for Research
Park, she focuses on communications,
marketing and social media.
Jennifer
Program Marketing Intern
Jennifer Chuzhoy is a senior majoring in General
Engineering (secondary track of Marketing), with a
strong background in mechanics and control
systems. She has an interest in business
development, supply chain management, and
marketing, as well as experience with
modeling/analysis software (auto CAD and
ANSYS), and a few programming languages.
Jennifer has worked as an intern for two different
programs, which has provided her with skills such
as program development, discussion facilitation,
and advertising.
Liam
Communication & Social Media
Intern
Liam Miller is a social media and communications
intern from Darien, IL. He is a rising senior at U
of I, majoring in Communication with minors in
Business and Architecture. His experience is most
extensively in social media marketing, and he has
managed social media platforms for a nonprofit
called Watts of Love. He is also on a team that is
revamping the Department of Accountancy's
online presence over several channels. One of his
favorite hobbies is shooting and editing short films.
Within the past semester, he has completed one
and is in the process of completing several more.
Martina
Data Management Intern
Martina Lee is a senior majoring in Finance and
Information Systems/Technology and minoring in
Chemistry. This summer, she is working as the
Data Management Intern for Enterprise works.
She can help manage and update internal
spreadsheets and databases with current company
information. She works a lot with Microsoft Access
and Incutrak. In her free time, Martina enjoys ice
skating and playing the piano and violin.
Mayank
Web Development Intern
Mayank Kale is a freshman studying
computer science at the U of I. Mayank is
really passionate about entrepreneurship
and is already working on 2 startups. He
loves making beautiful products, great
websites and wildlife photography.
Piyush
Technology & Business
Development Intern
Piyush Kant is a first year MBA student
concentrating in Strategic management. He
holds a Bachelor of technology degree in
computer science. He has 5 years of
professional experience in delivering
technology solutions. His
work experience responsibilities ranged
from Technology Consulting, Business
Development, Strategy development,
Technology Management, Web development
and maintenance
Taylor
Graphic Design Intern
Taylor Carlson is a senior at the University
of Illinois majoring in Graphic Design. She
is interested in pursuing a career in user
interface design and branding. Her skills
are not limited to these two areas of design
however, for she also enjoys working in
many other areas of design such as
packaging, illustration, typography, and
layout design.
Shared Services Project
Examples
Website Design
Logo Design
and
Branding
Business Projects
 Develop a strategy to attract companies to place
advertisements on the client's website or software
program.
 Perform market research and assessment for clients'
potential group of products
How To Submit A Shared
Services Project Request
How To Submit A Project
Request
The Industrial Design Team
Weijia (Ttac)
Industrial Design Intern
Weijia Wang (Ttac) is going to be a senior
industrial design student in University of Illinois
at Urbana Champaign, and Mathematics is her
second major. She loves brainstorming, sketching,
and 3D modeling (SolidWorks). She is also very
good at model making, with 5 years of experience
in woodworking and 2 years in metal fabrication.
She is interested in problem solving, and she has a
true passion in designing new products.
Tithi (Ti)
Industrial Design Intern
Tithi Jasani is an undergraduate Design Research
Assistant at EW Incubator at the University of
Illinois at Urbana Champaign. She is an
international transfer student from MIT Institute of
Design, Pune, India, and is currently pursuing
Industrial Design at the senior level. She specializes
in concept visualization and modeling. She grew up
with a passion for the Arts and became interested in
Product design and Development in high school. She
has received several awards for her notable art skills
at the national level. In her free time, she likes to
read and play several sports. On campus, she is the
head of the design committee for the Rube Goldberg
Society and an active member of the Illini Rotaract
Cub.
How to Submit an Industrial Design
Project Request
4/13/2015
Thank You!
Any Questions?