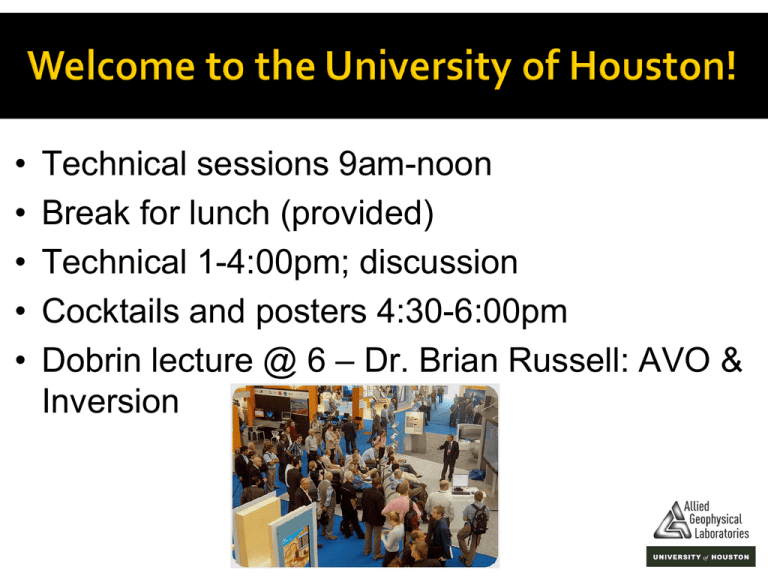 •
•
•
•
•
Technical sessions 9am-noon
Break for lunch (provided)
Technical 1-4:00pm; discussion
Cocktails and posters 4:30-6:00pm
Dobrin lecture @ 6 – Dr. Brian Russell: AVO &
Inversion
The new Allied Geophysical Lab
Robert R. Stewart
The Department of Earth & Atmospheric Sciences
University of Houston
Houston, Texas
April 28th, 2010
What are we trying to do?
We aspire to provide:
• High-impact geophysical research
– Lab, field, algorithms, work flows, case histories:
find, produce, monitor hydrocarbons &
understand processes
• Enhanced education and effective graduates
– Undergrad/Graduate, international, industry
continuous learning
• Professional involvement
– GSH, SEG, EEGS,…
Universities
Equipment & service providers
Professional Societies
Energy companies
Agencies
AGL Overview
• a very strong geophysical team
• an exciting expansion plan with new
professorships and staff
• a host of good & eager graduate students
• a strongly developing lab, field, and
processing ability
• an experimental and analytic geophysical
focus
• We need industry support to make it work!
UH/AGL geophysics faculty & their expertise
Further faculty and
their interests
Edip Baysal – seismic
imaging
Christina Chan – Rock
physics
Stuart Hall – potential
fields
Young Kim – survey
design, reverse time
migration
Bob Sheriff –
exploration
geophysics
Kurt Strack – well
logging
Jolante Van Wijk –
tectonics
We're building!
NEW HIRES!!!! – We're looking for
two new geophysics professors –
Experimental Rock Physicist and
Marine Seismic Explorationist
AGL Positions!!!! – We're also seeking
three AGL staff members – geophysical
lab/field technician, geophysical systems
analyst, geophysics post-doc
Geophysics at AGL &
University of Houston
~ 100 geophysics grad students
~ over 50 undergrads
Allied Geophysical Lab - Facilities
Field test &
education sites
(API & La Marque & Montana)
Geophysical surface &
logging equipment
(AGL & Dept. &
Remote sensing)
Robotics &
petrophysics labs
(AGL & Han)
Well-logs, computer processing,
& interpretation
(AGL & Dept. &EE)
Neotectonic Studies in the NW Himalayas
LiDAR and GPR for measuring Fault Activity in Houston area
Fault
Major AGL research theme:
Elastic waves for reservoir assessment
• Use physical modeling (simsource, WAZ), lab
petrophysics, near-surface acquisition to
improve subsurface imaging; partner for larger
projects
• Advance the A-list: Anisotropy, attenuation,
AVO, and attributes
• Fully exploit the elastic wavefield (3C/4C)
• Integrate measurements and scale
• Develop special techniques (µseismic,
inversions) and targets (CO2, shale)
S-wave velocity from MASW and refractions
(Al-Duliajan & Stewart, 2010)
Digboi Oilfield in the
tea growing region
of Assam, India
(April, 2008)
Well logs from Moran-107, Assam India in
the Barail interval
Allied Geophysical Lab - Where we want to go
• In the top 5 university research groups in exploration geophysics in the world
• "Go-to" group for applied geophysics problems and training
• Major advancements in geophysical methods and reservoir understanding
• Improved quality of education including more "experiential" training (field
schools, laboratories, and computer analysis)
• Greater support of petroleum discovery & recovery research (land & marine)
• More dynamic interaction with geoscience community (especially Houston's)
• Pressing needs for better subsurface imaging
• Remarkable team of geophysical researchers
assembled in the Allied Geophysical Lab
• Lots of exciting developments in land & marine
acquisition and imaging – research needed
• AGL asks for your involvement and is looking to
create collaborations, consortia, and contracts
Thanks for
joining us today!