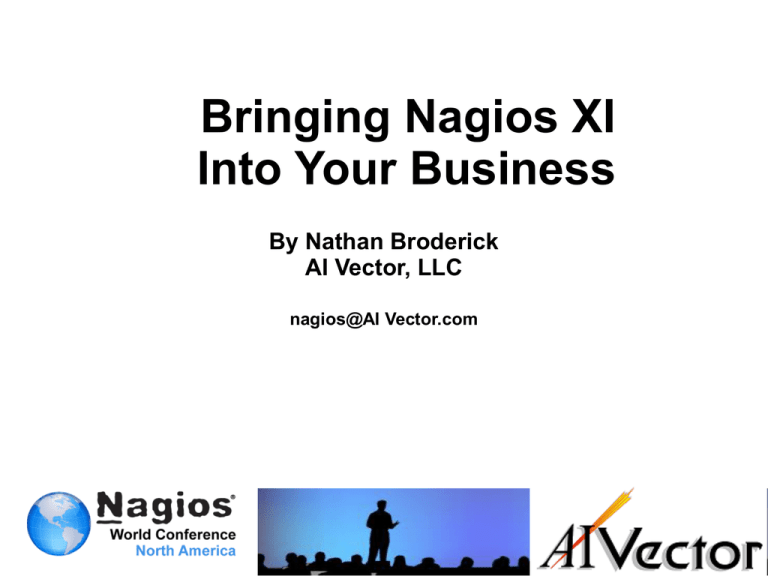 Bringing Nagios XI
Into Your Business
By Nathan Broderick
AI Vector, LLC
nagios@AI Vector.com
AI Vector Background
AI Vector is a technology company
Founded in 2008
Monitoring
Programming
Systems Administration
Creative solutions to difficult problems
Knowledgeable staff
Systems tuning
2012
2
Specializing in monitoring and programming
Focused on mid to large companies looking
to enhance their monitoring needs
Assist in systems architecture and
implementation
Performance tuning and ongoing monitoring
2012
3
Issue:
If your customers know
about your problems before
you do, it's time to get
better monitoring
2012
Why Monitoring?
What is the Cost?
Monitoring is essential for any
company that wants to
survive
Monitoring helps companies
create a professional image
Toys R Us website went
down temporarily in key
Christmas time frame.
2012
What is the Cost?
Are your current monitoring
solutions meeting your needs?
What matters most to your
business?
Productivity Loss
Labor Costs
Potential Lost Sales
Loss of Confidence in your
Business
2012
Where to start
Where to Start
Does your company use
your current monitoring
system?
Nagios makes monitoring
simple
Systems analysis of
current Monitoring
What processes are
necessary
2012
Nagios XI Features
Intuitive GUI
Easily view problems
Little training required
Performance Graphs
Dashboards and Reports
Configuration Wizards
Expandability
24/7 Monitoring
Multiple User Support
2012
9
Where to Start
How many systems do you
have?
How many services run on
those systems?
What are your critical business
processes?
Who will be running the system
once it is set up?
Plan what type of reporting will
be needed and who will see it
2012
Planning
Establish roles and
responsibilities
Determine who will run the
system
Plan out the host groups and
service groups
Establish good SLA times
Create the audience of the
alerts
Determine what management
will need to see
2012
Planning
Plan to monitor regional areas
of the company
Do a cost analysis of
implementation
Develop a project plan for the
implementation
Plan out the monitor hierarchy
2012
Evaluating
Monitoring Systems
Where to Start with Nagios
Evaluate the structure of
the Nagios system
Structure for
performance
Scaling
Redundancy
Establish standards
2012
Why Nagios XI ?
What sets Nagios apart from its
competitor?
Nagios adapts to your
environment no matter how
complex
Easy to use interface
Reliable, scalable monitoring
Why does AI Vector like working
in the Nagios System?
Getting Started with Nagios
2012
15
Monitoring Wizard in Nagios
Easily set up monitors using
wizards
Little training needed to set up
monitors
Better for large environments
2012
16
Dashboards
Customized views for each
member of the team
Easy to share dashboards
with coworkers
Easy to find views
2012
17
Performance Graphs
Good performance graphs
2012
18
Expandability
Useful components like AD
integration
API Backend
Sharable dashboards
Auto discovery components
Graph Explorer Component
2012
19
Graph Explorer Component
2012
20
Advanced Monitoring
Nagios XI goes where no other
monitors have gone before
2012
AI VECTOR AND YOU
AI Vector has specialized in
monitoring for several years
Nagios XI is the most cost
effective solution we have
found
Nagios XI scales and adapts
to big environments when
other systems fail
Nagios XI interfaces with
most systems
Nagios Implementation
Establish basic monitors
Internal politics play a roll
in monitoring, trust the
Nagios monitors
Configure the host groups
and service groups
2012
Nagios Implementation
Add SLA monitors
Business workflow monitors
Fine tune the system
Add additional checks
Set up dashboards and
reporting
2012
Nagios Implementation
Finalize dashboards for
management
Create meaningful reports
Visual Maps
Root Cause Monitoring
Documentation
Tends to be an iterative
process
2012
Selenium Integration
Selenium Demo
2012
Gotchas
Nagios Summary
Internal Politics
Justifying the cost
Long term administration
Lack of standard processes
Fine tune monitors
Expensive monitoring tools
Resistance to new monitoring
tools
Initial setup is crucial
2012
Nagios Summary
Nagios is the best system out there
Proactively solve business problems Don't wait for your customers to tell
you
Quickly identify the root of a problem no more finger pointing
Monitoring saves your company
money
Build customer and IT confidence
through transparency
Nagios will solve your business
monitoring needs
2012
Advanced Monitoring with AI Vector
Fine tuning
SNMP solutions
Complex business
monitoring
Reliable, scalable
monitoring
Multi-site support
Component
customization
2012
?????
Questions?