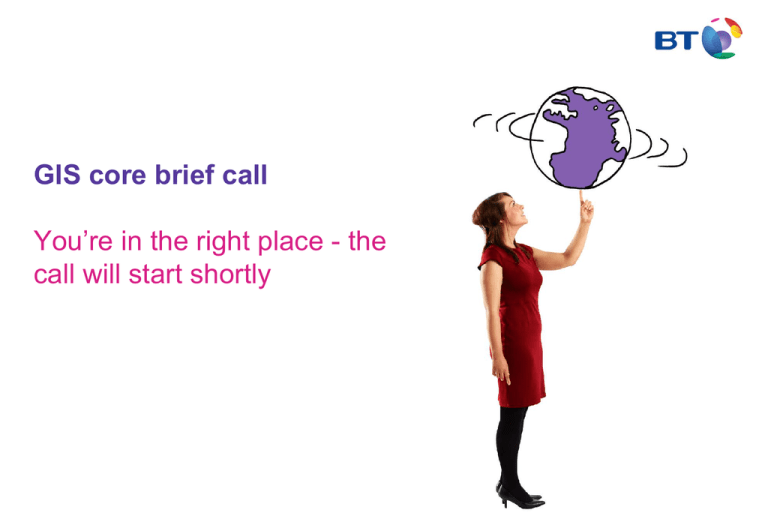 GIS core brief call
You're in the right place - the
call will start shortly
GIS core brief call
9 July 2013
This month we're talking about:
 How we're performing
 Our latest achievements
 Understanding BT TSO's 'fast forward' strategy and how
your team contributes
 How you can help save energy
 Integrated exchange delivery
 Launch of modular infrastructure
 A reminder of some key dates coming up
Our performance
How we're doing
Group
Customer
Experience
Delivery
Financial
Brilliant
People
Delivery
Fibre
Low cost
BB &
Ethernet
TV
Future
voice
Service &
Trading
Reliability
How GIS fits with the TSO Fast Forward strategy…
Achievement
How we're
simplifying
things…
Energy reduction
year on year
How we're
making
things
seamless…
Internationally
benchmarked on
cost, service and
quality
How we'll
apply our
smartthinking
Innovative in
infrastructure
technology
How we'll
be serviceobsessed…
Reliability with
operational
excellence
How we'll
become
brilliant…
Pride with self
motivated talented
teams
HP Edin 10% server
reductions
Achievement
Achievement
2M PDH Transmission
Faults – new processes
Cambridge TNOC
"Prime Time"
performance
Achievement
Enterprise
Infrastructure – Dante
and Thistle
Achievement
Achievement
Isle of Wight Subsea
cable repairs
Enterprise IT –
Successful Showcase
opening in Japan
Achievement
Achievement
"Pride in Patch" In
Mile End exchange
Launch of Energy
Accredited Learning
Understanding BT TSO's 'fast forward' strategy
… and how your team contributes
Watch the animation of
our 'fast forward' strategy
Understand our strategy
in more detail
Discuss how you
contribute as a team
Share your
successes
[Your team
achievement
here]
fast forward animation
fast forward webpage
Made me feel part of something
really important
… very motivating
… I like this style for getting
information over in some degree
of complexity, in a completely
engaging way
fast forward team working
sessions with a leader
All positive. People liked the one pager
that very succinctly captures everything
…the session was stimulating and engaging
… and the mix of materials, discussions and
group activity kept everyone's interest
achievements
Your team has a role
in delivering the
strategy –
share your successes
Each month
Clive Selley will
celebrate some of
these successes on
the BT TSO all people
webcast
Share your team's successes with the rest of BT TSO – log them online for Clive to pick from:
http://snip.nat.bt.com/thismonth
GIS's performance
Weekly Product 'Heatmap' Performance and YTD
Platform Lead
Performance
How we're doing today
RFT
(GIS)
Reliability
&
Resilience
Costs
People
Retail - Broadband
Andy Skingley
Retail - 21CN ADSL 2+
Andy Skingley
Retail - PSTN / WLR
Kevin Murphy
Retail - Vision classic
Joe Barry
Retail - Vision 2
Joe Barry
Retail - ICT - BT Net
Andy Skingley
Wholesale - Broadband
Andy Skingley
Wholesale - 21CN WBC
Andy Skingley
Wholesale - Private Ccts
Paul Weir
Wholesale - Ethernet
Andy Skingley
Wholesale - MEAS
Andy Skingley
GS - GMV (Bus/One Voice)
Marc de Wit
GS - UK Connect (UK MPLS & SVPN) Andy Skingley
GS - IP Connect Global (RoW MPLS & iVPN)
Marc de Wit
GS - NGCC
Marc de Wit
GS - Broadband
Andy Skingley
GS - Private Circuits
Paul Weir
GS - BT Net
Andy Skingley
GS - FeatureNet
Kevin Murphy
Openreach - PSTN / WLR3
Kevin Murphy
Openreach - 21CN CS EBD
Andy Skingley
Openreach - 21CN NGA FTTC
Andy Skingley
24/05
79.5
60.0
46.6
50.7
50.0
-16.7
39.1
60.0
0.0
100.0
100.0
100.0
71.9
-1.7
100.0
39.1
0.0
-16.7
98.4
46.6
94.5
-26.5
31/05
-7.9
86.7
12.4
91.2
59.1
100.0
-2.9
86.7
62.6
100.0
100.0
92.8
75.5
100.0
100.0
-2.9
62.6
100.0
86.4
12.4
-66.7
99.1
07/06
-12.6
53.8
-83.3
91.2
59.1
100.0
-0.1
53.8
65.7
100.0
100.0
100.0
76.3
100.0
100.0
-0.1
65.7
100.0
100.0
-83.3
-100.0
-15.3
14/06
-67.8
98.1
24.2
91.2
59.1
100.0
-100.0
98.1
63.4
100.0
100.0
100.0
-0.9
-100.0
100.0
-100.0
63.4
100.0
100.0
24.2
43.7
100.0
YTD
-37.9
64.6
1.6
61.5
52.5
89.4
-34.4
64.6
54.9
100.0
100.0
64.3
34.9
21.2
86.1
-34.4
54.9
89.4
56.7
1.6
32.6
9.1
Overall MFU Service Reliability Results
24/05 31/05 07/06 14/06
Retail
Wholesale
GS
Openreach
TSO
Jim Dempsey
Bill Chesworth
Trevor Rodriguez
James Robertson
Dana Crandall
54.1
52.1
34.8
19.2
40.1
45.8
71.8
86.5
44.3
62.1
-6.0
60.9
88.1
-57.2
21.5
49.4
62.9
-24.7
54.3
35.5
YTD
28.4
57.5
35.0
5.3
31.6
Did you know that BT is one of the top ten users of electricity in the UK
- spending over £270m a year on energy?
Here's how you can help save energy
The facts
 Globally we consume 1.6 times the
resources that can be renewed in a year –
rising to 2.3 times by 2030
 BT has delivered four years of consecutive
energy reduction - saving over £93m
 BT is growing – and as energy prices are rising -
we have to use less energy to grow
efficiently
 Q1 CARE survey showed the number of BT
people taking action to save energy
dropped from 65% to 62%
How you can help
Simple things you can do now:
 Switch off laptops, PCs, screens, lights
 Report building energy faults on 0800 223388
 Use conferencing services to avoid travel
New ways to help:
 New bronze energy accredited learning
pathway (ALP) available online
 Better Future have dedicated funding for your
energy saving ideas – submit ideas and vote
for your favourites from 8 July
 Become an Energy Champion or nominate a
BT Energy Star on Rewards Central
The Energy Control Centre (ECC) in BT monitors and optimises energy
consumption and supports service reliability programmes. On network sites we
work closely with the IMC and Field Services.
Energy Smart Control Concept
for Network Sites
Field Services
BT sites
Alarms
Project Summer (Paul Weir)
-
Objective to half transmission incidents
-
Focussed programme on top 500 sites
-
Field Services resolving AHU faults and cleaning filters
-
BEMS system allows remote monitoring of
temperatures
-
ECC and Field Services optimise BEMS operation
remotely and on-site
IMC
BEMS
ECC
-
BEMS training delivered for 142 Field Engineers by
Power Technical Services Group.
-
Please book via training lead (ref OPPAPTS044 BEMs)
or look at library on PTSG SharePoint:
https://office.bt.com/sites/power/SitePages/new%20home%20page.aspx
-
BEMS operations or energy efficiency enquiries to
ECC Help Desk (0800 151 3222)
-
BEMS system faults (e.g. coms) and service
affecting faults to IMC/Field
Let's not waste our green reputation
These recent pictures from Chelmsford – show what happens to a site when we don't take pride in our
workplace and get rid of waste properly. Not only can this be a risk to health & safety, but it can
damage our reputation and make it unpleasant to come to work.
Waste oil by drainage
Oily waste - contamination
Untidy – waste next to skip
Polestack
Hazardous waste
Stores
IN CONFIDENCE
Integrated exchange delivery
Problem
Demand increasing
Uncoordinated planning
The 'What'…
Resource
by
Exchange
Outcome
Simplified
Skill
Groups
Increased customer satisfaction
Simplified
Systems
Exchanges are shabby
'scrap heaps' – Poor reliability
Power is wasted
Exchange
work
stacks
How will we
feel?
Business
Intelligence to
Support Customer
Connected
Behaviour
Simplified
Controls
Simplified work practices
Remove duplication
Reduced Travel
Engineer led work
Bundle activities in the exchange
Field and build engineering
Increased productivity
Focus on wrong measures
The 'How'…
Increase reliability, lower fault rates
and power utilisation
RFT
Frustrated engineers
Complex processes
Q1
Inefficient travel (time)
Q2
• Define – What needs to change
• Baseline – Key Metrics
My exchange is important to BT
• Pilot in Patch – Scale trial
• Test Benefits - Did it work
• Training
Energy Efficient Save ££'s
• Align Learning - benefits of CI
• Define future - move to scale
Multiskilled, flexible workforce
Space for growth
Customers frustrated
Baseline Measures
Q3
Best in Class
10
10
Enterprise Cloud Services Release Schedule
BETA PHASE
MAY
JUN
1st July
PRODUCTION RELEASE 1.x (EARLY ADOPTERS)
JUL
AUG
15th July
SEP
OCT
2nd September
PRODUCTION
NOV
DEC
JAN
1st December
BT EC RELEASE 1.0
BT EC RELEASE 1.1
BT EC RELEASE 1.2
BT EC RELEASE 2.0
MI INITIAL RELEASE
POINT RELEASE.1
POINT RELEASE.2
GENERAL RELEASE
EARLY ADOPTERS,
COMPUTE X86
INITIAL USER PORTAL
PILOT
PORTAL GENERAL
AVAILABILITY
FULL OFFSITE BACKUP
SINGLE SITE (REIGATE)
Issue 1.4 17/06/13
SECOND SITE (HWORTH)
BT TSO people achieving more…
Challenge Cup… put your
smart thinking to the test
Registration closes 11 July
•
A great platform to showcase
smart-thinking.
•
Get the opportunity to present
to senior leaders across the lines
of business
•
Show how totally service
obsessed TSO people are in
getting it right for the business
and our customers
•
Know someone who's
helped you develop and
grow at work?
TSO recognition
Thousands of TSO people
are taking part – join in
They spent time developing you
and now it's your opportunity to
take a few minutes to say thanks
•
•
•
•
Nominate them for BT's Best
Coach 2013 by 13 September
Send an e-card
Give a Thank you award
(£25-£150)
Nominate someone for a
Spectacular award (£150£1,000)
Just a reminder
Key dates ahead
Anything you want to hear about next month?
Let us know on the feedback form:
http://snip.nat.bt.com/thismonth
July 2013
Sun
Mon
Tue
Wed
Thu
Fri
Sat
 11 Jul: Managers put Q1 performance ratings onto
ePerformance system
 11 Jul: Closing date for Challenge Cup registrations
1
2
3
4
5
6
7
8
9
10
11
12
13
14
15
16
17
18
19
20
21
22
23
24
25
26
27
28
29
30
31
 26 Jul: Managers complete Q1 performance one-toones
Joining this call was a good use of my time
 Strongly agree
 Agree
 Neither agree nor disagree
 Disagree
 Strongly disagree
Let's hear your views and thoughts
Questions?
Ideas?
Concerns?
• Does anything you've heard today surprise you?
• Does anything worry you?
• What can you do to help BT succeed?
• What would you like to hear more about?