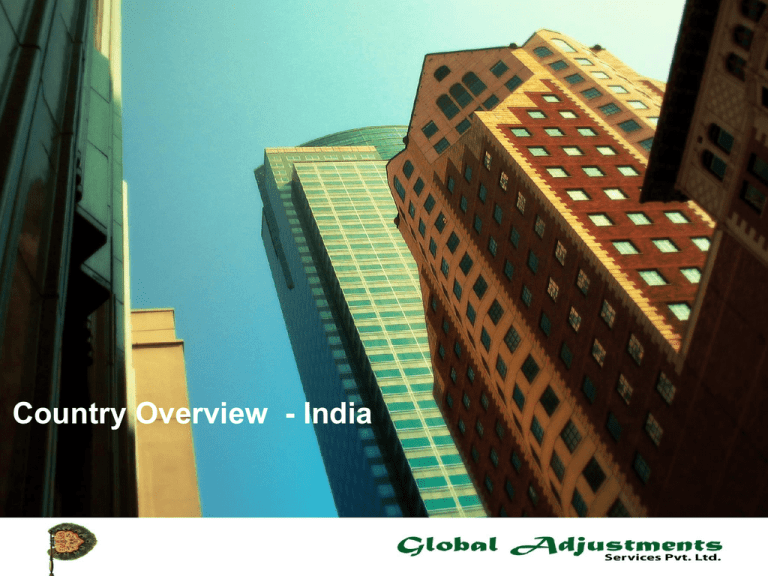 Country Overview - India
1
Introduction
2
Country Trends
3
Infrastructure – Transportation etc
4
Housing Market
5
Education
6
Fun Facts
Indian Economy
•India's economy has been one of the stars of global economics in recent years, growing 9.2% in 2007 and 9.6%
in 2006. Growth had been supported by markets reforms, huge inflows of FDI, rising foreign exchange reserves,
both an IT and real estate boom, and a flourishing capital market.
GDP Growth Rate
Growth rate %
10
8
6
4
USA
2
0
-2
UK
2003
2004
2005
2006
-4
-6
-8
Year
2007
2008
2009
India
Indian IT sector – A success story
Revenues - 2008
($ US billion)
•The Indian IT sector is growing at
a growth rate of 11% year on year
as of 2008.
•Indian IT-BPO sector grew by 12
Sub total
per cent in FY 2009 to reach US$
India
India
(Internation Domestic
Total
1998
71.7 billion in aggregate revenue
Based
Centric
al)
(including hardware). Of this, the
software and services segment
IT Services
23
7
30
8.5
38.5
2.1
accounted for US$ 59.6 billion.
Software
8
2
10
9.5
19.5
0.6
•IT-BPO exports (including
Products
hardware exports) grew by 16 per
IT-enabled
cent from US$ 40.9 billion in FY
15
2
17
2
19
0.4
Service
2007-08 to US$ 47.3 billion in FY
2008-09.
E-business
4
1
5
5
10
0.2
•Indian IT services market is
estimated to remain the fastest
Total
50
12
62
25
3.3
87
growing in the Asia-Pacific region
with a CAGR of 18.6 per cent.
•According to NASSCOM, domestic IT market (including hardware) reached US$
24.3 billion in FY 2008-09 as against US$ 23.1 billion in FY 2007-08, a growth of 5.3 •India's IT sector accounts for 5.5
per cent of gross domestic
per cent.
product, up from just 1.2 a
•India's personal computer (PC) market is likely to grow by 13.7 per cent to 11.1
decade ago, has shown sustained
million units in 2009, aided by a surge in demand for laptops
•The laptop market is expected to grow by 37 per cent in 2009 to 3.69 million units ability to take out costs.
and constitute a third of the total PC market.
Infrastructure
Transportation
Banking
Real
Estate
•The Growth Rate of the Infrastructure Sector in India GDP has grown at the rate of 8.5% between 2006 and
2010.
•India's spending on infrastructure is expected to go up from US $ 24 billion in 2005 to US $ 47 billion in 2009.
•The government is targeting an investment of US$ 20.38 billion over the next two years (2010-2011) in the
infrastructure sector
•Government plans to invest $320 billion for the upgrades of ports, railroads, highways and airports over the
next 15 years.
Ports
•The government has identified 276 projects entailing an investment of US$ 12 billion.
•According to the Planning Commission, there is an investment opportunity of US$ 25 billion by 2011-12 in India's
shipping and ports sectors
•The ports sector would provide a US$ 13.75 billion investment opportunity, shipping and inland waterways are
likely to present a US$ 11.25 billion investment opportunity.
Airports
•The government plans to attract private players through the PPP mode for the development of over 300 airports
and airstrips. It would invest US$ 9 billion to modernize existing airports by 2010.
•The Civil Aviation Ministry plans to develop 35 Greenfield airports across India by 2010 with an investment of
US$ 35 billion for the proposed airports.
Railroads
•The Indian Railways took up the most ambitious ever annual plan for fiscal 2008-09, entailing an enormous
investment of US$ 7.91 billion, registering a 21 per cent increase over the previous year.
•The plan includes a total budgetary support of US$ 1.66 billion including US$ 163.33 million to be provided from
the Central Road Fund.
Indian Infrastructure
Roads
•During 2007-08, US$ 1.86 billion had been provided for the national highways and for state roads. Of this
amount, US$ 1.5 billion is for national highways and US$ 0.36 billion for state roads. An amount of US$ 0.04
billion has also been allocated during 2007-08 for the development of state roads.
•According to a consultation paper by the Planning Commission, investment in the roads sector during the
Eleventh Plan is projected at US$ 93.11 billion.
Electricity
•During the Eleventh Plan, the government aims to add power generation capacity of about 70,000 MW and
provide electricity to all un-electrified hamlets and all rural households through the Rajiv Gandhi Grameen
Vidyutikaran Yojna (RGGVY).
Telecom and IT
•The Eleventh Plan envisages reaching a telecom subscriber base of 600 million, with 200 million rural telephone
connections and attaining a broadband coverage of 20 million and 40 million Internet connections.
These are the major government initiatives which are going to be implemented (some have already started).
Electricity
Banking
• Indian banking sector has
been growing at a tremendous
pace.
•There are around 222
commercial banks in India (of
which 133 RRBs).
•Indian banking sector is
highly vibrant Out of the 222
there are many foreign banks
which have set up facilities in
India, some of these banks are
Deustchebank, Royal Bank of
Scotland, Citibank etc.
•Government aims to add power
generation capacity of about 70,000
MW and provide electricity to all unelectrified hamlets and all rural
households through the Rajiv Gandhi
Grameen VidyutikaranYojna.
•The estimated increase in capacity is
227GW by 2012 from existing 132GW.
Infrastructure
Telecom & IT
•The country is ranked third
worldwide in terms of having
the largest telecommunication
network, after China and USA.
•One in every three people in
India connect to people using
this network.
•The Information technology is
an ever growing industry with a
11% growth rate year on year.
Real Estate
Government Initiatives
•Government has been taking a lot of
initiatives in terms of infrastructure.
• Government plans to invest $320 billion
for the upgrades of ports, railroads,
highways and airports over the next 15
years
•The real estate market is estimated to
grow to US $ 1400 billion
•The Indian real estate sector is highly
vibrant with a lot of real estate
opportunities.
•It is the right time to invest in the
Indian real estate market as the real
estate market is ever growing.
Education System
•The Indian schooling system is considered to be the best in the world
•The total no of schools in India are close to 1.2 million.
•The focus in India is shifting towards the ICSE standards and most of the schools in cities are
providing this form of education.
•1% of the total schools are internationally acclaimed.
•Each year 5 new schools are started in different locations in the country
City
Schools
Avg Fees (USD)
(At the Time of Admission
Incl. of Reg , Appl. Charges
and Security Deposit)
Delhi
American Embassy School, DPS International, Pathways World School, The British
School, G.D. Goenka World School
12000-25000
Mumbai
American School of Bombay, Dhirubhai Ambani International School, Ecole Mondiale
World School, Fazlani L'Academie Globale, Oberoi International School, Pranjali
International School, RBK International Academy,RIMS International School and
Junior College, Ryan International School, Witty International School
14000-42000
Chennai
American International School, The Velammal International School, APL Global,
12000-20000
Kolkata
Calcutta International School, The Cambridge School,
2000-12000
Bangalore
Bangalore International School, Canadian International School, Indus International
School, Mallya Aditi International School, Stonehill International School, The
International school, TREAMIS World School, Trio world school,,
12000-25000
Health and Medical Facilities
India has a very good healthcare system. Healthcare is easy and affordable. Each city has at least 4-5
good hospitals comparable to international standards
City
Leading Private Hospitals (Top 5)
Delhi
Apollo Hospital, Batra Hospital, Escorts Heart Institute
& Research Centre, Fortis Hospital, Ganga Ram
Hospital,
Mumbai
Jaslok Hospital, Wockhardt Hospital, Fortis Hiranandani
Hospital, St George Hospital, Tata Memorial Hospital
Chennai
Apollo Hospital, Stanley Hospital, Vijaya Hospital, Malar
Hospital, Madras Medical Mission
Kolkata
Apollo Gleneagles Hospital Ltd., Columbia Asia Hospital,
Westbank Hospital, Rabindranath Tagore International
Institute of Cardiac Sciences, Advanced Medicare &
Research Institue Ltd (AMRI)
Bangalore
Apollo Hospital, Wockhardt Hospital, St. Johns Medical
College, Columbia Asia Hospital, Victoria Hospital
Health Insurance
Health insurance industry in India is still growing. The cost of health insurance is cheap in
comparison to other developed countries. The major health insurance companies in India
are:










National Insurance Company
New India Assurance
United India Insurance
ICICI Lombard
Tata AIG
Royal Sundaram
Star Allied Health Insurance
Cholamandalam DBS
Bajaj Allianz Apollo
AG Health Insurance Company

These service providers have a presence in all major cities and a tie-up with most leading
hospitals in India.
For a family of 4, the insurance premiums range from USD 400-500/annum for insurance
cover of up to USD 10000 for each member.
For a single person age between 25-40 years, the premium is USD 20-30/month per USD
2000 insurance cover and for age 40 years it is between USD 40-50/annum per USD 2000
cover


Car Buying/Leasing




Purchasing of a car non residents can only be done if
they have a work permit
Car can only be rented with a driver. (Taxi)
Driving in India is not easy ! A driver is recommended.
Most of the popular cars are available in India.
Utilities
Furnishings
Real Estate
Lease
Terms
Deposits /
Customs
•Facilities are very good in
major cities of India.
•Cost of obtaining facilities is
cheap.
•Quality is comparable with
international standards
• It is recommended to go
through a professional house
for utility hook-ups as the Utilities
process is very cumbersome
and it more people
dependent and not process
dependent
Lease
Terms
•Easy to get in/out of lease.
•Standard lease terms across
India with slight variations.
•Sublets are allowed
•International brands are
available very easily
•Excellent domestic products
are also available.
•Total cost of ownership is
low
• The complete home
furnishings are also available
Furnishings
for rent for short term
assignees
Real Estate
Deposits /
Customs
•Deposit amounts vary by
city.
•Best practice is to pay by
cheque, obtain receipts and
also inform the landlord early.
•Rent is paid by the 5th of the
month.
Real Estate Trends
City
Apt 1-Bd
(USD)
Apt 2-Bd
(USD)
Security
(number of
months of
rent)
Commission Maintenan
ce (USD/sq
.ft.)
Delhi
3500
5400
2 2 months
rent
1.2-1.8
Mumbai
3500
5400
6 2 months
rent
1.2-1.8
Chennai
1800
2800
10 1 month
rent
Kolkata
1400
2400
6 1 month
rent
Bangalore
2500
3900
10 1 month
rent
0.4-0.6
0.30-0.45
0.8-1.2
Fun Facts

The Indian film industry makes more films each year than the United States, France, Italy,
and the People`s Republic of China.

Yoga has its origins in India and has existed for over 5,000 years.

There are more than 1700 languages in India. Over 29 languages are spoken by a million
people or more. More than 350 million Indians speak English.

The mobile users of India grows every month with about 2.5 million people

There are over 1500 software companies in Bangalore India

The number of births that occur in India each year is higher than the entire population of
Australia

About 50% of the residents in India are under 25 years old

India is home to about 200 million cows. You will have a chance to see a few when you
drive on Indian roads !!!