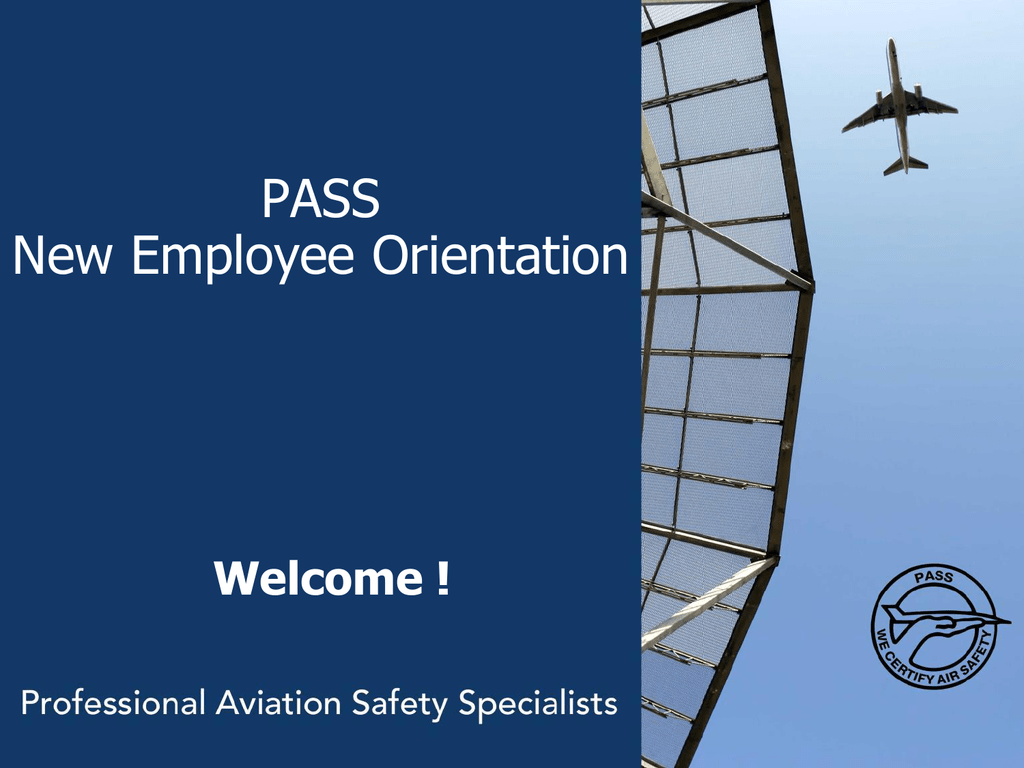 PASS
New Employee Orientation
Welcome !
Your Info…
Please… No
Government
Email addresses
Help us to know
a bit about you
Congratulations!!!
You Have a Union
… and a VOICE!!
Professional Aviation Safety
Specialists
Any PASS Members?
Have you already joined us?
Thanks for participating!
Welcome to PASS!!
Who is PASS?
The Professional Aviation Safety
Specialists, AFL-CIO (PASS)
represents approximately 11,000
Federal Aviation Administration
(FAA) and Department of Defense
(DoD) employees throughout the
United States and in several foreign
countries.
Who is PASS?
In 1977, PASS was formed to
provide exclusive representation for
the FAA's technician bargaining unit.
PASS has grown over the decades
and now represents five bargaining
units within the FAA and DoD.
Who is PASS?
For almost 36 years, PASS has been
dedicated to supporting and
sustaining the safety and efficiency
of the National Airspace System
(NAS) for the flying public.
What is a Union?
A Union is a worker organization that
provides the structure and forum for
democracy at the worksite and a means for
addressing worker issues on an equal
footing with management.
Being Pro-Union is
not anti-FAA
New Hires frequently join
PASS!
Some have become Leaders in
PASS
You are Eligible to
Join
New Hires are often told by
co-workers to "wait a year to
join PASS", because "the
union can't do anything for
you anyway".
This isn't true
PASS Resolution for Probationers
Probationary employees can not challenge removal
actions by the Agency via the grievance process or
through the Merit System Protection Board (MSPB)
Because of this new employees are sometimes "reluctant"
to join PASS
PASS will retroactively waive dues for probationers that
are removed during their first year if:
 The probationer requests a retroactive waiver by
submitting valid evidence they have been removed to
the PASS National Office in Washington, D.C.
You Have Rights
The U.S Government through the Statute (law)
gives you the absolute right to:
Help form or join a Union
Bargain over wages and working conditions
with your employer through the union.
Talk about the Union at work as you would
any other subject.
Wear union insignia at work
Solicit other employees for union membership,
both on lunch or break time even on agency
property
Know Your Rights
These rights are protected under the law; your employer
may not discriminate against you for the exercising of
these rights.
It is illegal for the agency or any supervisor to:
Discourage union membership
Threaten or coerce you in any way
Deny you the right for union representation
Discriminate against you based on your union activities
Spy on your union
Show preference in the assignment of work based on
union status
Fire, transfer or demote you in retaliation for union
activities
The Union's Objectives
PASS believes that you should be able
to flourish in a promising and secure
career;
The Union's Objectives
Be treated fairly and be a part of a
workforce that protects the safety of
the flying public and the integrity of the
National Airspace System.
The Union's Objectives
The Union is a driving force that
ensures that these things happen.
PASS Constitution
The objectives of PASS shall be:
(a) To preserve, to promote and to improve the profession, the safety
and the working conditions of its members.
(b) To preserve, to promote and to improve the safety of the flying
public.
(c) To develop as an organization with membership involvement at all
levels.
(d) To lead in the promotion and the improvement of the
professionalism and the competence of all employees working
in the National Airspace System.
(e) To represent all members by favorably influencing legislation that
affects our members' work lives and increasing public awareness of our
members, their leadership roles in making air travel safe and the
causes important to them.
(f) To enhance the rights of its members through all lawful means,
including collective bargaining, political action, training and educating
members, and contributing to such civic and charitable organizations as
the PASS Executive Board deems to be in the best interests of PASS.
Who are PASS Members?
Technical Operations and DoD employees
(systems specialists, electronics technicians
and computer specialists) who install,
maintain, repair and certify the radar,
navigation, communication and
environmental systems making up the air
traffic control system
Who are PASS Members?
Flight Standards and manufacturing
aviation safety inspectors responsible for
inspecting and certifying every aspect of
the commercial and general aviation
industries and administrative employees in
the FAA's Aviation Registry
Who are PASS Members?
Flight inspection pilots, missions
specialists and procedures development
specialists in Flight Inspection Services and
Mission Support Services.
Minimum Technical Staffing:
6100 Technical Employees
The PASS Technical Operations contract contains a provision
that sets the minimum number of technical employees (334,
802, 856 and 2101's) at 6,100 until March of 2014
Since 2000, PASS has fought hard to force the agency to live up
to this agreement.
Staffing had been a contentious issue and the agency most
certainly would have frozen hiring over the past few years.
This means that most of you wouldn't be working for FAA in
these positions if PASS had not been fighting for jobs
Union Contract at a Glance
Staffing: must maintain 6100 employees until March 2014
Annual and sick leave benefits (Not guaranteed under
Federal Personnel Laws)
Wages: FAA unlike other Federal Agencies must negotiate
over pay with the Labor organization resulting in:
 Annual pay increases: Presidential in January; 1.6%
every June
 In October 2014 New Hire catch up increases of
4.75% for H Band
 Required pay increases with promotion of 8%
Grievance and arbitration procedures
PASS Supports Veterans Needs
PASS is a Member of the AFL-CIO
Veteran's Council and has taken active
roles in the organized labor community
and with the FAA to fight for and secure
benefits for FAA Vets and active duty
military employees.
PASS signed an agreement with the
Agency for returning military personnel
What Else Has PASS Done for
Vets?
PASS worked hard to make sure FAA
employees were also including in pay
differential when activated.
PASS worked to assure ATSS's were
included in the provisions of the
Montgomery GI Bill.
Why Join PASS?
PASS Serves the Needs and Interests of
All Members
PASS Makes sure your voice is HEARD
You can make a difference…


Membership is the lifeblood of the Union
Dues are 1 hour of pay each pay period
1/80th of your pay (1 ¼ %)
Join Today
Questions?