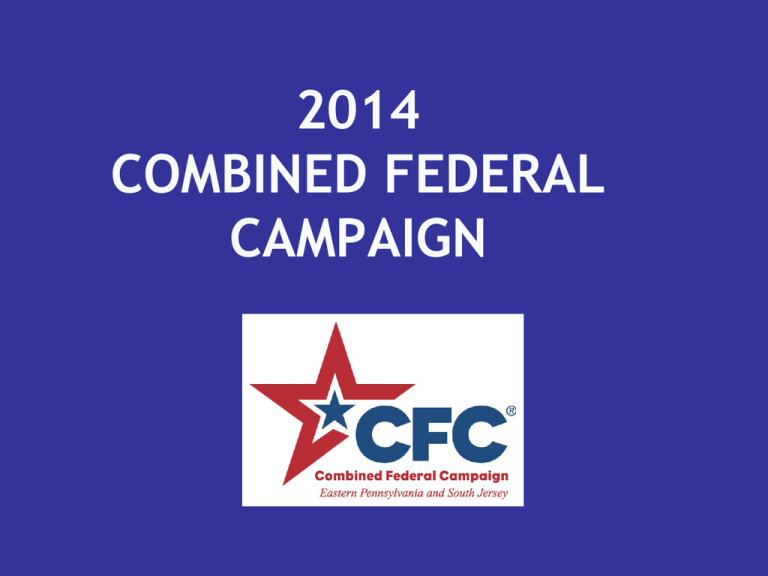 2014
COMBINED FEDERAL
CAMPAIGN
Mission Statement
The mission of the Combined Federal Campaign
(CFC) is to support and to promote philanthropy
through a program that is employee-focused, cost
efficient and effective in providing all Federal
employees the opportunity to improve the quality
of life for all.
2014 Campaign Highlights

Campaign Theme: "Give for Good"

Campaign Begins: Oct. 6, thru Nov. 21, 2014

2013 Campaign Results:

2013 Collective Totals Raised:
$3,165,180

2014 Overall Goal:
$3,300,000

2014 Projected % increase:
5.0%

Number of employees:
62,711*

Number of contributors:
11,000*

Participation rate:
17.5%
*estimate
10 Steps to a Successful Campaign

1. Establish Your Objectives and Analyze Last
Year's Campaign



2. Secure the Support of Top Management



Build on previous success
Eliminate what doesn't work
Top level "buy-in" allows for time and resources
Sets the example for employees
3. Recruit Your Team

Share the responsibility and fun
10 Steps to Success (con't.)

4. Keyworker Training



5. Publicize Your Goals


Vital to broadening awareness and education of the CFC
Builds team spirit
Motivates for better results
6.Utilize CFC Resources

Materials were designed to promote CFC education and
awareness
10 Steps to Success (con't.)

7. Publicize Your Campaign



Generates excitement and increases donations
Donors can't give to CFC if they don't know about it!
8. Conduct an Effective Employee Campaign




Be prepared, friendly, and informative
Ask for a Pledge, face to face is best
Say "Thank You" and follow up
Smile!
10 Steps to Success (con't.)

9. Report The Results Weekly



Regular reporting allows the team to monitor progress and be
recognized
Turning in reports regularly keeps you from having to hold
cash, checks, and pledge forms
10. Say Thanks!



Demonstrates appreciation
Builds momentum for giving in next campaign
Don't forget – this is one of the easiest yet most overlooked
steps
Effective Workplace Campaigns

Presentations / Rallys / Coordinator's Speech





Establish Your Credibility
Arouse the Emotions of Your Audience
Give Reasons For Supporting the CFC
Concentrate on CFC's Efficiency and Effectiveness
Ask Your Audience to Join You in Supporting the CFC
Effective Workplace Campaigns

Agency Speakers


Agency Fairs


Provides an opportunity to learn about an agency without
leaving the office
Provides firsthand exposure to a variety of CFC agencies
Agency Tours

Shows donor contributions in action
Why do people give through the CFC?

CFC is convenient through payroll deduction.

Federal employees feel good knowing their contribution will make
a difference to a charity that has been reviewed and audited.

Federal employees can receive recognition from the CFC and
designated charities.

Protects the Federal employee from year-round, in-the-workplace
solicitation by charitable agencies.

Federal employee may have received help from a charity
supported through the CFC.

Federal employees know someone who has been helped by a
charity.

Federal employees want to help others.

Provides greater impact, because it's combined with contributions
from other Federal employees.
11
Electronic Pledge Options
CFC NEXUS is an online E-Pledging system
designed specifically for the CFC community.
All employees are eligible to contribute
through the CFC Nexus system. A one-time
sign-in is required for all participants. To
access CFC Nexus log in to our website and
follow the link or go to
www.cfcnexus.com/_sepalehighcfc
Electronic Pledge Options
CFC-EEX (Employee Express) offers employees in
specific agencies the choice of making a CFC payroll
deduction pledge on-line through CFC-EEX.
Employee Express is a convenient, user-friendly
automated system that gives employees direct
control over key payroll and personnel information
with out having to use forms or visit a personnel
office.
CFC-EEX is not mandatory for CFC pledges. CFC-EEX
is another option for the Federal donor in agencies
using EEX (if your agency has signed up)!
CFC-EEX Participating Agencies
Consumer Products Safety Commission
General Servives Administration
Department of Education
National Archives & Records Administration
Department of Interior
National Credit Union Administration
Department of State
National Labor Relations Board
Department of Transportation
Nuclear Regulatory Commission
Environmental Protection Agency
Office of Personnel Management
Equal Employment Opportunity Commission
Railroad Retirement Board
Federal Labor Relations Authority
Securities and Exchange Commission
Federal Trade Commission
Social Security Administration
Electronic Pledge Options
The Department of Defense DFAS (Defense
Finance and Accounting Service) myPay
Website allows US Military personnel and their
families to manage their pay information, leave
and earning statements, W-2s and enter their
CFC pledge amount.
Each agency has a unique specific code for
"Command/Unit Name". Ask your
coordinator for the code to use for
"Command/Unit Name.
Federal Agency that use myPay
Branch/Dept. Command/Unit Name Code
DCMA - Lockheed Martin Defense Contract Management Systems
DCMA
DCMA Defense Contract Management Agency, Camden
DCMA
Defense Contract Management Agency - NSEO, Phila.
DCMA
Defense Contract Management Agency - Boeing, Philadelphia
DCMA
Defense Contract Management Agency - Industrial Industrial Analysis Center
DCMA
Defense Contract Management Agency - Phila
DCMA
Defense Contract Management Agency - Reading (DCMAO)
DCMA
U.S. Dept of Health & Human Svces - RIII Dept of Health & Human Services-Reg II
DHHS
US Dept. of Health & Human Services, Glassboro
DHHS
US Dept. of Health & Human Services, Office of Inspector General - Audit Svcs, Trenton DHHS
13820436
13823182
10945699
3031630
331116
331108
11775764
331181
13820667
13822176
Defense Contract Audit Agency Depart. of Defense/Mid-Atlantic Region
DOD
Defense Logistics Agency Document Services, Phila.
DOD
Defense Logistics Agency Troop Support (DLA), Phila.
DOD
Defense Security Service, Mt. Laurel
DOD
Defense Security Service, Phila
DOD
Dept of Defense - Defense Criminal Investigative Service, Northeast Field Office
DOD
Dept of Defense - Inspector General, Phila.
DOD
Princeton Plasma Physics US Dept. of Energy
ENERGY
US Department of Energy
ENERGY
13823356
13820634
PA National Guard-109th Field Artillery
GUARD
13813308
331124
331033
331140
14099568
14099550
337089
4088738
Federal Agency that use myPay
Branch/Dept. Command/Unit Name Code
Drexel University Army ROTC (Drexel/Penn Army ROTC-PMS
ROTC
Philadelphia NROTCU (Villanova & Penn)
ROTC
Princeton University ROTC
ROTC
University of Scranton, Army ROTC
ROTC
Widener University, Army ROTC Military Science Department
ROTC
Air Force ROTC Det 750 St. Joseph's University
USAF
US Air Force, JBMDL
USAF
Mid-Atlantic Recruiting Battalion United States Army Recruiting
USARMY
Tank Automotive Command/Logistics U. S. Army Logistics Support Office
USARMY
Tobyhanna Army Depot
USARMY
U.S. Army Corps of Engineers - Leesport (Blue Marsh Lake)
USARMY
U.S. Army Corps of Engineers - Phila.
USARMY
U.S. Army Corps of Engineers / Carbon Co
USARMY
US Army, JBMDL
USARMY
Bridge Company Bravo, 6th ESB, 4th MCG
USMC
US Marine Corps, JBMDL
USMC
Dept of the Navy - Human Resource Service Center NE
USNAVY
Dept of the Navy - Philadelphia Site Human Resources Office Mechanicsburg
USNAVY
Naval Air Systems Command, Lakehurst
USNAVY
Naval Foundry & Propeller Center Norfolk Naval Shipyard Detachment Phila
USNAVY
Naval Sea Systems Command Inactive Ships on-Site Maintenance Off
USNAVY
Naval Ship Systems Engineering Station Carderock Div-Naval Surface Warfare Cntr
USNAVY
Naval Support Activity, Philadelphia
USNAVY
333088
331074
13823372
13813936
333070
12284048
13820600
5645494
330837
13813944
11773165
330803
13055082
13822705
332601
13822697
3005014
2959237
13820907
1490077
330951
331017
2959245
Federal Agency that use myPay
Branch/Dept. Command/Unit Name Code
NAVFAC Management Office, Northeast BRAC Program Mgmnt Office, Northeast
USNAVY
7564461
NAVFAC Mid-Atlantic PWD PA Public Works Department
USNAVY
NAVSUP Business Center (formerly NAVSISA)
USNAVY
NAVSUP FLC Norfolk 415.2
USNAVY
2130599
4774634
13814454
NAVSUP Weapon Systems Support Dept. of Navy/Department of Defense
USNAVY
NAVSVP Fleet Logistic Center Norfolk Detachment, Philadelphia Office
USNAVY
Navy Recruiting District, Philadelphia
USNAVY
Navy Reserve Center - Avoca
USNAVY
SPAWAR Space & Naval Warfare Systems Ctr Pacific, Integrated C2I Eng Div
USNAVY
U.S. Naval Reserve Center/Marine Corps Lehigh Valley
USNAVY
US Naval Reserve Center, JBMDL
USNAVY
US Navy FRC-E/ASO, JBMDL
USNAVY
US Navy, AEGIS/CSEDS
USNAVY
US Dept. of Military & Veterans Affairs
VA
Department of Veterans Affairs Information Technology Center (284/00)
VA
Dept. Veterans Affairs Allentown Outpatient Clinic
VA
National Cemetery Administration Memorial Service Network Region I
VA
Regional Office and Insurance Center
VA
Board of Veterans Appeals, Wilkes Barre
VA
VA Medical Center - Philadelphia Veterans Health Administration
VA
VA Medical Center Department of Veterans Affairs, Wilkes Barre
VA
VA Medical Center, Coatesville Community & Congressional Affairs
VA
330852
1825777
331041
13812946
333021
6354831
13823430
13822390
13821483
13820576
331645
6354856
333013
331629
13814215
331637
13814033
2949444
INTRODUCING…
CFC UNIVERSAL GIVING
What is it? Universal Giving (UG) is a new donation option that
permits donors to pledge to any CFC participating charity no matter
where the donor or the charity is geographically located. Previously,
only National, International, and Local charities in our campaign
territory were available to receive donors' contributions. Now, with
Universal Giving, all Local charities in all CFC regions are accessible
to donors. Thus for those donors who wish to stay involved with a
favored charity or charities outside the area, they may now do so
through UG.
For example, if you work in the State of Pennsylvania and you want
to donate to a Brooklyn, New York food pantry (and they are in the
CFC), with Universal Giving, this can now be achieved.
INTRODUCING…
CFC UNIVERSAL GIVING
How does Universal Giving work? The list of UG charities can only
be accessed online. UG charities are too numerous to be listed in the
paper charity listing. If you wish to donate to a local charity outside
our campaign territory, log in to any of our online giving tools at
www.cfc-eastpa-southnj.org to search for the charity you want to
support. Enter the charity's five-digit code on your paper pledge
form or the online donation tool of your choice: CFC Nexus, CFC
Employee Express or MyPay, using your pc, phone or tablet. It's that
easy!
Agency Coordinator Checklist
 Distribute your supplies!
 Head up your Agency's Kickoff event.
 Collect envelopes from your key workers weekly.
 Double check the math.
 Verify that the outside matches inside of envelope.
 Provide civilian payroll copies to YOUR payroll office.
 Process any electronic pledges through YOUR payroll
office.
 Arrange delivery of envelopes to CFC office.
CFC 2014 – Key Worker Info

Key Worker Duties
 Solicit
 Make
for Contributions
100% Contact with Employees
 Collect
Contributions
 Distribute
Materials and Thank-You Gifts
CFC 2014
Theme
CFC 2014 – Brochure
Sample Listing
12345 National Organization
EIN#12-0000000
www.cfc.org
This organization helps people in need.
10.0%
5-Digit Code Number
EIN#Gov't Tax ID
(800)333-1234
B, H, D
Name of Agency
Phone Number
Website
Description of Agency's Services
Percentage of Overhead Cost
Taxonomy Code (see p.6 of brochure)
CFC 2014 – Pledge Card
Full SS or Emp #
Required
For Payroll
Signature
Required
for Payroll
Deduction
CFC 2014 – Pledge Card

Review Pledge Cards for Accuracy
 Legibility
 Donor's
Name and Contact Info
 Federal
Agency/Dept., & Location
 Signature
 Check
& Date
the Math
CFC 2014 – Report Envelope
Project Officer,
Chair or Keyworker
for your Campaign
Your name, office
address and phone
number
CFC 2014 – Report Envelope

Review Report Envelopes for Accuracy
 Solicitor's
 Federal
Name and Contact Info
Agency/Dept., & Location
 Date
 Summary
of Contents
 Maximum
of 50 Pledge Cards per Envelope
OPM Regulations…
CFC Regulations §950.108 prohibit the following coercive activities

They include, but are not limited to:
1. Solicitation of employees by their supervisor or by any individual in
their supervisory chain of command
2. Supervisory inquiries about whether an employee chose to participate
or not to participate or the amount of an employee's donation.
Supervisors may be given nothing more than summary information
about the major units that they supervise.
3. Setting of 100 % participation goals.
4. Establishing personal dollar goals and quotas.
5. Developing and using lists of non-contributors.
6. Providing and using contributor lists for purposes other than the
routine collection and forwarding of contributions and allotments.
7. Using as a factor in a supervisor's performance appraisal the results of
the solicitation in the supervisor's unit or organization.

29
OPM Regulations (con't.)…

Special CFC Fundraising Events:

CFC special fundraising events should be undertaken in the spirit of
generating interest in the CFC and be open to all individuals
without regard to whether an individual participates in the CFC.

All approved special fundraising events will be counted as an
undesignated contribution.

Any special CFC fundraising event and prize or gift should be
approved in advance by the Agency's ethics official.
Special Events / Fundraising Ideas

Sports Events




Charge a fee to compete in Tug-of-War, Slam Dunk Contest, or
Fun Run
Collect pledges for Aerobic-a-thon, Walk-a-thon, or Bike-a-thon
Get reduced rates, then charge normal price for Golfing, PuttPutt, or Bowling tournaments
Super Hoop – organize a basketball tournament with employee
teams, then charge admission to the game.
Organizing a
golf
tournament
for CFC …
… can provide
wheelchairs to
individuals who
need them.
Special Events / Fundraising Ideas

Sales

Book sales – have employees donate used books and sale them

Rummage sales – employees donate items to be sold

Sock sales – buy fun, colorful socks wholesale and sell them.
They make great Christmas presents!

Food sales – bake goods, pretzels, candy, donuts, etc. Yummy!
Holding a
bake sale…
...can
provide
meals to
those who
need a
little
assistance.
Special Events / Fundraising Ideas

Contests

Baking Contest – contestants submit recipes and bake the item.
Employees pay a fee to sample items and vote. Winner gets a
prize. Recipes can also put together in a cookbook and sold.

Ugly Tie or Hat Contest – contestants wear their ugliest tie or hat
and solicit votes ($1 a vote). Person with most votes wins a prize.

Lip Sync or Karaoke Contest – hold lunch time lip sync or karaoke
contest. Charge an entry fee and have audience vote for best act.
Give prize to the winner.
Holding a
pumpkin
carving
contest …
… can provide winter
coats to children.
GENERAL INFO

Questions/Concerns
 Ray
Smith…….….….........215-665-2965
Director of Government Campaigns
United Way of Greater Phila and Southern New Jersey
 Valerie
Brown…............609-267-4500 x1010
Public Campaigns Development Officer
United Way of Greater Phila and Southern New Jersey
Thank you for Leadership!