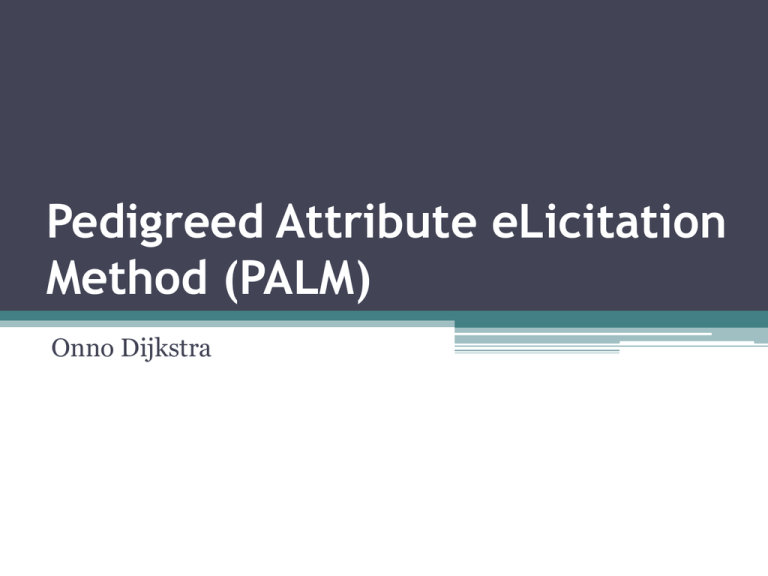 Pedigreed Attribute eLicitation
Method (PALM)
Onno Dijkstra
Authors
• P. Clements
• J.D. McGregor
• L. Bass
Research and development center at
Carnegie Mellon University, established in
1984 by the U.S. Department of Defense.
Clements, P., McGregor, J.D., & Bass, L. (2010). Eliciting and Capturing Business Goals to Inform
a Product Line's Business Case and Architecture. Proceedings of the 14th international conference
on Software Product Lines: Going Beyond, 393-405. doi:10.1007/978-3-642-15579-627
Origins
• Problem: one of the major causes of systemdevelopment problems and failure is the
omission of important requirements or the
inclusion of unreasonably rigid requirements.
• Solution: relate requirements to business goals
in a systematic way.
Origins (2)
• The method's name is derived from the outcome
of quality attribute requirements with a pedigree
rooted in business goals.
• PALM uses:
▫ the standard business goal categories of ATAM.
▫ the concept of Quality Attribute Scenarios for
Business Goal Scenarios.
Purpose
• PALM facilitates better capture and expression
of high-pedigree, architecturally significant
requirements (Clements et al., 2010).
Tying business goals to architecture by
using quality attribute requirements.
Process steps
1.
2.
3.
4.
5.
PALM overview presentation
Business drivers presentation
Architecture drivers presentation
Business goals elicitation
Identifying potential quality attributes from
business goals
6. Assignment of pedigree to existing quality
attribute drivers
7. Exercise conclusion
PDD
PDD (2)
Example
• Business goals
▫ Easy to maintain system
▫ Fast responding system
▫ Reduce costs
• Architecture drivers
▫ Security
▫ Database-driven
• Quality attribute requirements
▫ Maintainability
▫ Performance
• Non-architectural solutions
▫ Lowering the facility's
thermostats in the winter
▫ Reducing employees' pensions
Related literature
• Software Engineering Institute (SEI) developed
and published a series of architecture-centric
methods.
▫ Quality Attribute Workshop (QAW) for eliciting
and articulating detailed quality attribute
requirements for a system.
▫ Architecture TradeOff Analysis Method (ATAM)
relies on stakeholder participation and scenario
generation to gather data.
▫ Standard business goal categories.
Questions?