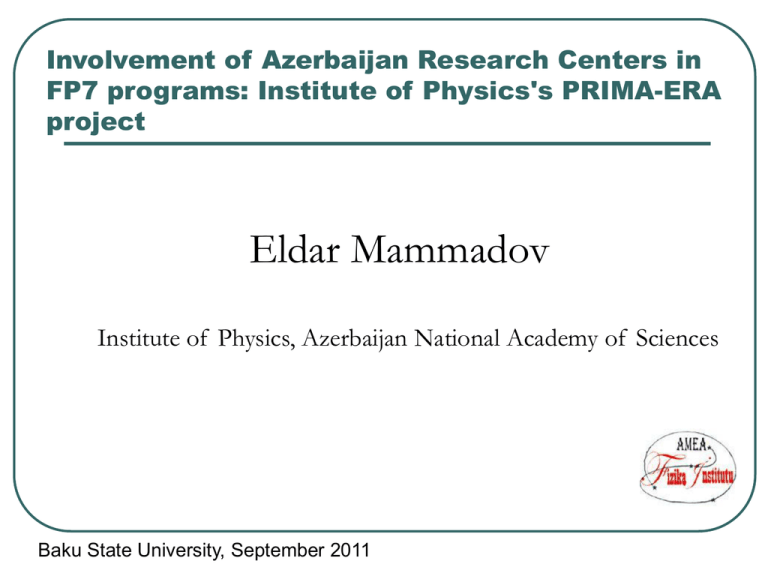 Involvement of Azerbaijan Research Centers in
FP7 programs: Institute of Physics's PRIMA-ERA
project
Eldar Mammadov
Institute of Physics, Azerbaijan National Academy of Sciences
Baku State University, September 2011
What is FP7 ?
• Seventh Framework Programme for Research and Technological
Development
• The Framework Programme is the main tool for research funding in
the European Union
• FP7 supports research in specific priority areas
• FP7 supports mobility, training, knowledge sharing, technological
transfer, cooperation and international collaboration
FP7: Tommorow's answers start
today
EU goal is to build the most dynamic competitive knowledge-based
economy
Economic growth
Research
Jobs
Quality of life (GSM, safe roads etc.)
Social challenges: fight poverty,
improve human health,
environmental protection
Growth
and Jobs
Education
Innovation
FP7 (2007-2013) Structure
The broad objectives of FP7 have been grouped into 6 categories
Category
Description
Budget
Cooperation –
collaborative research
€ 32.365 bl
Ideas –
frontier research
€ 7.460 bl
People –
Marie Curie actions
€ 4.728 bl
Capacities –
research capacity
€ 4.217 bl
Euratom –
nuclear research
€ 2.751 bl
JRC –
non-nuclear research
€ 1.751 bl
FP7: Cooperation
Objective: bringing together best talents from across Europe
(researchers, industry and SMEs) to tackle the thematic priority areas
FP7 Thematic Priorities
1. Health
2. Food, Agriculture and Biotechnology
3. Information and Communication Technologies
4. Nanosciences, nanotechnologies, Materials and new Production
Technologies
5. Energy
6. Environment
7. Transport
8. Socio-Economic Sciences and the Humanities
9. Security
10. Space
FP7: Ideas
conducting frontier research
Objective: to reinforce excellence, dynamism and creativity
in European research




Frontier ("basic") Research is a key driver to innovation and
economic performance
Support investigator-driven frontier research over all areas of
research
Support projects of individual teams
Excellence as sole criterion
FP7: People
Marie Curie Actions: Fellowships, Grants, Awards
Initial and Life-long training of researchers and career development
 􀃎 Marie Curie Networks
Open for third-country researchers
 􀃎 Individual Fellowships
􀃎
Industry-academia pathways and partnerships
 􀃎 Industry-Academia Knowledge–sharing Scheme
International dimension
 􀃎 Outgoing & Incoming International Fellowships
 􀃎 International Cooperation Scheme
 􀃎 Reintegration grants
 􀃎 Support to researcher 'diasporas'
Mobility & excellence
 􀃎 Mobility and career enhancement actions
 􀃎 Excellence awards
FP7: Capacities
excellent infrastructures to conduct research
Research infrastructures
􀂃Research for the benefit of SMEs
􀂃Regions of Knowledge
􀂃Research Potential
􀂃Science in Society
􀂃Coherent development of policies
􀂃Activities of International Cooperation
CAPACITIES - International Cooperation
ERA-WIDE
Integrating EU neighbours into the European Research Area
(ERA)
Objective:
To reinforce the cooperation capacities of research centres located in
the European Neighbourhood Policy countries, which are not
associated to FP7, in the areas of the thematic priorities of FP7.
Mediterranean Partner Countries:
Morocco, Algeria, Tunisia, Libya, Egypt, Jordan, Occupied
Palestinian Territory, Lebanon, Syria
Eastern Europe and South Caucasus:
Azerbaijan, Moldova, Georgia, Ukraine, Belarus, Armenia
A roadmap for proposal preparation
1. Carefully study the Call Fiche and the Work Programme
2. Identify main goals and expected outcomes
3. Study evaluation criteria and mechanisms
4. Identify the idea of the proposal
5. Identify and contact partners
6. Write a draft in accordance with Guide for Applicants
7. Ask colleagues to peer-review the draft
8. Make corrections/additions
9. Submit the proposal well before the deadline
ERA-WIDE 2011 – Call fiche
Call identifier:
 Call publication date:

FP7-INCO-2011-6
20/07/2010
Call closure date: 15/03/2011
 Indicative budget: EUR 15.00 MILLION


Evaluation criteria: threshold of 3 on criteria and 10 on total,
- Preference given to proposals involving research organisations,
universities and/or industrial organisations from MS/AC.
- The participation of organisations from the target country is
considered essential.
INCO ERA-WIDE 2011
Call Fiche – Participants profile
• The call is addressed to research centres of proven high
level S&T capacities, which are located in an ENP country
not associated to FP7;
• The proposal should target only one such centre;
• The consortium should include additional participants, in
particular from the Member State (MS) and/or Associated
Country (AC)
• The research centre targeted by the proposal should be the
coordinator of the proposal.
ERA-WIDE 2011
Work Programme – Proposed Activities
• Twinning with research centres in Member States or Associated
Countries in view of exchanging knowledge and good practices,
disseminating scientific information, identifying partners and setting up
joint experiments through short-term visits or exchange of staff,
meetings, seminars, and similar activities;
• Developing training modules to build competency and facilitate the
participation of these centres in FP7;
• Developing research centres' strategy in order to increase their scope
and visibility (regional coverage, activities), to develop comparative
advantage and to improve their competitiveness by enhancing their
responses to the socio-economic needs of their countries and of the
region.
ERA-WIDE 2011
Work Programme – Expected Outcomes
• contribution to RTD capacity building and management in the target
country;
• enhanced participation of the country in the FP7;
• increased visibility and scope (regional coverage, subjects, activities)
of the centres with increased linkage with economic and social
environment;
• networking with other research centres in MS or AC;
• increased job opportunities that encourage gender equality in the
country, in particular for young scientists (measures to avoid 'brain
drain' phenomena: better career opportunities, better work conditions,
access to research infrastructures).
Research Organizations in Azerbaijan
• Azerbaijan National Academy of Sciences
• Public and Private University Laboratories
• Governmental and Private Company Laboratories
Azerbaijan National Academy of Sciences
Comprises of 5 departments:
• Physical and Mathematical Sciences
• Chemistry
• Geosciences
• Biology
• Social sciences
with about 40 research institutes and
sections
Created in 1945 the Academy of Sciences is a
premier scientific research organization in Azerbaijan
Institute of Physics (IPA)
The Institute of Physics was created in 1945
• over 35 laboratories and departments
• about 750 employees
• 420 research staff:
 6 academicians and 2 corresponding members
 69 DSc
 202 PhDs
 30 PhD students
Institute of Physics is the main research body in the
physical sciences in Azerbaijan
ERA-WIDE 2011 Application from Azerbaijan:
Promoting and Improving Azerbaijan Research
Collaboration with European Research Area –
PRIMA-ERA
PRIMA-ERA purpose and concept
To reinforce the cooperation between Azerbaijan and
European researchers and to provide successful integration
of the Institute of Physics at the Azerbaijan National
Academy of Sciences (IPA) into European Research Area
(ERA).
To establish close collaboration links in coherence with the
concept of the "mutual interests of the EC and ENP partner
countries"
PRIMA-ERA: Objectives
Objectives:
• to increase Institute of Physics capacities and preparedness for
collaboration in the FP7
• to increase visibility of Institute of Physics for international
scientific community and other stakeholders
• to ensure the compliance of the Institute of Physics's research
activities with socio-economic needs of the country and regionally
and provide better career opportunities for young scientists
PRIMA-ERA: Consortium

Participant # 1: IPA (Azerbaijan) - the target organization

Participant # 2: Institut de Recherche et Development sur
l'Energie Photovoltaique, CNRS-IRDEP (France)

Participant # 3. Marmara Research Centre at the
TUBITAK, TUBITAK-MAM (Turkey)
IPA research activities and infrastructure
IPA has been awarded the large pilot grant 2011-2012 from Azerbaijan
Science Development Foundation for upgrading experimental capabilities
Main Research Fields:
• Semiconductor Physics
• Nanostructured Materials
• Materials Physics
• Energy
PRIMA-ERA Research Topics
PRIMA-ERA: Capacity Building for Research Cooperation in Energy and NMP
FP7 Research Priorities
Theme:
Energy
Theme:
NMP
Research topic A –
Research topic B –
Development of new materials, device
structures and fabrication methods for
thin film solar cells
A1. Development of nanostructured window
layers for CdTe and CIGS solar cells.
Mastering nano-scale complexity in
materials
B1. Computational design of new materials.
A2. Development and characterization of
advanced thin film solar cells.
B2. Growth and characterisation of materials
for spintronics-photovoltaics.
A3. Development of new rear- earth-doped
materials for up-conversion of infrared solar
energy in solar cells.
B3. Preparation of protective diamond-like
coatings.
IPA strengths and weaknesses
Strengths

Strong background of the research
staff

Large potential for international
research cooperation and networking
with international research centers

Extended research capacities in both
fundamental and applied components
of scientific research
Leading positions among the research
institutions of the Academy of
Sciences, potential for turning into
regional center for frontier research

Weaknesses

Weak collaboration and networking
with European research centers and
absence of the FP7 projects

Insufficient international visibility of
IPA

Decreasing inflow of young people
necessary for sustainable leadership at
national level, small number of visiting
scientists from other countries

Absence of long-term strategy
coherent with socio-economic
environment
PRIMA-ERA: Consortium
Institut de Recherche et Development sur l'Energie Photovoltaique, IRDEP
A new institute based on 30 years experience in photovoltaics
Centre National de la
Recherche Scientifique
Electricité de France
EDF
IRDEP Proof of Concepts:
New materials and processes
Transfer to industry
CNRS
IRDEP
Since 2005
IRDEP Scientific Knowledge:
Chemistry and Electrochemistry
Materials, Solid-state & device physics
Theory and Modelling
ChimieParisTech
Engineering School
IRDEP:
About 45 person
1200 m2 with 800 m2 laboratories
Advanced physical and chemical
deposition and characterization methods
PRIMA-ERA: Consortium
Marmara Research Centre at the TUBITAK, Materials Institute
More than 30 FP6-FP7 projects; about 240 ongoing projects
Marmara Research Center
Chemistry
Institute
Earth and
Marine Sciences
Institute
Energy
Institute
Laboratories
Electron Microscopy
Non-Destructive Testing
X-Ray Spectrometry and Diffractometry
Mechanical Testing and Heat Treatment
DTA-TGA Magnetic Properties Analysis
Others
Environment
Institute
Materials
Institute
Since 1968
Food
Institute
Genetic Engin.
and Biotechnol.
Institute
PRIMA-ERA Action Plan
IPA
development of training modules
delivery of trainings
twinning
exchange of employees
joint experiments
TUBITAK-MAM
IRDEP
Dissemination of Scientific Knowledge
Increasing IPA Visibility
Development IPA Strategy
PRIMA-ERA Activities
Improved IPA Cooperation Capacities:
Twinning, Networking, Exchange of Knowledge, Dissemination, Increased
Visibility, Improved Human Potential, Long-term Strategy
 Research staff exchange between IPA and IRDEP
 Development of joint research projects and experiments
 Development of research proposals for FP7 applications
 Workshop on Photovoltaics
 Summer School on Materials for Renewable Energy
 Seminar on Innovations and Entrepreneurship for Scientists and Engineers
 Development and delivery of FP7 trainings
 On-site trainings
 Development and dissemination of IPA promotional materials
 Attendance of international scientific events
 IPA "open day" events
 Development and peer-review of IPA research strategy paper
PRIMA-ERA Overview
PRIMA-ERA
Existing R&D capabilities
:
Established
contacts & cooperation
Twinning
Workshop
Joint research plans
Set up joint experiments
Advanced R&D in:
Energy
in
NMP
Embedded
Systems:
Increased
Competitiveness
Verification
Consortium Participants:
IPA
CNRS-IRDEP
TUBITAK-MAM
IPA:
Improved
capacities
Exchange of scientific
information
Summer school and seminar
Training modules
Research strategy building
Participation in FP7
Programmes
Increased Visibility &
Scope
Thank you for your attention!