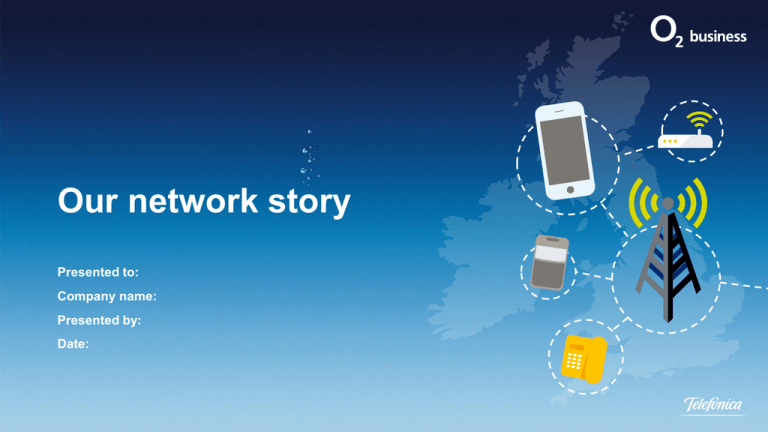 Our network story
Presented to:
Company name:
Presented by:
Date:
A better network
faster. smarter. stronger
wifi
4G is transforming the way people do business
4G
Data usage is rising sky high
We're building a better network
Putting customers front and centre
fixed
3G
Listening and acting quickly
Building the foundations for a Digital Britain
2G
We're proud of our network and committed to
making sure that it delivers for our customers
Experience
and expertise
Continued
investment
Honesty and
transparency
• Proven track record
carrying 120m calls and
140m texts per day
• Over the last
few years we've
invested over
£1 billion in our
network
• We are open about
network speeds and
coverage
• A network collaboration
with Vodafone
• Part of the global
Telefónica family across
25 countries
• We spend
£1.5 million a day
• Focusing on areas
that are important to
you
• Our award winning
online tools let you
check coverage and
see any unexpected
network issues or
planned work
Delivering innovation
• O2 Wifi – growing by an average
100,000 customers every week,
now at 10 million registered users.
• During 2013 increased the number
of Wifi locations by over 50% to
around 10,000
• 4G launched in August 2013 and
we've rolled out to 15 major cities
and over 163 towns – reaching
32% of the population
Our customers rely on us to keep them connected
whatever the situation. But that's just the day job….
4G is transforming the way people do business
Our fastest network roll out ever
• Live in 15 cities and over 163 towns
• Coverage: 19m people. 32% UK population (indoor)
Enabling better business
• Businesses are embracing Pop Up Office
• 4G is enabling cloud services for smart devices, unified
comms, video based applications, remote expert scenarios…
4G Roll Out – Cities (pop over 250,000)
Places with pop over
250,000
Launch
Date
Current 4G
Coverage
City
Current forecast
93%
Belfast
Q2 2014
16 Oct 2013
96%
Cardiff
Q4 2014
Leeds
29 Aug 2013
86%
Kingston upon Hull
Q4 2014
Edinburgh
19 Nov 2013
97%
2015
27 Sept 2013
98%
Reading
Sheffield
Manchester
30 Oct 2013
98%
Derby
2015
Leicester
27 Sept 2013
94%
Bristol
2015
Coventry
27 Sept 2013
97%
Stoke-on-Trent
2015
Bradford
29 Aug 2013
97%
Plymouth
2015
Wolverhampton
27 Sep 2013
92%
Southampton
2015
Nottingham
27 Sept 2013
90%
Newcastle upon Tyne
19 Nov 2013
>99%
Dudley
27 Sept 2013
70%
London
29 Aug 2013
94%
Birmingham
27 Sep 2013
82%
Glasgow
23 Oct 2013
Liverpool
4G Roll Out – (Towns with population c70,000-250,000)
Already have 4G coverage
Harlow/Sawbridgew
Hemel Hempstead
orth
Birkenhead
Brighton
Eastbourne
Gateshead
Halifax
Hove
Huddersfield
Maidstone
Oldbury/Smethwick
Paisley
Rotherham
Salford
Slough
Solihull
South Shields
St Albans
Stockport
Sunderland
Walsall
Watford
West Bromwich
Woking/Byfleet
Worthing
York
Forecast 2014
Chatham
Gillingham
Hastings
Sutton Coldfield
Swindon
Wakefield
Darlington
Aberdeen
Basingstoke
Blackburn
Bolton
Bracknell
Chelmsford
Portsmouth
Derry
Dundee
Hartlepool
Lisburn
Newport
Rochdale
Southport
St. Helens
Stevenage
Swansea
*Locations in red are latest information
Oldham (April 2014) Wigan
Warrington
Swindon (April 2014)
60% rise in data
over the last year
Our customers are
using more and more
data for a growing
variety of apps
They're moving quickly
to new generation of
tablets & smartphones
And have greater access
to high speed networks.
Our network modernisation programme is a game
changing activity that will benefit all of our customers
We're building a
better network
for the UK
faster. smarter. stronger
•
We're currently undertaking one of the biggest infrastructure
improvement projects in the UK - building the foundations for
Digital Britain
•
We're completely modernising our 2G & 3G networks while
rolling out a brand new 4G network - bringing data coverage
to parts of the UK where we haven't had it before
•
We'll bring coverage to 98% of the UK population whether
2G, 3G or 4G, before our regulatory requirement of 2017
•
We're heavily investing £1.5m a day in our network to
improve customer experience – more resilience, improved
reliability, better call quality, faster download speeds and
greater coverage
•
We're strengthening our seamless connectivity options: 10m
wifi customers using 10,000 hotspots and growing
•
We currently have 4G live in 16 cities and 163 towns and
covering 19m people - 32% of the population (indoor)
Customer experience is always our #1 consideration in
everything we do
•
We're measuring the impact of our activity at a local postcode level
•
We're working on our network at different times of the day and night - when our customers will feel less
impact
•
We're clustering our approach to Network rollout – moving across a city in 'waves' and doing it quickly
with less disruption
•
We're streamlined our processes to condense the amount of time it takes us to swap out our street
furniture
•
We're using remote optimisation antennae tilting software, that reduces the time it takes to optimise a
site
•
We've got our different vendors together for the first time ever, sharing ideas to improve overall
experience
•
We've made our customer communication processes more effective
•
We're refreshing our network training for all our customer facing teams
•
We've upgraded our network app and internal network reporting tools
We're making our network more resilient and
increasing it's reliability
•
Over the last 2 years we have been working hard to modernise, while
increasing the resilience and capacity of our Network
•
We've simplified our architecture and pooled technologies to
provide redundancy across our Network
•
We are significantly increasing capacity and using more modern
technology to carry customer voice and data from our radio masts
back to the core of our network
•
We've expanded the number of 'paths' that our networks can take
to connect to the internet (a bit like doubling the amount of lanes of
traffic) – which means more capacity and faster speeds for
customers
Delivering innovation with
Reliable, fast, free internet for everyone, nationwide
• Wifi and 4G are perfect partners
• A UK-wide Wifi network with over 9,000 locations and
growing
• Over 10 million registered O2 Wifi users. We are the
fastest growing wifi provider in the UK*
• From the moment our public wifi service was switched
on in 2011, we've fully content-filtered our service at all
venues
• Free of charge. For everyone.
Doesn't use data allowance
• One-off registration process, then automatic
connection to any of O2 Wifi's thousands of
venues. No username or password required
• Free access to O2 Wifi on London
Underground for O2 customers
*Over five million of those customers signed up in the last 12 months making O2 Wifi the fastest growing Wifi provider in the UK
Making special times even more special
• With our innovative new motorbikes and
customer experience testing equipment we are
getting into those 'hard to reach' parts of cities
• Super-sizing our super cells
• Sending the O2 COWs to enable connectivity at
busy times & places
• Bringing ground-breaking world-class
technology into Premier League Stadiums
We're all eyes and ears
Our network coverage map, apps &
tools all work together, so we can
use customer insight to identify &
fix things quicker
But don't just take our word for it…
O2 is a multi award winning network
WINNER
Our commitment to you
• We will always be open about coverage and network speeds
• We have robust processes in place to continually support you
-
The Service Experience Management Centre (SEMC) pro-actively monitor
the customer experience using data feeds such as, Yammer, Twitter and
Crowd Source (i.e. status.o2.co.uk) 24/7
-
Network Management Centre – manages and monitors the network around
the clock
-
We categorise incidents by their severity
-
Over 200 local engineers working 24 hours a day,
365 days a year to keep our network running
• If things go wrong, we'll do everything we can to get things up
and running as quickly as we can
And remember, it's not just about our mobile network
It's about a consistent network experience
across voice and data – fixed and mobile
We manage
23 million
customers
on multiple voice and
data networks in the UK
Our Network Story
Appendix
The Technology that keeps you connected…
Voice
Data
2G
(900 / 1800)
GPRS
EDGE
3G
(2100 / 900)
3G
HSDPA
4G
(Data Only)
Wifi
A few examples to get you thinking
Saving time and increasing productivity
A small, family-run civil engineering firm specialises in
the design of roads, roundabouts and junctions.
Whilst on site, staff use 4G tablets to quickly access and
download large files such as completed design and
drawings for reference, and upload photos and videos.
They are also able to send plans and drawings to the
local highways and buildings authorities for liaison and
approval while working on-site.
A few examples to get you thinking
Getting closer to customers,
improving service and driving
productivity
A supplier of specialised aircraft equipment has a
single technical team to support its customers
across the UK.
When specialist help is required, the maintenance
technician can set up a high-quality live video link
via a 4G phone so that support staff can run
diagnostics and suggest fixes.
The 4G phone can be used in the confined spaces
around the aircraft, showing the remote team
exactly what they need to see.