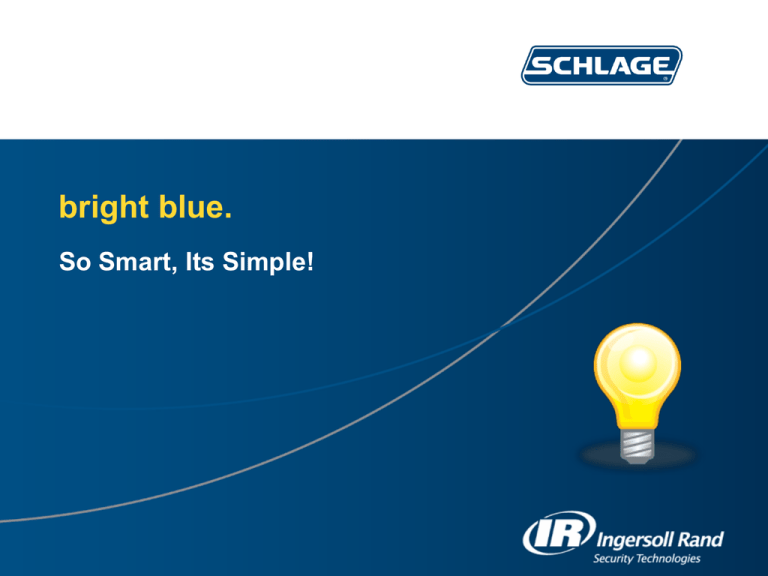 bright blue.
So Smart, Its Simple!
What is bright blue?
It's a web-based access control
system that's easy to install,
operate and afford.
‹#› bright blue.
What makes bright blue
so smart?
The blue box!
•
•
•
•
•
•
•
It's web-based
Software resides on the board
No software to install
Dedicated PC not required
Anytime, anywhere access
Easy to manage, easier to use
Simple to sell, install, train and
support
‹#› bright blue.
bright blue System
Architecture
bright blue
Intelligent Access Management
Web Browser/Video Client
1. Connect bright blue
controller to LAN
and connect power
LAN
RS-485 Connection
LAN
2. Connect any
combination of up to
32 devices
3. Access the
software from any
computer running
Internet Explorer or
Firefox
4. Add a Schlage
DVR/NVR to capture
associated video
PIM400-485-SBB
Schlage Hardwired Schlage Wireless
Electronic Lock
Electronic Lock
SBB-RI or SBB-NRI
Schlage Reader or
Biometric Reader
SEVMS-SBB
Schlage DVR/NVR Integrated Video
Up to 32 IP and/or Analog Cameras
Connect up to 32 access control devices with video
‹#› bright blue.
Features
• Supports up to 32 doors
and 5000 cardholders
• Pre-configured,
network-ready package
• Control over who goes
where and when
• Access anytime and anywhere there's internet
access
‹#› bright blue.
Features
• Supports magnetic stripe, proximity and smart card
•
•
•
•
•
•
•
technologies
Supports Card + PIN
Application wizards for easy use
Standard reports for authorized personnel
Manual overrides to temporarily unlock doors
Automatic backup
Lockdown feature
Toggle
‹#› bright blue.
Benefits
• An easy-to-use interface
• No need for a dedicated
•
•
•
•
PC or security network
It's just like accessing a website
Training takes just minutes
Flashable firmware means easy
upgrades
The most cost-effective solution
on the market today
‹#› bright blue.
Simple = Profitable
bright blue is easy to sell because it:
•
•
•
•
•
•
Reduces sales cycles
Makes installation effortless
Reduces support issues
Shortens training time
Is cost-effective
Provides the right feature set for
your customers
‹#› bright blue.
Its intelligent design makes it
perfect for:
• Small to medium-sized
•
•
•
•
•
commercial offices
Medical and dental offices
K-12 schools
Property management
Retail
Houses of worship
‹#› bright blue.
It gets even smarter
Use bright blue with Schlage Hardwired and
Wireless Electronic Locks and there are:
•
•
•
•
•
Fewer wires to run
Greater time savings
Lower labor costs
Easier installations
No additional door hardware needed
‹#› bright blue.
Genius pull through
opportunities
•
•
•
•
•
Schlage AD-300 Hardwired Electronic Lock
Schlage AD-400 Wireless Electronic Lock
– PIM400-485-SBB
Schlage Readers
Additional Door Hardware
– Schlage Reader Interfaces
 (RS-485 or networkable)
– Door Contact
– Schlage REX
– Schlage Electric Strike
Video
– Schlage Video Recorders
– Analog and/or IP Cameras
‹#› bright blue.
Mechanical to electronic
access control migration
• Electronic access control is growing at a rate of 12%
per year vs. 3% for mechanical access control
‹#› bright blue.
Mechanical to electronic
access control, cont.
How bright blue bridges the gap:
• Schlage makes every aspect of
•
•
•
•
•
•
the system easy
Web-based
Few wires to run
Tutorials available for training
Pull through mechanical door hardware
Shortened sales cycles
Increase your solution portfolio with
Schlage Hardwired and Wireless Locks
‹#› bright blue.
bright blue Product Family
•
SBB bright blue controller board
•
•
SBB-RI bright blue reader interface
SBB-NRI bright blue Network Reader Interface
•
•
AD-400 Series Wireless Locks
PIM400-485-SBB bright blue PIM
•
AD-300 Series Hardwired Locks
•
•
•
PS902 2A Schlage Power Supply
PS904 4A Schlage Power Supply
PS906 6A Schlage Power Supply
•
Schlage Power Supply Options
(Distribution Board, Fire Alarm Relay, Battery Backup, etc.)
•
SEVMS-SBB DVR/NVR Video Integration
‹#› bright blue.
We make selling easy
Sales Tools Available
• Case Studies
• FAQs – Sales & Technical
• Sales Presentations
• Sell Sheets – End-user & Dealer
• Tutorials
• Vertical Market Solutions
• Competitive Analysis
‹#› bright blue.
www.schlage.com
Available Resources
• Technical Support & Customer
Service
– 8:00 AM to 8:00 PM Eastern
– (877) 671-7011, Option 2
• www.schlage.com
– Technical Documentation
– Marketing Materials
– Datasheets
– FAQs
– Media
– Software Tutorials
‹#› bright blue.
Thank You
‹#› bright blue.