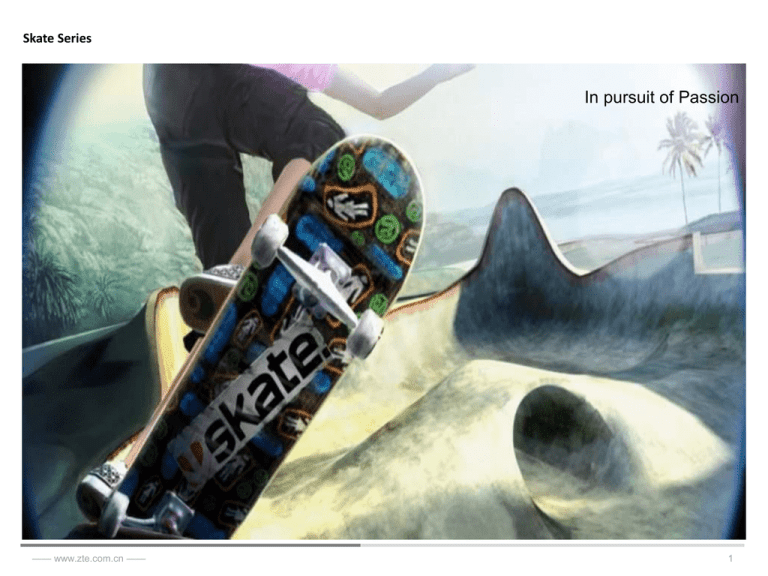 Skate Series
In pursuit of Passion
—— www.zte.com.cn ——
1
ZTE Terminal Branding Strategy
内部公开▲
Brief Overview
•ZTE Corporation is a publicly-listed global provider of
telecommunications equipment and network solutions
•operating in more than 150 countries.
•No. 1 mobile phone manufacturer in China.
•5th largest mobile phone manufacturer in the world.
•ODM-OEM for big brands like T-mobile,Vodafone, Telenor,
etc.
Contribute to EU
Community
内部公开▲
Brand Attribution
Brand Attributes of ZTE for retail customers:
•Innovative, Reliable, High Quality
•Top five mobile phone manufacturers in the world (IDC &
Gartner)
Brand Attributes for ZTE's smart terminals:
•Young, innovative, affordable, high quality
秘密▲
WHAT? - ZTE Brand Pyramid
Who is ZTE?WHAT
Why is ZTE?
Popularizer of Advanced Technology – ZTE For All
Innovation (World leading technology, Outstanding Design)
Not the first invention, but the first affordable top technology for the mass
Simple & Chic in Design, Practical & Convenient for Usage
Consumers Worldwide with appreciation of experience
Innovation
Reliable
Affordable
5
Integrated Brand Positioning and Strategic Goal of ZTE Handset
Overall
Goal
Awareness of
Smart
Terminal
become Top.5
worldwide
and NO.1
China within
three years
"Light
your smart
world"
• B-B : Joint promotion
with industry and
operators to raise industry
influence.

2011 1H Blade/Light • B-C : To forge smart
Tab
terminal flagship products
2011 2H Skate
with Blade & Skate taking
the lead.
Brand
the Popularizer of Advanced Technology
Positioning
Slogan
Main
Region
秘密▲
US, Europe, China, Brazil
秘密▲
HOW: Build New Brand Image via Smart Terminals

Target: shipment to reach 12 million in 2012; to become the Top-Five smart terminal brand with 3-5 years

Strategy: After the Smart Terminal Strategy announced, take the differentiation image as "the popularizer
of advanced technology"
Strategy Markets: China, US, Europe and Brazil

In MWC2011, ZTE announced the Smart Terminal Strategy ; In Beijing on April 26th, ZTE released the
strategy structure and plan.
4 key directions in practice
•
秘密▲
Windows Phone, Key Differentiation and Strategic Drive
•
Multiple Chipset Platforms for Android
•
NFC, Supporting Mobile Payment Trends
•
User Experience improved via Mifavor UI, rich 3rd apps and
latest software & service
—— www.zte.com.cn ——
8
秘密▲
Design language
Mimosa
Nature at ease
—— www.zte.com.cn ——
Skate
In pursuit of Passion
Blade
Sharp elegance
9
秘密▲
UI Solution for Android Phone
Philosophy--- Intuitive , Personal and Amazing
• Ease the operation of commonly used modules, such as Contacts, Message, Alarm, Email etc.
• Add or reinforce important functions, such as File manager, Stop watch, World time, FM,
manager.
—— www.zte.com.cn ——
Note Pad, Task
10
Eco design
秘密▲
Philosophy------- Nature , Simple,Delicacy
• Show product self, limited decorating for
package
• Nature material, less craft or process; less
printing ink
• More duty for environmental protection
• Highlight the quality of the design
• Dimension: 13.5*7.6*8.3
• Only 60g, half of general package
• Material: 350g uncoated paper + 112gflute +
126g yellow Kraft paper;All recycle !
—— www.zte.com.cn ——
11
秘密▲
Hero Product Strategy Blade, Light, Skate
Sweden
Press Conference:
Finland
UK
of Light in East Europe
France
Spain
Press conference of
Blade in Mexico
TV ads:Special TV ads
Beijing
PR:Interviews by
Japanese media and web
Japan
promotions of Light
Hungary
Entertainment
Marketing:
Mexico
Vietnam
Tennis star in
Spain Masters
Co-marketing:
Cooperation with
Malaysian operators
to promote Light
Indonesia
Malaysia
Brazil
Print ads:
Famous magazine
ads in Indonesia to
promote Light
Net Forum:
Channel Marketing:
Offline activities in Brazil
Light net forums
in Indonesia
SNS:SNS
activities after
Spain Masters
Awards:Editors' choice of Best Smartphone and Best Value Smartphone etc by GTB\PC magzine\connect\XDA
Thank you !