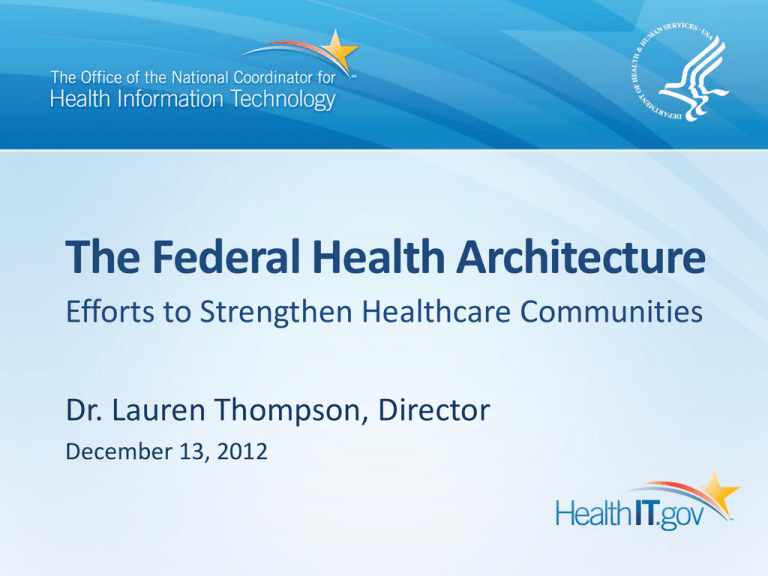 The Federal Health Architecture
Efforts to Strengthen Healthcare Communities
Dr. Lauren Thompson, Director
December 13, 2012
Federal Health Architecture:
Background
Federal Health Architecture (FHA) program was
established as an OMB E-Gov Line of Business (LoB)
• To support federal activities related to the
development and adoption of health IT standards
• To ensure that agencies seamlessly and securely
exchange health data with other agencies, other
government entities, and with other public and private
organizations
Over time, FHA's focus and scope has expanded
• To emphasize federal advancement of the national
agenda for health IT
• To provide enterprise architecture, standards
adoption, tools and communication support
Federal Health Architecture:
Participation
FHA ensures federal participation in initiatives such as the
Nationwide Health Information Network, the Direct Project, EHR adoption and CONNECT
• E-gov initiative managed by ONC within HHS
• Many federal agencies participate
Federal Health Architecture:
Key Initiatives
Nationwide Health Information Network (NwHIN) Exchange is now
eHealth Exchange
• Transitioned from ONC federal program to a public/private collaboration
• HealtheWay, a non-profit, is supporting eHealth Exchange operations
• Testing and onboarding
• Maintaining DURSA, and operating policies and procedures
• Service registry and digital certificates
CONNECT open source
• CONNECT code on GitHub, sprint sessions open
• Engaging open source community through Code-A-Thons, encouraging
code contributions
• Developing CONNECT 4.0, incorporating Direct specifications
• Incorporation into VLER Health for DoD and VA HIE activities
Federal Health Architecture:
Key Initiatives
RESTful Health Exchange (RHEx)
• An open source project, sponsored by FHA
• Demonstrated simple, secure, standards-based Web technologies for
health information exchange
Two Pilots
• Telemedicine & Advanced Technology Research Center (TATRC)
• Use Case: Consult/Referral
• Secure Person to Person exchange
• OpenID Connect for distributed user authentication
• HealthInfoNet
• Use Case: Populate clinical data repository with patient data from EHR at
small health care provider in medically underserved area to Maine HIE
• Secure Machine to Machine exchange
• OAuth2 for service to service authentication
Federal Health Architecture:
Key Initiatives
New Governance
• More strategic alignment within and across federal partner agencies
• Greater transparency and enhanced communications
• Commitment to fulfilling original intent of FHA as E-Gov Line of Business
Strategy Planning
• FHA Strategic Plan nearing completion
• FHA Line of Business (LoB) Service Plan delivered to OMB
Interoperability Architecture
• Identify current and planned data exchanges among federal agencies and partners
• Develop FHA public-facing portal
• Align with standards harmonization efforts (e.g. Standards and Interoperability
Framework)
• Demonstrate exchange methods beyond Direct and SOA – RHEx pilots
Federal Health Architecture:
FHA Strategic Plan – (2013-2015)
A federal health information technology environment that is interoperable with the
private sector and supports the President's health information technology plan
enabling better care, increased efficiency, and improved population health
Federal Health Architecture:
FHA Strategic Goals
• Improve exchange of health data among the federal government and
private sector healthcare providers by establishing a unified federal
voice on health data exchange interoperability
• Encourage adoption of interoperability specifications resulting in active
data exchange in the federal health community
• Align federal policies in health data exchange to use the federal
government's combined influence as a payer, provider, and public
health guardian to improve the healthcare system
Federal Health Architecture:
Federal Interoperability Landscape
CMS
exchange
Nationwide Health
Information Network
Standards & Specs
Non-federal
exchanges
Exchanges
(eHealth
Exchange, etc.)
CDC exchange
SSA exchange
VA exchange
DoD exchange
Enterprise architecture is about understanding all of the different
elements that make up the enterprise and how those elements interrelate.
CONNECT:
The Platform for Secure Health
Information Exchange
CONNECT
CONNECT is an open-source solution to
support health information exchange (HIE)
CONNECT uses NwHIN standards both
Exchange and Direct to ensure doctors,
community hospitals and hospital systems,
and Regional Health Information
Organizations and HIEs can exchange
health information securely and easily
CONNECT can be used to:
• Set up a HIE within an organization
• Exchange data with other HIEs
• Set up a Direct Health Information Service
Provider
About CONNECT
• Open source license
• Open release planning, sprint review and
planning sessions
• Community contributions
•
Bug reports + fixes
•
Feature requests + implementations
•
Documentation
•
Custom or specialized components
• FHA-sponsored product management,
curation, support, development
What CONNECT Does
• Provides the connection between existing health information
systems to health data exchanges
• Supports multiple usage environments
• Delivers foundational functionality necessary for supporting
interoperability
• Secure messaging services
• The framework for request justification of electronic health information
for a patient
• Registry services to discover exchange participant existence and
connection information
• Patient preferences about sharing their electronic health information
CONNECT Enables Interoperability
• Find a patient based on demographic information
• Locate a patient's electronic health information
• Retrieve specific electronic health information
associated with a subject or patient
CONNECT Enables Interoperability
• Submit patient-specific information without the need for a
request or query
• Submit non-patient-specific documents
• Provide a publish/subscribe capability for ongoing feeds
• Exchange of health based SMTP messages per Direct specs
• Fully functional out of the box but flexible for customization for
environmental and use case needs
NwHIN Technical Specifications:
Finding, acquiring, + sharing health information
Do you have information
on Jane Doe?
NwHIN/Direct
specifications
Direct Project Specifications:
Simple health information transport
I'm sending you info
on Jane Doe
Direct specifications
Why a Platform?
Flexible architecture
• Allows CONNECT to build out, and make available, the health information
exchange methods and use cases we've discussed at this meeting
• NwHIN Exchange specifications
• Direct (secure email) transport
• Whatever's next:
– Benefits discovery? Pre-approval? Quality? Etc.
Single product
• Do you really want to install and maintain separate products for your
distinct exchange needs?
Pooled efforts
• Open source license and development allows community engagement,
collaboration, contribution
• Needs are better met through openness, participation, + interaction
Who Uses CONNECT?
Anyone who wants to exchange health data
A sampling of the CONNECT community.
Listening to the Community
• What do you need?
• Why are you here?
• What is your mission?
• What are your challenges?
How to use CONNECT:
A solution to support meeting MU requirements
The exchange of health data and interoperability is a key theme and
requirement of meaningful use
• ONC National Coordinator Dr. Farzad Mostashari states "…as we look toward
meaningful use Stage 3, we will monitor the ease with which EPs [eligible
professionals], eligible hospitals, and CAHs [critical access hospitals] engage in
electronic exchange, especially across different vendors…"
• Goal of a national health IT system is to make sure "information follows the patient
regardless of geographic, organizational, or vendor boundaries"
• ONC remains dedicated to the idea of health information exchange without
borders, across different ….areas of care, but also across different technologies
How to use CONNECT:
A solution to support meeting MU requirements
• CONNECT provides the functionality to meet exchange requirements
for meaningful use for example
•
•
•
•
•
•
Providing a summary of care record to another care setting for a referred
patient with suggest standard of Direct Project protocols
Receiving clinical lab-test results for incorporation into an EHR as structured
data
Provide patients with ability to download and transmit their health
information
Capability to submit electronic data to immunization registries
Capability to submit electronic surveillance and reportable laboratory results
data to public health agencies
Electronic submission of clinical quality measures reporting requirements
• CONNECT is fully functional out of the box but flexible for
customization for environmental and use case needs
How to use CONNECT
Health Information Exchange Infrastructure
• Low cost solution that is open source and maintained by fellow adopters
• CONNECT provides multiple migration paths for exchange adoption and
abilities to meet interoperability requirements
•
•
•
Direct transport, Exchange transport or both
One implementation allows for exchange with two different transport
protocols increasing exchange opportunities
CONNECT is a platform that can be easily extended to support the new
underlying specifications
• CONNECT is a health exchange platform that is flexible to support an
evolving exchange environment
• A solution that complies with requirements and specifications associated
with MU and established Exchanges
• Flexible for implementing into an adopters established infrastructure and
environment
CONNECT Building Blocks
How CONNECT enables exchange
EHR/HIE System
System that wishes to
CONNECT with other
health information
sources
Any Health
Organization / Provider
CONNECT
Government sponsored
facilities
Master Patient Index
System (MPI)
Document Registry
Document Repository
Policy Engine
Regional Health
Information
Organizations
EHR/HIE
Implementation
Adapter Service
Creates/sends messages to
CONNECT and
receives/processes and
responds to messages from
CONNECT
Disease-oriented
care networks
Federation of
enterprises (hospitals
and care providers)
Other Communities
of Care
CONNECT Building Blocks:
Tailoring your implementation
CONNECT provides the health information exchange (HIE)
key building blocks:
• Provides an integrated implementation which provides functionality and access to
interoperate with other partners
• CONNECT sits between the HIE infrastructure systems Exchanges for example the
eHealth Exchange or Direct participating partners
• CONNECT sends messages to the exchange and receives messages from the
network on behalf of the HIE
• CONNECT provides reference adapters for guidance but allows for the
customization of the adapters to tailor processing messages to and from CONNECT
and the HIE systems
• To further build only what is needed CONNECT allows for the deployment of only
the services needed to support desired use cases
Next CONNECT Events
December 31, 2012 (11am)
Next sprint review + planning meeting
January 2, 2013
CONNECT 4.0 Beta Release
February 11, 2012
CONNECT 4.0 Release
Mid-February, 2013
CONNECT User Group Meeting
More Details on CONNECT 4.0
Release info:
https://developer.connectopensource.org/display/CONNECT
WIKI/Release+4.0+-+In+Progress
Requirements
artifacts:
https://developer.connectopensource.org/display/CONNECT
WIKI/Requirements+Artifacts
Design approach
documents:
https://developer.connectopensource.org/display/CONNECT
WIKI/CONNECT+4.0+Design+Approaches
JIRA:
http://issues.connectopensource.org
Forums:
http://www.connectopensource.org/developerresources/forums/developer-forum
Federal Health Architecture:
Stay connected, communicate and collaborate
• Browse the ONC website at: healthIT.gov click the
Facebook "Like" button to add us to your network
• Contact us at: onc.request@hhs.gov
• Subscribe, watch, and share:
• @ONC_HealthIT, @ONC_FHA,
• @CONNECT_Project
• http://www.youtube.com/user/HHSONC
• Health IT and Electronic Health Records
–
• http://www.scribd.com/HealthIT/
• http://www.flickr.com/photos/healthit
Health IT Buzz Blog
Federal Health Architecture:
More about Federal Health IT Initiatives
ONC website:
www.healthit.gov/nhin
Direct Project website:
www.directproject.org
S&I Framework wiki:
http://wiki.siframework.org
CONNECT website:
www.connectopensource.org
eHealth Exchange:
http://healthewayinc.org/
Thank you!