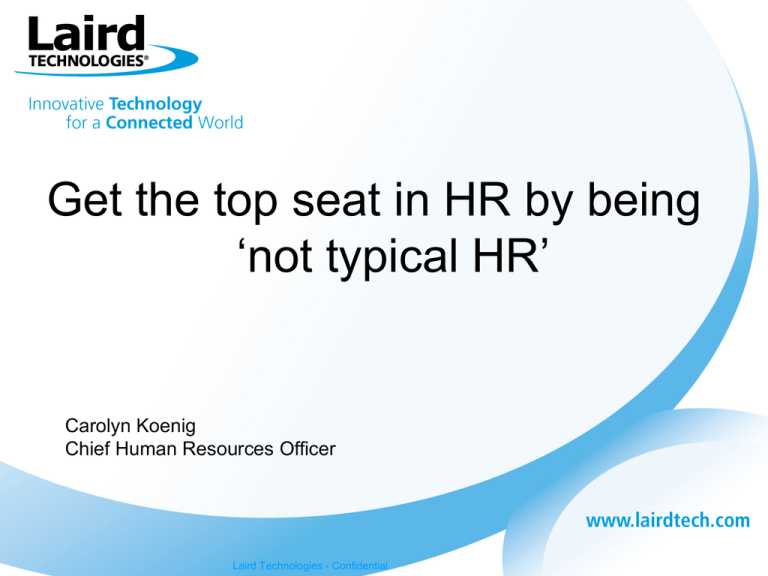 Get the top seat in HR by being
'not typical HR'
Carolyn Koenig
Chief Human Resources Officer
Laird Technologies - Confidential
Who we are
Laird Technologies Organization
Performance Materials Division
EMI Solutions
Thermal Management Solutions
Signal Integrity Products
Wireless Systems
Wireless M2M & Telematics
Infrastructure Antenna Systems
Wireless Automation and Control Solutions
Connectivity Products
Key Facts
Laird Technologies is a unit of Laird PLC.
Laird PLC was founded in the early 1800's, when John Laird
founded Birkenhead Ironworks in Liverpool, UK. Through
the years, the company built ships for the UK Navy, trains
for rapid transit, and taxis for use in the UK. Laird PLC also
had units making commodity plastics and building hardware
until the 1990s. Today, Laird Technologies is the only unit of
Laird PLC.
The PLC is headquartered in London, UK, is quoted on the
London Stock Exchange (symbol LARD) and a member of
the FTSE 250 index.
Laird Technologies was founded in mid 1990's, and is
more…
headquartered in St. Louis, Missouri.
Laird Technologies has grown through a combination of
strong organic growth and by acquiring and integrating
some of the world's leading EMI shielding, thermal
management and wireless technology brands.
Key Facts
Headquartered in London, England
Approximately 15,000 employees globally in
46 engineering, manufacturing, and sales facilities
more…
or
Back
Who we are
Core Competencies
•
•
•
World class designer and supplier of performance critical
electronic components
• Leading solutions provider with more capabilities
than niche suppliers
• Market leader in EMI, antenna, thermal, metals,
remote control, and reception solution systems
• Ability to bundle technology with vertical integration
– "convergence products"
• Track record of intellectual property supporting
product & process development
Deep, broad relationships with industry leaders
• Trusted supplier with over 30 years of technology
experience
Global presence and customer support
• Global footprint – local resources
• International manufacturing and supply chain
management
• Worldwide design centers & technology leadership
Back
Who we are
Serving Industry Leaders
Back
12 Step Guide to avoid being "typical
HR"
What is typical HR and why don't we want to be
it?
•
•
•
•
•
Jargon filled
Bureaucratic
Policy Police
Knows HR but not the business
Risk Adverse
• Bottom line, senior executives Hate it!
Article from Fast Company "Why we hate HR"
http://www.fastcompany.com/magazine/97/open_hr.html
What's wrong with HR?
Step One: Avoid all jargon
If your 3rd grader doesn't know what you are saying, you are using
Jargon………………
Step Two: Understand the Business
• There should be no part of the business that you don't understand –
all products, all services, all departments
• HR is one of the only function that works across businesses – be
knowledgeable
• Know the company strategy
• Know the company metrics
– Most profitable area, least profitable, reasons for profitability, etc
Step Three: Eliminate Policies vs. adding them
• Address the person or situation, don't create policies to address bad
behavior
• Question purpose of all the policies – unless they spell out a
process, why have them?
• Consider your Code of Conduct being the policy for the majority of
situations.
Step Four: Take Risks
• Instead of telling managers all the reasons they can't do something,
ask yourself "what's the worst that could happen?"
• Be the one that recommends the extremes, watch the reactions!
Step Five: Challenge the Status Quo
• Question why do we do it this way?
• Ask questions to get people thinking differently?
Step Six: Say what everyone else is thinking
• Be the voice of reason and honesty
• Be the brave one to call out worthless activities or situations
Step Seven: Call out politics and bad behavior
• Call people out on their 'stuff' ( in private)
• Expose political agendas and bullying
Step Eight: Be the Moral Compass
• Someone has to own the company values and it should be you
• Ask the question, "Is this decision in alignment with our values?"
• Be the brave one to challenge inconsistent behavior
Step Nine: Be the Example
• If you are going to call others out, you have to practice what you
preach
• Make sure your own house is in order
• Make the tough decisions as an example to your peers
Step Ten: Only work on Business Issues
• Any project in HR not initiated by the business, should be
questioned and/or stopped.
• If anything you or your team are doing doesn't solve a business
issue, stop doing it.
Step Eleven: Be Accountable
• Be willing to put your own job on the line
• Own mistakes and fess up publicly
• Take on issues outside your scope of responsibility
Step Twelve: Measure Outcomes not Activities
• Non Value Added Measures
–
–
–
–
–
Time to Fill jobs
Cost per hire
Training Hours
Training Satisfaction
Employee Satisfaction %
Metrics that Improve the business
• Valuable Measures
– % of workforce considered "rock stars"
– % of key jobs that are filled internally
– % of positions filled externally due to internal skill gap
– Voluntary turnover
– Interviews to offer ratio
– Offer acceptance percentage
– Turnover Rate in the first year of hire
Find ways to repurpose the same metrics
that your business uses
• Market penetration – employer brand and candidate awareness. %
hired from competitors
• Revenue – Measure volume of output; hires, transactions, training
courses – show increased trend
• PBIT – more output for less cost – Better benefits, less cost; more
training, lower price point
In Summary
Questions?