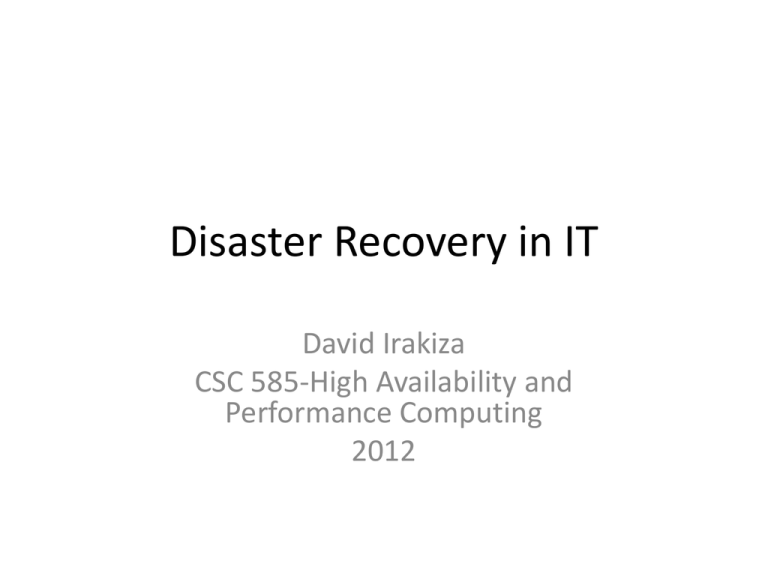 Disaster Recovery in IT
David Irakiza
CSC 585-High Availability and
Performance Computing
2012
Outline
•
•
•
•
•
•
•
•
Introduction
Requirements/Considerations
Categories
Benefits
Strategies
Precautionary measures
Vendors and products/tools
Questions
Introduction
• Disaster is an unexpected event with destructive
consequences[1]
– Natural
– Human
– Technical
• Disaster recovery - processes, policies and
procedures that deal with preparing for recovery
or continuation of technology infrastructure
critical to an organization after a disaster[2]
Requirements/Considerations
• Recovery Point Objective (RPO): amount of data
loss that is tolerable. Represents point in time of
most recent backup prior to system failure
• Recovery Time Objective (RTO): system downtime
that is acceptable. Includes time to detect failure,
prepare backup servers, initialize failed
application and reroute requests via backup site
– Goal is to have very low RTO
Requirements/Considerations
• Performance: impact on normal operation
after recovery. Should have minimal impact on
performance of application being protected
• Consistency: accuracy of application data and
output. Application should be restored to
consistent state after failure
• Geographical location: disaster recovery
(backup) site should not be in same location
as system being protected
Categories of backup sites
• Hot backup site: mirrored standby servers
always available to provide service incase of
disaster. Use synchronous replication to avoid
data loss, minimal RPO and RTO
• Warm backup site: may use synchronous or
asynchronous replication depending on
desired RPO of business. Standby servers
available but in "warm" state, could take some
minutes to bring them online when needed
Categories of backup sites
• Cold backup site: data replicated periodically
hence RPO in hours or days. Backup servers
not readily available, could take hours or days
to resume operation after failure hence high
RTO
– Very low cost option, suitable for applications that
don't require strong protection or availability
guarantees
Benefits
• Reduce time spent on making decisions after
failure
• Provides confidence that business continuity is
possible after failure
• Standby system availability is guaranteed
• Backups ensure information or documents can
be provided when originals are destroyed
• Risk of human disaster is reduced
Strategies
• Tape backups that are sent off-site at regular
intervals
• On-site disk backups automatically copied to
off-site disk
• Data replication to off-site location (using
Storage Area Network Technology)
• High availability systems that keep off-site
replications of both data and system
Precautionary measures to prevent
disasters
• Disk protection technology e.g. RAID
• Surge protectors
• Uninterruptible Power Supply and/or
generators
• Alarms, fire extinguishers
• Anti virus software
Vendors and products/tools
• Three types of off-site disaster recovery
replication products:
– Array based: replicate between two proprietary
storage arrays e.g. SRDF (EMC Corp.), IBM's Peer to
Peer Remote Copy, Hitachi Data Systems' True Copy
– Third party: replicate from site A heterogeneous
environment to site B e.g. IPStor (FalconStor's
software), DoubleTake & GeoCluster (NSI), Data
Protection Suite (Topio Inc.), Global Disaster Recovery
(SANRAD)
Vendors and products/tools
– Managed services: outsourcer operates
company's remote site or entire disaster recovery
operation e.g. WilTel Communications,
StorageTek, IBM Global Services, Hewlett-Packard
Co.
• Fairly new and gaining popularity among mid-sized
companies
References
1. "Disaster Recovery". bizhelp24. August 2009. Accessed January 27, 2012 <
2.
3.
4.
5.
6.
http://www.bizhelp24.com/small-business/disaster-recovery.html >
Disaster Recovery. Wikipedia.org. Retrieved January 27, 2012 from
http://en.wikipedia.org/wiki/Disaster_recovery
"The Benefits of Preparing for Disaster Recovery". bizhelp24. September 2010.
Accessed January 27, 2012 < http://www.bizhelp24.com/money/commercialinsurance/the-benefits-of-preparing-for-disaster-recovery.html >
"Advantages of Disaster Recovery as a Service". datacenterknowledge. October
2011. Accessed January 27, 2012 <
http://www.datacenterknowledge.com/archives/2011/10/25/advantages-ofdisaster-recovery-as-a-service >
Chad Bahan. "The Disaster Recovery Plan". 2003. SANS Institute InfoSec Reading
Room. Accessed January 27, 2012
Shane O'Neill and Beth Pariseau. "Tech Roundup: Disaster recovery tools
". August 2005. Accessed February 7, 2012
<http://searchstorage.techtarget.com/tip/Tech-Roundup-Disaster-recoverytools>
Questions?