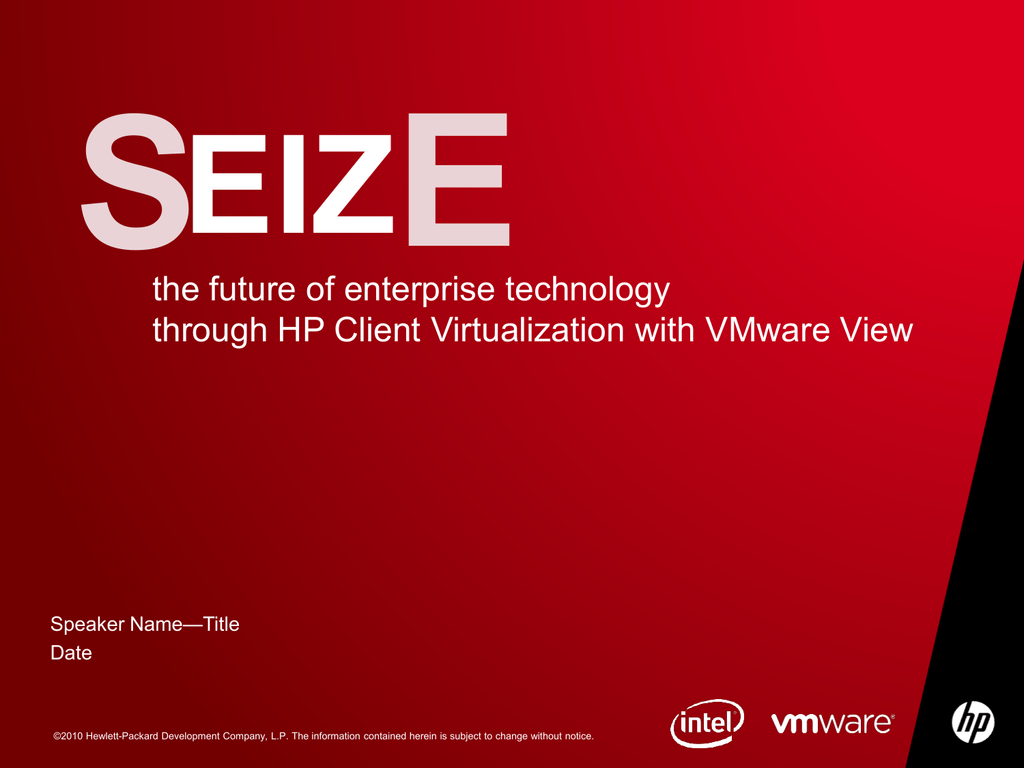 SEIZE
the future of enterprise technology
through HP Client Virtualization with VMware View
Speaker Name—Title
Date
©2010 Hewlett-Packard Development Company, L.P. The information contained herein is subject to change without notice.
Today's distributed desktop environment =
plenty of pain
Desktops, workstations, and mobility devices are costly
and difficult to manage, maintain, and protect
Data and applications are difficult to secure
Patches and upgrades are time-consuming and
a drain on manpower
You need to lower costs, reduce risk, and
increase productivity
2
HP Client Virtualization with VMware View
3
The HP Client Virtualization with VMware
View infrastructure
Thin client
Data center
HP BladeSystem
and servers
Internet or
LAN/WAN
VM
VM
VMware View
Software
HP
DAS
or
SAN
VM
Connection
Broker
VM
Enterprise Directory
VM
VM
VM
VM
HP BladeSystem
and servers
4
VMware View
Software
Notebook
Desktop PC
VMware View: the industry's leading
virtualization platform
– Give users a personal view of
their data and applications
– Build the desktop of tomorrow,
today
– Improve your desktop
management
– Lower TCO by as much as 50%
5
HP and VMware View configuration
250 productivity user configuration
Storage
HP StorageWorks P4000 SAN
Servers
HP ProLiant BL490
G6 server blades
(2P quad core, 72 GB)
VMware software
HP Virtual Connect with Flex-10
VMware vSphere
View Composer
VMware View
Manager/Thin App
HP Virtual Connect Flex-10 10Gb
Ethernet Module for
c-Class BladeSystem
Enclosure
HP BladeSystem c7000 Enclosure
6
Tri-Center Community Schools
Education (K–12)
Objective
•
•
7
Use computer
technology to
increase the
quality of
learning
Approach
•
Deploy HP hardware
and software,
including:
Results
•
Sevenfold increase in
streaming video
bandwidth
–
HP Compaq
desktops and
laptops
•
Applications open in
seconds instead of
minutes
–
HP ProLiant BL460c
G6 server blades
•
99% reduction in
backup time
–
Arrays, backup
systems, switches,
and wireless
infrastructure from
HP StorageWorks
and HP ProCurve
•
Up to 99% reduction
in recovery time
Minimize costs
Why HP Client Virtualization with VMware
View is right for you
HP and VMware
integrate the expertise
and practical
experience to move
client virtualization
projects from planning
to success.
HP Client
Virtualization with
VMware View offers
you:
8
Simple, proven
implementation
options with
VMware
software
Flexible storage
options with
HP StorageWorks
SAN
technologies
A complete
end-to-end
solution
Significant savings with
HP BladeSystem and HP thin
clients with Intel® processors
Are you ready to take the next step?
1
2
3
9
HP Client Strategy Services
Assessment—business and technical
readiness, roadmap
Try a proof of concept—test your design before
implementation!
Outcomes that matter.