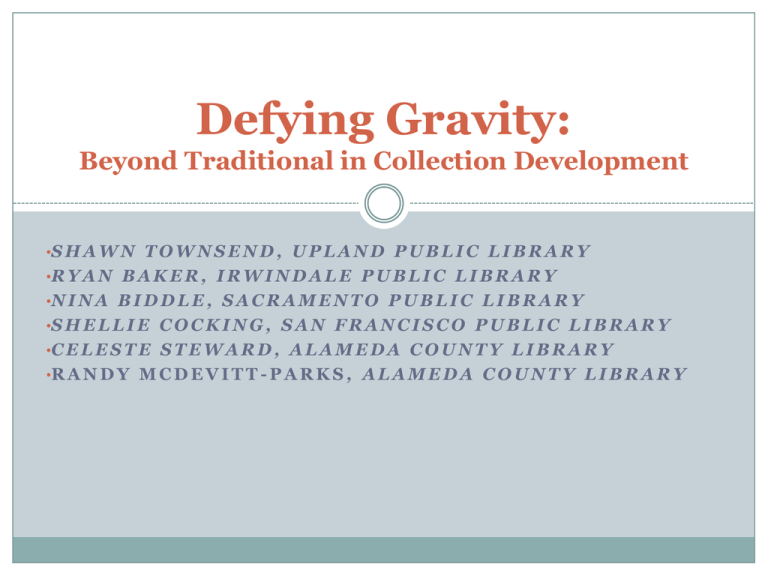 Defying Gravity:
Beyond Traditional in Collection Development
•S H A W N T O W N S E N D , U P L A N D P U B L I C L I B R A R Y
•R Y A N B A K E R , I R W I N D A L E P U B L I C L I B R A R Y
•N I N A B I D D L E , S A C R A M E N T O P U B L I C L I B R A R Y
•S H E L L I E C O C K I N G , S A N F R A N C I S C O P U B L I C L I B R A R Y
•C E L E S T E S T E W A R D , A L A M E D A C O U N T Y L I B R A R Y
•R A N D Y M C D E V I T T - P A R K S , A L A M E D A C O U N T Y L I B R A R Y
Shawn Townsend
UPLAND PUBLIC LIBRARY
Ryan Baker
IRWINDALE PUBLIC LIBRARY
Nina Biddle
S A C R A M E N TO P U B L I C L I B R A R Y
Defying Gravity :
Beyond Traditional in Collection
Development
Sacramento Public Library
Nina Biddle, Collection Services Manager
Sacramento Public Library
SPL Facts & Figures
 Service Population: 1.2 million in Sacramento
County
 Facilities: Central Library with
27 branches
 Collection size: 495,000 titles;
1.8 million items
 Annual Circulation FY12: 7.7 million
Extreme Makeover in 2011
 Centralized selection – 3 selectors
 Floated the entire collection
 Created Lucky Day collections at each branch
 Procured added value services of cataloging and




processing for 90% of the collection
Changed bibliographic utility for 40% annual cost
savings
Acquired CollectionHQ
Renovated the department
Decreased turnaround time from 150 to 3 days
Common Challenges
1. $2.8M Materials
Budget
 8.4% of total budget
 33% reduction in two-year
annual budget cycle
Common Challenges
2. Accommodating eContent
• eBook and eAudiobook checkouts Sept. 2011-Sept. 2012
131% increase in eBook checkouts
25000
20000
15000
10000
5000
0
Sep-11 Oct-11 Nov-11 Dec-11 Jan-12 Feb-12 Mar-12 Apr-12 May-12 Jun-12 Jul-12 Aug-12 Sep-12
Audiobooks
eBooks
How do we meet goals for our collections
….with
Less Money?
 Floating Collection & Resource Sharing
 Fewer copies
 Streamlining through Centralization & Standardization
 No more branch processing or repairing
 Centralized selection
 Partnering and Collaboration
 Getting creative with formats and community connections
 Maximizing Supplemental Revenue Sources
 California State Library and other grant opportunities
 System Friends
 Branch Friends
 SPL Foundation
 Employing Principles of Fiscal Responsibility
PARTNERING & COLLABORATION
Branching Out with Formats
Crocker Art Museum Art Packs
 Backpacks containing a collection of children's books, art
materials, music, games, and art education resources for parents
that can be checked out at Sacramento Public Libraries
Sacramento Municipal Utility District (SMUD)
 Partnered in January 2012 to circulate energy usage monitors
for home appliances
 Continuing partnership 2013 household energy usage meters
Partnership Benefits
 Materials are often free to acquire
 Reach a larger "audience" -Develop broader
awareness and potential support for the Library and
its collection
 Establish a mutually beneficial relationship to
strengthen service to the community
 Remain relevant to the community
Maximizing Supplemental Revenue
California State Library and Other Grant Opportunities
 eReader Project – Over 300 eReaders preloaded with
content
System and Branch Friends
 Lucky Day collections
 "Friends Helping Friends" 3-way matching funds
SPL Foundation
 Lucky Day collections
 Responsive to well-defined needs, e.g., early literacy
Fiscal Responsibility
-Optimizing Savings
 Evaluate multi-year contracts
 Use competitive procurement to full
advantage
 RFPs for value-added services
Negotiate!!
 Vendors are flexible
 Usage reports are
valuable tools
 Scrutinize charges
 e.g., Automatic 5%
renewal fee
 Take advantage of
vendor cost-saving
programs
Thank you!
Shellie Cocking
SAN FRANCISCO PUBLIC LIBRARY
CollectionHQ: How We Use It
Easier Weeding & Inventory Control
Smarter Floating
Better Targeted Spending
Weeding & Inventory Control
Smarter Floating
Better Targeted Spending
Celeste Steward
ALAMEDA COUNTY LIBRARY
COLLECTION MANAGEMENT:
ALAMEDA COUNTY LIBRARY
Central Selection and Promotion
Children's Materials Selection
10 branch libraries +
1 Bookmobile
All formats:
Print, ebook and
audiovisual
Annual Budget – varies
One million - $700,000
Reader's Advisory Central
Reading Rocks!
http://guides.aclibrary.org/read
Twitter Feed:
https://twitter.com/aclib
Getting Started
• Track suggested titles and booklists
• Ask for staff suggestions
• Subscribe to vendor newsletters/blogs
• Study industry sites and trade journals
• Promote on social media sites
• Involve web services
• Save public comments for reports/statistics
• Borrow and adapt promotional materials
Seasonal Reader's Advisory
Banned Books:
http://guides.aclibrary.org/b
anned/childrens
Summer Reading:
http://guides.aclibrary.org/su
mmer/childrens
For More Information
Celeste Steward, Collection Development Librarian IV
Alameda County Library
2450 Stevenson Blvd.
Fremont, CA 94538
510-745-1586
csteward@aclibrary.org
@bookladybyday
Randy McDevitt-Parks
ALAMEDA COUNTY LIBRARY
CENTRALIZED
SELECTION AT
ALAMEDA COUNTY LIBRARY
Who We Are:
• We serve 7 communities, with 10 branch
locations, and with a 560,000 population
service area.
• Extension Services includes a Bookmobile
and services to seniors, jails and juvenile
detention centers. We are developing
partnerships with youth centers and other
County departments and agencies.
• Staff: 286 employees, FT/PT
County Librarian – Jean
Hofacket
Circulation
is 6.5+ million and increasing.
Centralized Selection at
Alameda County Library
Materials Selection has been centralized since February 2009. It was a
hybrid system before that.
Impetus for Move to Centralized Selection:



Need to do more with less.
Staffing levels had remained static for years, with attrition and vacancies
major factors. Selection processes were becoming more complex and
branch staff lacked adequate time for thoughtful selection.
County Librarian wanted public service staff to concentrate on outreach,
programming, and working more directly with Library members.
Centralized Selection at
Alameda County Library
Goals & Expectations for Centralized Selection:



Develop comprehensive systemwide collection development and
management plans, including regular CREW-based weeding and collection
refresh orders.
Concentrate selection among a small group of full time selectors with
expertise in selection and with vendor relations.
Rationalize the acquisitions, processing, and cataloging functions with fewer
people. Primary print wholesaler also catalogs and processes for us.
Centralized Selection at
Alameda County Library
Goals & Expectations for Centralized Selection:


Increase efficiencies and flexibility with scaling – monthly and themed
selection lists from vendors, larger system funds to draw from, quantity
ordering, additional copies to meet holds demand, centralized leased book
ordering for popular titles, less duplication of orders. More ability to be
nimble, as needed, especially with specially funded projects.
Better budget management and fluidity – fewer fund codes needed, ability
to shift funds as needed more easily, and to meet customer demand, easier
budget analysis. Current FY materials budget is $3 million.
Centralized Selection at
Alameda County Library
Regular Collection Development Staff
o
o
o
1 Collection Development Coordinator – Adult Ordering of Bestsellers, High Holds, High
Demand, Large Refresh Lists, CREW Weeding management, CollectionHQ oversight,
communications with staff and public.
1 Children's Selector – print, AV, and ebooks, regular monthly orders, refresh lists and
projects, communication with staff.
1 Adult/Teen Selector – print and AV, regular monthly orders, refresh lists and projects,
communication with staff.
Other Collection Development Staff



1 Web Services Librarian orders econtent.
10% of 1 FT branch librarian's time is devoted to selection and maintenance of
Spanish print and AV. Farsi materials are selected by designated branch staff.
Other language selection is outsourced to vendors.
Centralized Selection at
Alameda County Library



OUTCOMES

Selection staff have adequate
dedicated time to concentrate
on selection and collection
management.

Selectors have become expert
in their selection area and as
resources for all staff and the
public.
Selectors have time for
professional development –
webinars, classes, conferences,
professional literature.
Selectors have developed close
working relationships with
acquisitions, processing, and
cataloging staff.
By necessity, selectors have become
extremely knowledgeable about the
publishing industry - both print and
electronic, the music , TV and film
industries, and the materials
wholesale industry. They keep current
on a daily basis.
Centralized Selection at
Alameda County Library
OUTCOMES




Diversity and local community needs can still be met, as long as clear
communications are maintained.
Localized pockets of personal biases can be minimized when selecting
systemwide.
Customer purchase requests are centralized as well, giving selectors a
broad feel for needs, interests and trends.
Centralized selection works well with floating, which was phased in
in summer 2009. Everything now floats, with some exceptions.