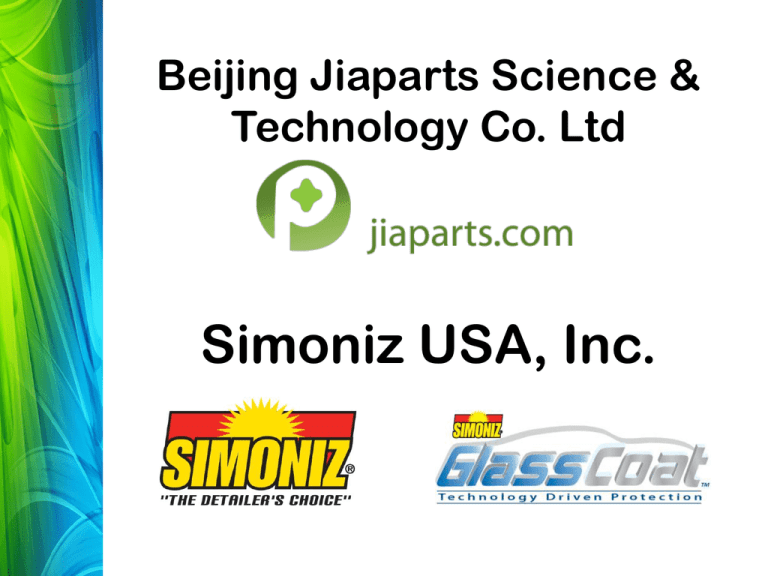 Beijing Jiaparts Science &
Technology Co. Ltd
Simoniz USA, Inc.
Table Of Content
Partners for mutual success……….………………….…3
Goals and Vision…………………………………………..…..4
Meet the Simoniz Team China…...…………………….5
Biography of Simoniz Team China…...………………6-13
Organizational Support ……………....………………….14-16
State of F & I…………………………………………………...17-22
China Market Analysis……………………………………..23-24
The Roll Out……………..……………………………………..25
Partners For Mutual Success
Goals & Vision
PHASE 1:
To protect and warranty new cars with with
Simoniz Glasscoat new throughout the China
new car dealer market place. To Introduce the
Simoniz family of products to the DIY "Do It
Yourself" Market and the professional
marketplace.
PHASE 2:
To develop additional F&I products and service
contracts and become the innovative
leader/pioneer in the F&I Department in the
new car dealerships. Continue to develop the
Simoniz brand in your DIY "Do It Yourself" as
well as professional market place.
PHASE 3:
Simoniz Express Car Wash Systems. There are
lots of "dirty cars" in China that need to be
washed regularly, quickly, and in expensively.
SIMONIZ TEAM CHINA
Mark Trahan
President Specialty Market
mtrahan@simoniz.com
(860) 930-1778
Bob Broderick
General Manager Specialty Markets
broderick@simoniz.com
(800) 227 5536 x139
William Gorra
President /CEO
wgorra@simoniz.com
(860) 573-9860
Tom Palancia
Director of Detail Operations
tpalancia@simoniz.com
(203) 885-2729
Tony Lawrence
Customer Service Mgr.
alawrence@simoniz.com
800-227-5536 x118
Alma Medina
Director Of
Communications/Marketing
amedina@simoniz.com
(860) 643-3895
Susan Lang
Creative Director
slang@simoniz.com
(800)227-5536 x 103
Roger Schuler
President of Retail
rschuler@simoniz.com
(845)220-0599
Meet Our Team Simoniz China
William Gorra, President & CEO Simoniz USA, Inc.
William M. Gorra President and CEO of Simoniz USA, Inc.
Bill completed his B.S in chemical engineering and B.A in
History at Tufts University. William Gorra has over 33 years
of experience in the professional carwash industry and has
a long list of industry contributions; such as developing the
Express Detail Program, Simoniz Tire Shiner, Simoniz Double
Bond Program, and the Simoniz Hot Wax program. Bill has
expanded Syndet products which is now Simoniz from 12
employees to over 200 employees in 7 professional
divisions.
His vision is to continue to grow the Simoniz Brand from a
cradle to the grave marketing approach by taking innovative
leadership positions in the businesses we are in.
Meet Our Team Simoniz China
Susan Lang, Creative Director Simoniz USA, Inc.
Susan has been in the creative/graphics industry since 1990. After
completing Business College, Susan's career began as a Desktop
Publisher/IT Operator at Connecticut Mutual Insurance Company,
where she became Team Leader in the transition of Desktop
Publishing to Computer Designing. In the fall of 1995, Susan became a
Graphic Designer for Hamilton Sunstr and/United Technologies where
she provided professional graphics and publishing support from
concepts to reality for a wide variety of products for internal and
external clients.
In October of 2000, Susan became a part of the Simoniz team as a
Graphic Designer which evolved into the company's Creative Director
position where she is responsible for having a thorough
understanding of principles of art, layout and copy, which requires indepth knowledge of a variety of design software/hardware and is also
responsible for taking the concepts developed to final advertisement,
monitoring workflows, and schedules all the way through to delivery
of the product/branding materials. Susan is married, has a daughter
and resides in Connecticut.
Meet Our Team Simoniz China
Alma Medina, Director of Communication/Marketing
Specialist- Simoniz USA, Inc.
Alma is a college graduate with a BA in Organizational Management.
She started at Simoniz USA in 2007 as an executive assistant to our
National Sales Managers for Janitorial and Carwash industry. She
also assisted our sales force with miscellaneous responsibilities
needed to gain new business opportunities. Throughout the years
Alma has learned the history of our company and the importance of
continued brand awareness. In 2011, Alma was promoted to
Director of Communication/Marketing Specialist. She works hand
and hand with President Bill Gorra in developing communication
and marketing strategies to support the brand and our sales force.
Alma is also responsible for managing our Simoniz USA website
both businesses to business and e-commerce called Detail Direct.
She is also responsible for developing and managing all social media
initiatives for entire company (Face book, YouTube, Linked-in,
Twitter, etc). Alma will be getting married in September 2013.
Meet Our Team Simoniz China
Mark Trahan, President Simoniz® Specialty Markets
Division
Mark has been involved in the retail auto industry since 1980.
He began his career as a salesperson at an AMC Jeep Renault
Dealer in Hartford CT. In 1984 Mark began work as an F&I
consultant and trainer. Mark worked with dealerships in ME,
VT, NY, CT and RI. In 1986 he joined as Partner Connecticut's
leading F&I company offering F&I training and products. In
1996 he began discussions with Simoniz USA on entering into
the Environmental Service Contract(r) business. In 1997 he
joined Simoniz USA. Simoniz USA now offers its programs
through the country's leading F&I companies and select
General Agents. The Simoniz program is sold through
thousands of Dealerships coast to coast. Mark is married, has
two boys, and lives in CT.
Meet Our Team Simoniz China
Bob Broderick, General Manager Simoniz® Specialty
Markets Division
Bob has been involved in the auto industry since 1984. Bob
began his career as a Store Manager for the Good Year Tire and
Rubber Co. in CT and maintained the store to be in the top 3 of
the region as well as impeccable customer service. In 1992 Bob
wanted to see what the OEM and Aftermarket had to offer so
he began work as Manager for Mustangs Unlimited which is
well known for all things Ford Mustang. This position offered
many challenges as it involved mail orders and phone orders
from all over the world as well as a retail store. This position
made Bob well versed in management due to overseeing 60
employees in 3 different divisions of the company who all had a
different set of tasks and goals. In 2001 Bob began working for
Simoniz USA; being interested in car appearance the
Environmental Service Contract seemed like the place to be. In
this role, Bob leads a team providing all aspects of the GlassCoat
Program, including New Account/ New Agent Set Up, Claims
Processing, Training and Daily Reporting. Bob lives in CT and is
married
Meet Our Team Simoniz China
Tony Lawrence, Customer Service Manager Simoniz
USA
Tony has a BS in Business Administration and after college was
owner/operator of All Pro Cleaning Services, a disaster
restoration company for 12 years. He also worked in the
restaurant business as an operations manager for six years prior
to joining Simoniz. Tony joined Simoniz USA in 2006 as
Customer Service Manager for the carwash /janitorial divisions.
Tony is married and has a daughter and son and lives in CT.
Meet Our Team Simoniz China
Roger Schuler, - President of Retail Division at Simoniz
USA, Inc.
•Union Carbide Corp. 1971 – 1976; Territory Manager;
Prestone Automotive Products
•Northern Petrochemical Co. 1976 – 1983; Territory
Manager; Peak Automotive products
•Turtle Wax, Inc. 1983 – 2005; Reg. Sales Mgr., V. P. Sales
•Turtle Wax Appearance Products and CD2 and Marvel
Mystery Oil Chemicals
•Simoniz USA, Inc. 2005 – Present; V.P. Sales Retail; President
Retail Division
Meet Our Team Simoniz China
Thomas Palancia, Director of Detail Operations
for Simoniz USA Inc.
Tom comes from a management and education background. In
2008, he joined the Simoniz team to manage their detail
product route sales program in CT and MA as well as train
detail technicians on application techniques and product
knowledge. In the past 5 years Tom has been responsible for;
developing new products to expand the detail and retail
product lines, producing new training material and holds
instructional sessions on all aspects of the detailing business,
processes and sales, overseeing video production of truing
videos/ product advertising and designing and coordinating the
building of a world class detailing, product development and
training facility named "The Simoniz Garage". His base of
operation is in West Hartford CT at the Simoniz Garage where
he also oversees a fully staffed detail business. He works side
by side with the creative and communications divisions to
design and create brand awareness material that celebrates
the rich history of the Simoniz brand. He provides technical
support to the Simoniz USA Inc. customer base. Tom is married
with a son and expecting a daughter this May.
Organizational Role
William Gorra- Team Captain and Chief Visionary
•Marketing manager and coordinator of all IP.
Susan Lang-Creative Director
• Responsible for all graphic design requirement,
which includes:; brochures, packaging, logo
design, and point of sale material.
Alma Medina- Director Of Communications/Marketing Specialist
• Responsible for a communicating within the simoniz
china team by helping organize responsibilities. All
marketing material, training , and all website content.
Organizational Role
Mark Trahan- F&I Expert
• Oversees all US Glasscoat operations, dealer
expectation, F&I products, new, PDR,
Bob Broderick- Specialty Market Customer Service
• All Glasscoat customer service responsibilities
including claims Information.
Tony Lawrence- Customer Service Manager
• Responsible for order entry, shipping, logistics,
and special order information.
Organizational Role
Roger Schuler- President Of Retail Division
• Responsible for retail product development which includes
pricing and placement.
Thomas Palancia - Specialty Market Customer Service
• Responsible for all things technical information
including packaging, product training, production
application, and
State of F&I
In the U.S./China Opportunities
Brief history of the origins of F&I.
The original Finance and Insurance (F&I) product offered in the U.S. in the late 60's early 70's
was Credit Life and Accident and Health Insurance. This was a product that was sold to people
who financed their vehicle at the Dealership. The Credit Life coverage paid off a vehicle if the
insured became deceased. The Disability portion of the coverage made the monthly payments
to the insured in the event they were disabled and not able to work. The same applies for the
Health portion. If the insured becomes sick and not able to work, the monthly payment would
be paid by the insurance.
The second product to be introduced was the Mechanical Service Contract. This product
became popular in the late 70's early 80's. This product provides coverage to the vehicle
outside of the warranty coverage provide by the manufacturer of the vehicle. The Mechanical
Service Contract is today still the most important product sold by the Dealer. It provides very
important income and also ties the consumer to the Dealership for additional repair work.
Credit Life Accident and Health Insurance and Mechanical Service Contracts from the mid 70's
forward were joined by Rustproofing and Undercoating which were also sold to the consumer
from the Dealer. These products were designed to inhibit vehicles from rusting and to keep the
vehicle quieter from road noise. Most of the F&I product were typically sold by the salesman
who sold the consumer the vehicle. In the early 80's F&I became more sophisticated in the U.S.
and a separate department was formed to sell these product, making one person responsible
for handling the financing and selling these F&I products.
State of F&I
In the U.S./China Opportunities
As Dealers in the U.S. became more focused on developing more F&I income the demand for
more products became higher. Today there are many different products offered.
Appearance Protection keeps vehicles looking new for
years by protecting both the interiors and exteriors of vehicles
including paint, fabric, carpet, vinyl and leather.
GAP Insurance is also known as Guaranteed Auto
Protection or Guaranteed Asset Protection and as
GAP within the North American financial industry.
GAP insurance covers the difference between the
actual cash value of a vehicle and the balance still
owed on the financing (car loan, lease, etc.).
VIN Etching most commonly involves the use of a stencil and an acidic etching
paste to engrave a vehicle's vehicle identification number (VIN) onto
the windshield and windows. Should a thief try to sell the parts from a vehicle for
profit, those marked parts carry a higher risk for both the thief and the auto parts
seller. Since automotive glass generally have no identification numbers, and are
often interchangeable between many different years and models of vehicle, there
is usually a much greater profit for the thief compared to other components on the
vehicle. If a car's windows are stamped with the VIN, thieves would need to
discard the glass before parting out the stolen vehicle, thus reducing or eliminating
their profit.
State of F&I
In the U.S./China Opportunities
Tire & Wheel Protection program provides coverage in the
event of damage to a consumers tires or wheels as a result of
metal, nails, glass, debris, potholes, blowouts, etc. (excluding
cosmetic damage). Consumer does not need to worry about
unnecessary financial hardship in the event of damage due to
a road hazard. Damaged tire(s) will be replaced, not plugged
or patched. Tires and Rims especially on higher end vehicles
Mercedes Benz, BMW, etc, are extremely expensive.
Lease Wear & Tear Protection eliminates the worry of
additional expenses at lease turn-in time. Many of the risks
incurred from driving a car, such as the small dents and dings
that happen in parking lots, chipped paint or even worn tires,
are the owner's financial responsibility at the end of the lease
term.
Paintless Dent Repair (PDR) is an industry recognized
repair process that involves the removal of hail dents or other
types of damage from a vehicle's exterior surface panels
without disturbing the finish. This procedure involves the use
of specialized tools to apply pressure to the backside of the
damaged panel to remove surface imperfections.
State of F&I
In the U.S./China Opportunities
F&I Menus
As more and more products became available for F&I Departments to sell, it became difficult for
F&I Managers to present all of the products to every consumer. To help manage this problem
Software programs were developed to help assist F&I managers to present this wide array of
products
This software was come to
be known as Menu
software. Menu software
made presentations to
consumer more
streamlined and effective
and allowed a way for the
Dealership to present
monthly payment options
to the consumer with Menu
options
State of F&I
In the U.S./China Opportunities
Closing
The potential F&I market in China will be influenced by the percentage
of people who finance their vehicle. Since only 10 percent of car
purchases are financed by loans in China, a product like GlassCoat
would be an excellent first step into the F&I arena in China because of
its high impact to the consumer and affordable price to the Chinese
consumer who is paying cash for the vehicle.
Also the Chinese consumer has a very high regard for their vehicle,
maintaining it as good as they can in light off not a lot of opportunities
for car washes or readily available cleaning products. The word
"worship" is used a lot when describing the ownership experience. If
The Chinese consumer could take care of their vehicle with a U.S.
Branded chemistry and a China Life insured warranty for a fair price we
believe it would be a well received option to the Chinese consumer.
State of F&I
In the U.S./China Opportunities
However growth potential of additional F&I products is solidly in
China's Future. It is estimated that finance opportunities could
reach 30% of car sales by 2017. Hyundai has just created a finance
arm in China in conjunction with Beijing Hyundai Auto Finance Co.
with an initial capital of 500 million yuan ($79 million). Beijing
Automotive Industry Group will hold the remainder. General
Motors, Volkswagen, and Toyota already have finance arms in
China.
Major F&I companies in the U.S. have insurance routes. Zurich,
Virginia Surety, Great American Insurance, AON, Protective, and
Allstate all have made solid investments into the F&I market.
China Life with proper partnerships could be a pioneer for F&I
products and service in China.
China Market Analysis For
GlassCoat
• MARKET OVERALL INFORMATION:
•2012: about 20m new cars, vehicles on the road: 200m
• Future: 5% growth rate for new cars
• Approximately 35% car price is over U$20K
• If the penetration rate is 20% and average price is U$400: annual
Market size is over U$2.8b
• SIMILAR PRODUCTS IN CHINA:
•The Top 6: AMICA-Japan, 3M-USA, F&K –Japan, ALPHA-Korea
, PermaPlate-USA, ZAPS -Japan
China Market Analysis For
GlassCoat
• MARKET SIZE ESTIMATION:
• New Car: if the penetration rate is 20% and average price is
U$400: annual market is over U$2.8b
• Used Car: if 10% more penetration for 60m used cars, annual
market is over U$2.4b
• Total Market size is around U$5.2b
• If 15% belong to Simoniz, it is about U$700m
• MARKET STATUS: Overall penetration rate is only 3%, the key reason is;
• End –users do not trust can get right product, right service and right
value
• No local products and Foreign Company do not know how to
operate in CHINA
• Primarily through Agent for certain amount cooperation year: agent
destined to do short
• Almost no Quality Assurance; No Insurance Products; No Brand
Promotions; No Anti-False Operation.
2013 Roll Out Plan
1.
2.
3.
4.
Start in Beijing
Audi Dealerships
Create prototype for dealer and consumer point of sale package
Insurance… Yes or No?
WAITING ON YOULEE's FOR RESPONSE!
Over 101 Years Of Experience
In The Industry!
OUR SUCCESS HINGES ON MUTUAL SHARED COMMITMENT TO EXCELLENCE!