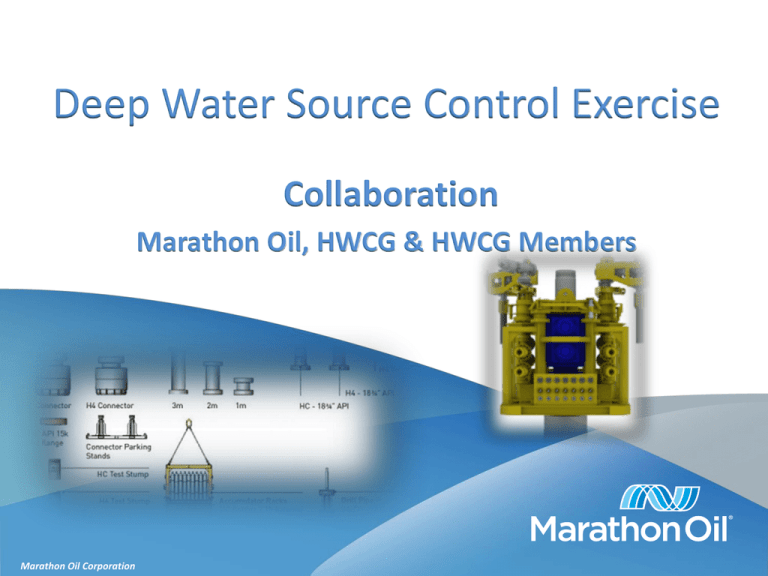 Deep Water Source Control Exercise
Collaboration
Marathon Oil, HWCG & HWCG Members
Marathon Oil Corporation
Setting the Stage
HWCG LLC (formerly Helix Well Containment Group):

24 RP company deep water cooperative, plus 37 service providers, intertwined in an industry mutual aid organization.

The Premise: "When the RPs get drilling permits, all 61 companies go back to work."

Working together in a Mutual Aid atmosphere was almost a "virtual given"
Exercise was conducted April 3rd -4th, 2012s

Sponsored by Marathon Oil Corporation & HWCG

(USCG) deemed exercise appropriate for Preparedness for Response Exercise Program (PREP) for Houston/ Galveston Sector.

Four different command posts were set up and patterned similar to a "Macondo Type" incident response as follows:
 Area Command Incident Command Post (Houston, simulating BP's Robert, LA)
 Offshore Incident Command Post (simulating a Louisiana ICP, such as Houma, LA)
 Near shore Incident Command Post (simulating a suitable ICP location near the impact zone, such as Mobile, AL)
 Deep Water Source Control Group (DWSCG), set up at PetroSkills Training Center, Katy, Texas (simulating the Source Control
Incident Command Post – HWCG's designated Deep Water Command Post)
Marathon Oil's Oil Spill Response Plans (OSRP) and the HWCG Well Containment Plan (WCP) ensured all "common" equipment
and services were present and represented industry, government and vendors.
Supporting vendor and consulting companies:

Well Capping and Containment (37 companies) as indentified in the HWCG WCP were invited to attend and participate in the
exercise.

Likewise, 9 oil spill response sub-contractors and cooperatives, as identified in Marathon's OSRP, were also invited
Marathon Oil Corporation
GOM Structure
Exec Level
Area
Command
CMT/ Unified Command
EST
NAPRRT
Planning
Logistics
Technology
HES&S
Legal
Finance
RP/Mutual Aid
RP/Vendors
EPG/ICS
Information
Technology
JIM
Insurance/
Risk
Inv. Relations
Public Affairs
Area Deputy
Commander
Govt. Affairs
DWSCG
MOC CERT TEAMS
Incident Commander
Subsea Source Control
Command
Staff
JIM
DIC
Source Control
Chief
Relief Well
Group
Planning
SIMOPS
Group
Logistics
Operations
Containment
Ops Group
Finance
Flow Engineering
Group
Incident Commander
Shoreline
Incident Commander
Offshore
Flowback
Group
JIM
DIC
Safety
Liaison
Safety
Liaison
Legal
Public
Affairs
Legal
Public
Affairs
Security
Community
Relations
Security
Community
Relations
Planning
Logistics
Planning
Logistics
Drilling
Engineering
Debris Removal
Well Control
Chemicals
Vessel
Management
Situation
Operations
Situation
Operations
Directional
Drilling
ROV
Operations
Utility IWOCS
Flow Assurance
Marketing Sales
Resource
Finance
Resource
Finance
G&G
Supply Vessels
Pumping
Reservoir
Engineering
Plan Development
Plan Development
Anchor
Handlers
Dispersant
Documentation
Documentation
Intervention
Vessels
Flow
Calculations
Environmental
Environmental
Incident Command System – Source Control
Marathon Oil Corporation
Branches, Divisions, &Groups
Geographical Example of an Offshore Deep-water Response
Shoreline Protection
Branch
Shoreline Div. 1
Shoreline Div. 2
Offshore Div. 2
Dispersant Appl.
Shoreline Div. 3
Offshore Div. 1
Dispersant Appl.
Offshore Dispersant
Branch
Deep-water Source
Control Branch
Marathon Oil Corporation
Government Participation
• United States Coast Guard (USCG)
–
–
–
–
–
–
Sector Houston / Galveston
Sector New Orleans
Port Arthur-MSD
Morgan City-MSD
District 8-Representative for Admiral
District 7-Representative for Admiral
• Bureau of Safety and Environmental Enforcement
(BSEE)
– Oil Spill Response Coordinators Office (OSRD)
– Gulf of Mexico Branch
– Response Research Unit
• National Oceanic and Atmospheric Administration
– Scientific Support Coordinator (SSC)
– Office of Response and Restoration
Marathon Oil Corporation
Government Participation
• EPA Region 6
– Houston- OSC
– Region 6-Coordiantor out of Dallas
• Texas General Land Office-Oil Spill Division
(TGLO)
– Region 1
– Region 2
– Austin Headquarters
• Louisiana Oil Spill Coordinator (LOSCO)
Marathon Oil Corporation
Industry Participants
Marathon Oil Corporation
Contractors/Vendors
• Vendor support and expertise key to success. Having SME's
representing a vast array of knowledge and years of experience.
Marathon Oil Corporation
Improvement Plan
Task
Recommendations
Improvement Plan
Responsible
Completion
Date
Provide Section Specific ICS
Training to all ICS Sections.
Review current ICS
training program.
Institute a program that
will allow for incorporation
of RMS as well as section
specific ICS Training.
EPG
01/13
Include ICS training into
deep water source control
group training.
Institute RMS roles and
responsibilities trng for
this team.
Provide annual trng similar
to CERT teams.
EPG (Niell
Irvin)
01/13
ICS specific forms
familiarization.
Provide specific training
on forms.
Provide specific ICS form
overview and utilization
trng.
EPG
10/12
Planning Process training.
Emphasize how the
planning process works.
Hands on training and
practice of the planning
process including
deliverables.
EPG
10/12
Information Technology
support.
Strengthen IT support on
all exercise and
response.
Collaborate with IT to
make sure proper IT
support is incorporated
into each function.
EPG(Thomas
Acuna)
7/12
Dispersant Planning
process.
Formulate and update
OSRP with latest
Dispersant information.
Quarterly updates on
inventory and
collaboration with
NALCO,CGA,NRC and
HWCG. Amend the HWCG
WCP(appndx 3,5)
EPG (Greene /
Irvin)
HWCG(Irvin)
6/12
Helix Fast Response System
mechanism.
Provide specific
guidance on all
components.
Work with HWCG to
improve HFRS system
overview for DWSCG.
EPG (Irvin)
HWCG
9/12
Marathon Oil Corporation
Complete After Action Report
Developed, with input of all
RP, Service Provider and Gov't
Agency Participants.