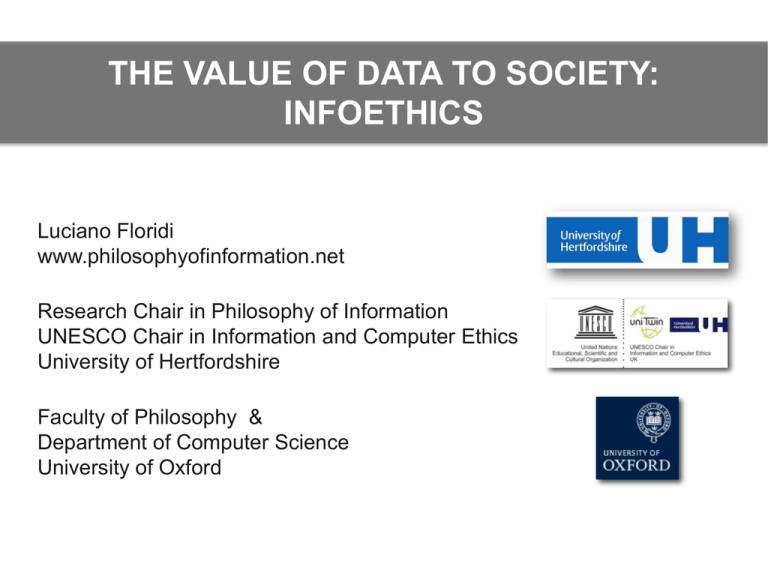 THE VALUE OF DATA TO SOCIETY:
INFOETHICS
Luciano Floridi
www.philosophyofinformation.net
Research Chair in Philosophy of Information
UNESCO Chair in Information and Computer Ethics
University of Hertfordshire
Faculty of Philosophy &
Department of Computer Science
University of Oxford
OUTLINE
HYPERHISTORY
INFOSPHERE
FOURTH REVOLUTION
INFRAETHICS
DATA TIME: HYPERHISTORY

No ICTs

Individual and social well-being
related to ICT

Individual and social well-being
dependent on ICT
DATA SPACE: INFOSPHERE
In recent years, the world has been adapting to
smart technologies increasingly well.
Enveloping the world (data-fication) without fully
realising it.
In robotics, an envelope
(also known as reach
envelop) is the threedimensional space that
defines the boundaries
that the robot can reach.
DATA SPACE: INFOSPHERE
Dishwasher vs. Humanoid Robot
DATA SPACE: INFOSPHERE
22.5
20
17.5
15
12.5
10
7.5
5
Ca. 21% of EU population used a laptop to access
2.5
the internet, via wireless away from home or work.
0
2004
2005
2006
2007
2008
2009
2010
2011
2012
DATA SPACE: INFOSPHERE
Inside the computer
Outside the computer
HUMANITY: THE FOURTH REVOLUTION
Knowledge, Science, Technology change our
understanding in two fundamental ways.
Introvert or about ourselves.
Extrovert or about the world.
HUMANITY: THE FOURTH REVOLUTION
We are not immobile, at the centre of the universe
(Copernicus).
We are not unnaturally detached and diverse from the
rest of the animal world (Darwin).
We are not Cartesian subjects entirely transparent to
ourselves (Freud).
We are not disconnected agents, but
informational organisms (inforgs),
sharing with biological and engineered
agents the infosphere (Turing).
INFRAETHICS
Create
Reuse
Erase
Collect
Many crucial issues in the infosphere (data-based
society) are hyperhistorical,
DATA including:
privacy, data security, intellectual property,
liability, and
Use data access.
Record
Transmit
Process
INFRAETHICS
What is needed is an ethical infrastructure
(infraethics) that facilitates ethically good
decisions, choices and behaviours.
Risks
Confidence
Certainties
Legal framework
Ethical foundation
Examples:
Data Protection Directive,
General Data Protection Directive.
CONCLUSION: A PROPOSAL
The Declaration of Helsinki: set of ethical principles
regarding human experimentation developed by
the World Medical Association. Cornerstone
document of human research ethics. Not a legally
binding instrument, but very authoritative and
influential on legislation and regulations.
In terms of ethical principles, what is
needed is a European Declaration
on InfoEthics that provides the
ethical contents for innovation, R&D,
application, and use of ICTs.
THE VALUE OF DATA TO SOCIETY:
INFOETHICS
Luciano Floridi
www.philosophyofinformation.net
SOURCE
This research is partly based on Information – A Very Short Introduction (Oxford University Press, 2010), The
Philosophy of Information (Oxford University Press, 2011), and The Ethics of Information (Oxford University Press,
forthcoming).
ACKNOWLEDGEMENTS
This research has been supported by a University of Hertfordshire's QR Grant.
COPYRIGHT DISCLAIMER
Texts, marks, logos, names, graphics, images, photographs, illustrations, artwork, audio clips, video clips, and software
copyrighted by their respective owners are used on these slides for non-commercial, educational and personal purposes
only. Use of any copyrighted material is not authorized without the written consent of the copyright holder. Every effort
has been made to respect the copyrights of other parties. If you believe that your copyright has been misused, please
direct your correspondence to: l.floridi@herts.ac.uk stating your position and I shall endeavour to correct any misuse as
early as possible.