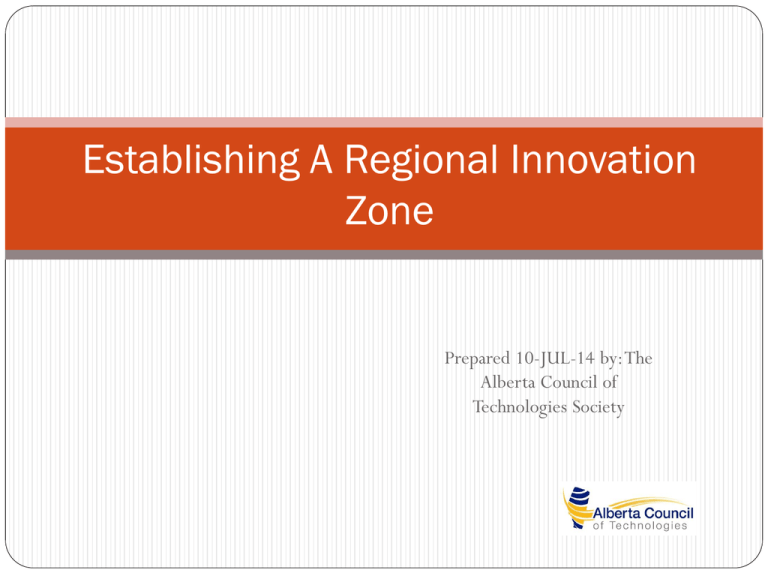 Establishing A Regional Innovation
Zone
Prepared 10-JUL-14 by: The
Alberta Council of
Technologies Society
Proposal
 Establish the NW quadrant of the Edmonton Capital Region as
an Innovation Zone
 The NW Quadrant includes:
 City of St. Albert
- Town of Stony Plain
 Town of Devon
- City of Spruce Grove
 Parkland County - Sturgeon County (Villenue)
 Alexander First Nations
2
What is the NW Innovation Zone?
The NW location features:
 A common interest/need to increase their business/ industrial base
for generating jobs/revenue/taxes – sustainability
 Excluded from development of Alberta's oil sands, gas & petroleum
industry
 Environmental sensitivities and public priorities
 Source of the Region's water (North Saskatchewan), weather
(prevailing NW winds – "The Alberta Clipper"), and wattage
(Keephills and Wabamun)
 Collaborative municipal/county economic development
Is there More?
3
What is the NW Innovation Zone?
Innovative infrastructure:
 Focus. Innovation and knowledge-based industry. E.g. : data
analytics, fusion energy, cleanTech, maglev
 Sourcing. Small business development, dedicated funding for
industry development and business incubation
 Merging. Culture and Science, Arts and Technology - a "Creative
Economy"
 Local. A well-educated, family-oriented population base as a source
of leadership in learning, small-business and innovation!
Is there More?
4
How ABCtech Can Help!
 Vision. Diversifying Alberta's economy through the commercialization of emerging
technologies
 Experienced. "Community building" with networks of interest and expertise in
technologies and their commercialization:
 Policy Influence. Consulting re fusion energy, maglev, small business, innovation &
enterprise, rural communications, access to capital, public procurement, public policy
 Public Education. Event management re cell therapies, fusion energy, cleanTech,
electrifying transportation, data analytics
 Communications. Newsletters, ABCtech Media (audio, video, print) Productions, websites
Collaborative. 20 established Networks and 15,000 email relationships sustained through
AGM/BBQ, co-hosting of events and policy projects
5
What's needed?
 Agreement. Municipalities/Counties Agreement to collaborate in




6
economic development. Form Alliance.
P3 Funding. Provincial/municipal partners and corporate and
institutional sponsors. Short and long term grants.
Understanding. A spring workshop on development of the NW
Innovation Zone. Steering Committee.
Sourcing. Regional: Northern Alberta Business Incubator, Community
Futures, Sumex, AccCapital, and Provincial: Maglev, Alberta/Canada
Fusion Energy Program, Alberta CleanTech Industry Alliance, Analytics
Industry Advisory
Engagement. ABCtech as Project Secretariat for launch. Our 2015
Tenth Year Anniversary theme "Convergence & Creativity".