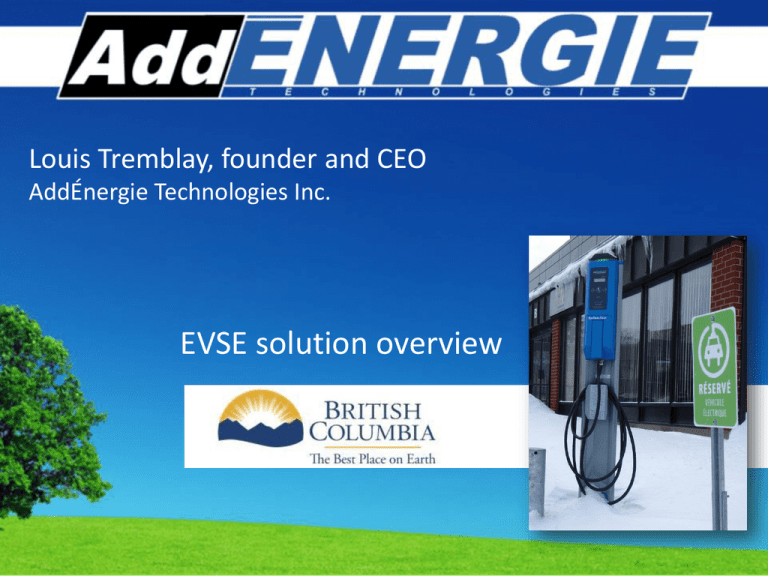 Louis Tremblay, founder and CEO
AddÉnergie Technologies Inc.
EVSE solution overview
Outline
•
•
•
•
•
AddÉnergie
System architecture
SmartTWO™ EVSE
Owner's Web portal
User's Web portal
AddÉnergie







Founded in 2009
11 engineers
10M$ in funding
200 charging stations sold in Canada
Charging stations manufacturer
Charging stations network operator
Industrial partners
3G networked park
Highly secure hosting site
(MS Azure)
Gateway
CSNMSMC servers
CSNMSMC
Back-end.
process
Data
Base
System
Admin
portal
Wireless
meshed
network
Local admin
access
Bell Mobility
3G network
LAN networked park
Admin and
Owner Web
portal
Comm.
services
Existing
LAN
Internet
Firewall
Gateway
System
Admin
portal
Local admin
access
Wireless
meshed
network
Highly secure and PCI compliant hosting site (Iweb)
AddÉnergie
LAN
Network
operation
center
Owner's LAN
Owner
workstation
Owner's office
VERnetwork servers
User Web
portal
Firewall
CSNMSMC
comm. IF
IPSP comm. IF
VERnetwork
applications
SmartTWOTM EVSE
ZigBee Antenna
360°, 25 feet visible status
Alphanumeric display
RFID reader (ISO 15693)
Locked connector
access door
Robust NEMA 3R aluminum
enclosure
Modular design makes adding
stations and maintenance easier
Wallmount, pedestal or
polemount configurations
20 feet cable
Electric connection
in the station base
Owner's Web portal
Owner's web portal
Configuration
• Park or station level configuration
• Usage fee mode control
• Greeting messages
• Remote control
• In or out of service
• Remote session activation
• Reporting
• Usage session based, or charging
session based or revenue based
reports
• Global based, park based or charging
session based filtering
• On screen or XLS export
• Monitoring
• Detailed status (voltage, current,
temperature, RF signal level, etc.)
• Ongoing session performance data
User's Web portal
User's Web portal
•
•
•
Charging stations localization
New user registration
User's data & configuration
•
•
•
•
Transactions
•
•
•
•
Access card ordering
Funds transfer to access cards
Fully PCI compliant & certified
•
•
•
Profile
Notification subscription
Detailed historical usage data
Developed by a PCI certified software house
Hosted in a PCI certified infrastructure
Transactions processed in Canada (Canadian funds,
Canadian bank)
All taxes are remitted
Thanks !