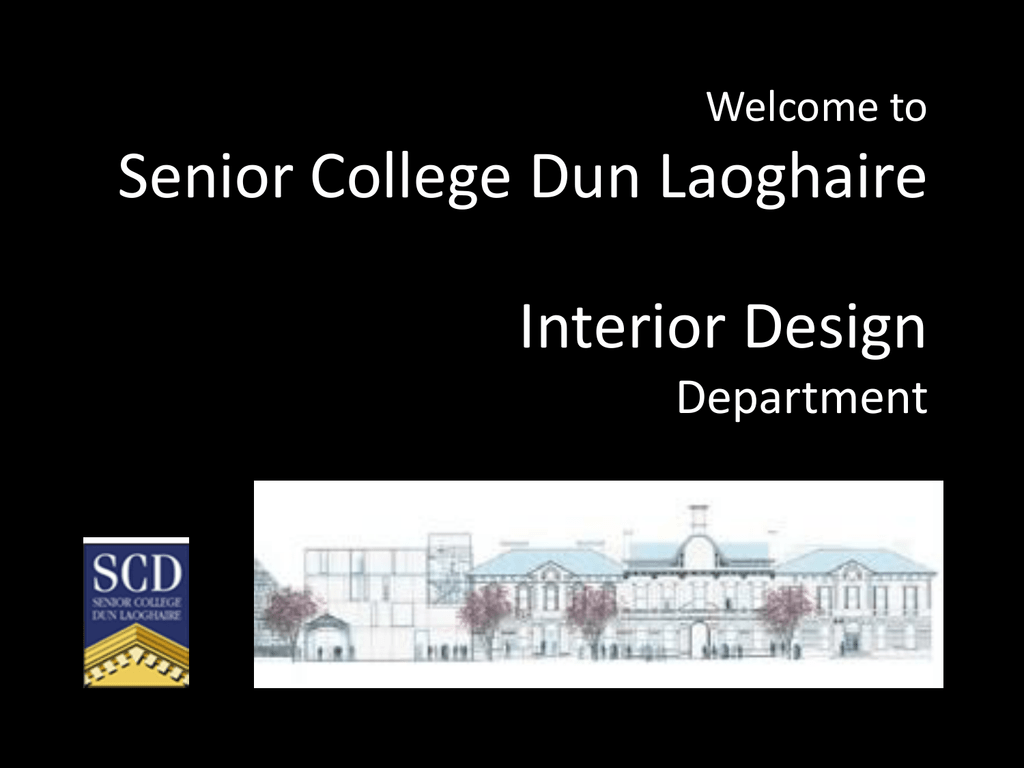 Welcome to
Senior College Dun Laoghaire
Interior Design
Department
The design staff
are from many different design
disciplines
Architecture
Interior Architecture
Industrial Design
Computer Aided Design
Photography
Fine art
Business
Emer Tubridy, Nicki Cloonan, Gillian Sherrard, Jackie Duigan,
Cliona White, Lisa Woods, Jackie Duignan, Kymberly Dunne
Core Elements
Design
design/studio projects, design concepts and practice
Colour
colour theory and schemes
Environmental Design
egonomics and anthrometrics
Architectural Draughting & Visualisation
surveying: room surveys and measured drawings,
plans and elevations, planning rooms, internal fittings, lighting, 2D & 3D computer aided design &
rendering, information technology (FETAC), photoshop
Materials & Internal Furnishings
sample board presentations: decorative paint finishes, soft furnishings, textiles, window
treatments, upholstery, natural and man made materials and processed materials
Professional Practice
best practices for Interior Designers
Student Diversity
The course attracts students from a wide range of age groups and
nationalities.
Student Presenting for the First Time
Students work along side design staff designing a variety of interior
projects.
Tutor Feedback
Tutors discuss the development of individual projects as students
progress.
Great Atmosphere
students share their design ideas with fellow class mates and a great
atmosphere is created in class
A Final Presentation
First Year Interior Design students present a design scheme
Foreign Trips
Site visits and foreign trips are an important aspect of our design courses
- this photograph was taken during a visit to Barcelona
Visit to Berlin
This photograph was taken on a recent trip to Berlin
Visit to Rome
On foreign trips we usually have a guide taking us on daily walking tours
and site visits.
Field trips in Ireland
We also visit places of design interest within Ireland. For instance this
is a student looking through a piece of sculpture in the city centre.
Art and Design Exhibitions
We regularly visit galleries such as the Chester Beatty Gallery, The Hugh
Lane Gallery, Collins Barracks and The National Gallery.
A Presentation for a Restaurant Design
A second Year Interior Design scheme for a
restaurant including mood boards, samples and
sketch books.
Model making helps to communicate design ideas
It is an important aspect in developing design concepts.
Colourful model making
An interesting design scheme created by a student at Senior College Dun
Laoghaire.
Students working together creating models
A busy atmosphere develops in the classroom.
Colour Theory
Lectures are given by staff about colour theories and how to put together
schemes.
Soft Furnishing
In first year we learn about the different companies that manufacture and
supply fabrics and wallpapers. Trade show rooms are visited and students
learn how to specify appropriate materials for different projects.
Upcycling
Our first years recently undertook an upcycling project reviving chairs
that were about to end their lives in a skip.
Another Upcycling Project
The dreary sofa was changed into a bright new innovative design.
Sketching
Design ideas for a second year Interior Design living room project.
Mood Boards
Students put together boards showing the design elements that will
appear in their Interior Design schemes.
A finished design by a third year interior design student
Perspectives help to communicate the student's design.
Technical Drawing
Students learn how to draft technical drawings of buildings both by hand
and computer.
History of Art and Design
The history of Art and Design is taught through a series of lecture based
seminars.
Professional Practice
Lectures are given on how to run your own business. All design staff have
experience in the industry and some are currently running their own
design practises.
Work Experience
Design staff use their contacts in industry to help students secure work
experience placements.
Our department regularly enters our students into
design competitions.
This is Jenny Deasy receiving a winning certificate for her entry into a
national competition organised by House and Home Magazine.
End of Year Exhibition
Each May, our students put on an end of year exhibition in the town hall in
Dun Laoghaire. We ask designers from Industry to open the exhibition and in
the past we were lucky enough to have Diarmuid Gavin as our guest.
Graduation Day
After completing the course students graduate in The O'Reily Hall in UCD.
It becomes a celebratory day for all involved.
The Real World
Designers work along side Structural Engineers and contractors to
produce exciting interior designs.
Jobs in Interior Design
After graduating our students successfully take up jobs in industry or go
on to study for a further qualification.
Work In Progress
The thrill of seeing your design coming together can be both exciting and
rewarding.
A Finished Design
After your training designs like this one can be created.
Exhibition Design
Some students go on to have careers in Exhibition Design.
Domestic Interiors
Other students specialise in domestic interiors.
Commercial Interiors
Students can work in large design practices putting together schemes for
commercial interiors.
Show Apartments
Designers put finishing schemes together for apartments and houses.
The Interior
Design Course at Senior College
Dun Laoghaire
currently has vacancies.
If you are interested in applying for this fun, fulfilling
course please contact us on
00353 1 280 0385
[email protected]
www.scd.ie
Thank you for taking the time to learn about
Interior Design
at Senior College Dun Laoghaire.
.