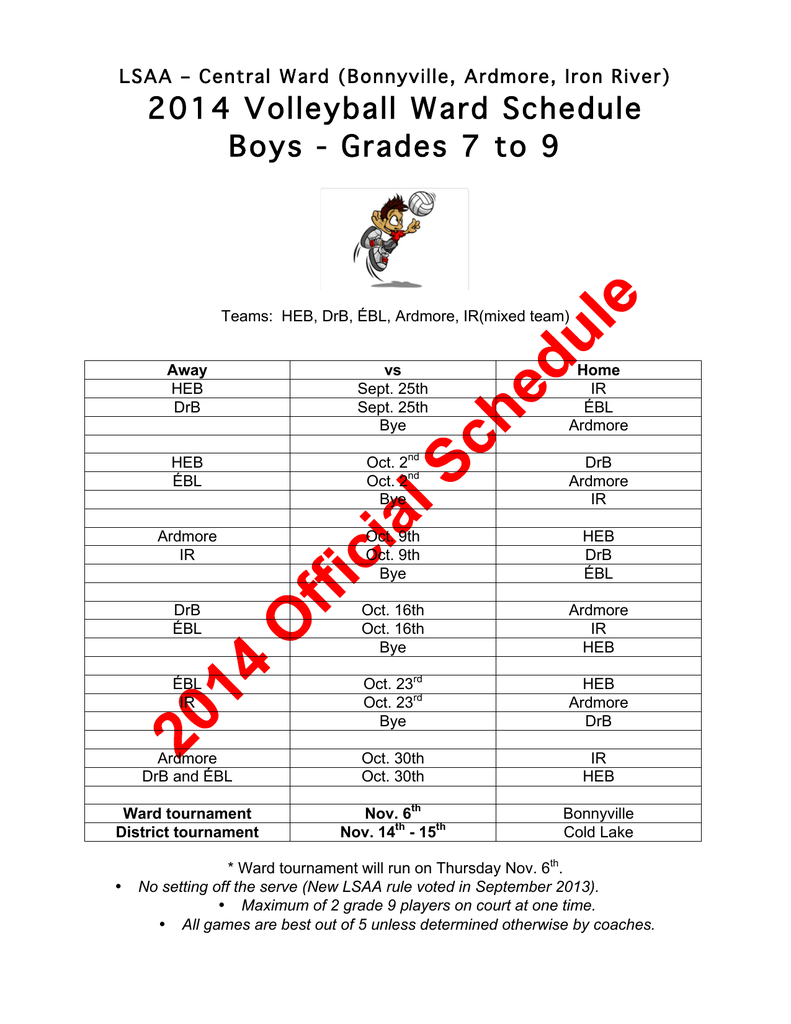 LSAA – Central Ward (Bonnyville, Ardmore, Iron River)
2014 Volleyball Ward Schedule
Boys - Grades 7 to 9
Teams: HEB, DrB, ÉBL, Ardmore, IR(mixed team)
Away
HEB
DrB
vs
Sept. 25th
Sept. 25th
Bye
Home
IR
ÉBL
Ardmore
HEB
ÉBL
Oct. 2nd
Oct. 2nd
Bye
DrB
Ardmore
IR
Ardmore
IR
Oct. 9th
Oct. 9th
Bye
HEB
DrB
ÉBL
DrB
ÉBL
Oct. 16th
Oct. 16th
Bye
Ardmore
IR
HEB
ÉBL
IR
Oct. 23rd
Oct. 23rd
Bye
HEB
Ardmore
DrB
Ardmore
DrB and ÉBL
Oct. 30th
Oct. 30th
IR
HEB
Ward tournament
District tournament
Nov. 6th
Nov. 14th - 15th
Bonnyville
Cold Lake
•
* Ward tournament will run on Thursday Nov. 6th.
No setting off the serve (New LSAA rule voted in September 2013).
• Maximum of 2 grade 9 players on court at one time.
• All games are best out of 5 unless determined otherwise by coaches.