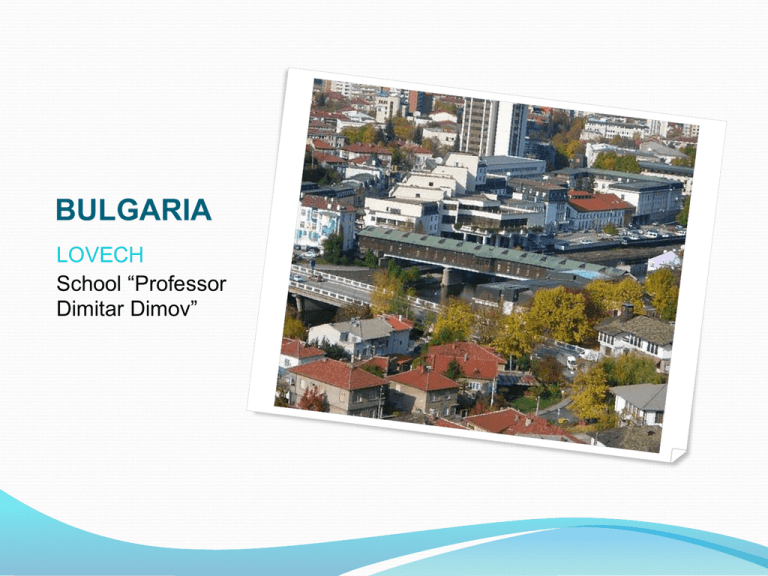 BULGARIA
LOVECH
School "Professor
Dimitar Dimov"
Hello, we are Nikol and Mira from 5th a
class.
This is our class, we are 22 students.
This is our classroom
This is the schoolyard
This is our school, it is named after the
famous Bulgarian writer Dimitar Dimov.
Lyubomir Hristov is our headmaster.
This is our town
Views from the town
The old town
The theatre
The river Osam
The so called Baroque houses
The Covered bridge is the symbol of Lovech
Bulgaria is a country in Eastern Europe. Neighbours:
Romania, Serbia, Macedonia, Greece and Turkey.
Map of the country
The fortress and the monument
of Vasil Levski in Lovech
Bulgaria is famous for its winter resorts
Borovets in the Rila mountain Bansko in the Pirin mountain
Bulgaria is famous for its summer resorts
Sozopol is on the south coast
of the Black sea
Albena is on the north coast of
the Black sea
Natural phenomena in Bulgaria
Seven Rila lakes
Saeva dupka cave
Historical places in Bulgaria
Rila monastery
Shipka Memorial church
Activity : "My school, my town, my
country"
 This presentation was made especially for the
project "Together for a better environment",
"Professor Dimitar Dimov" school, Lovech,
Bulgaria.