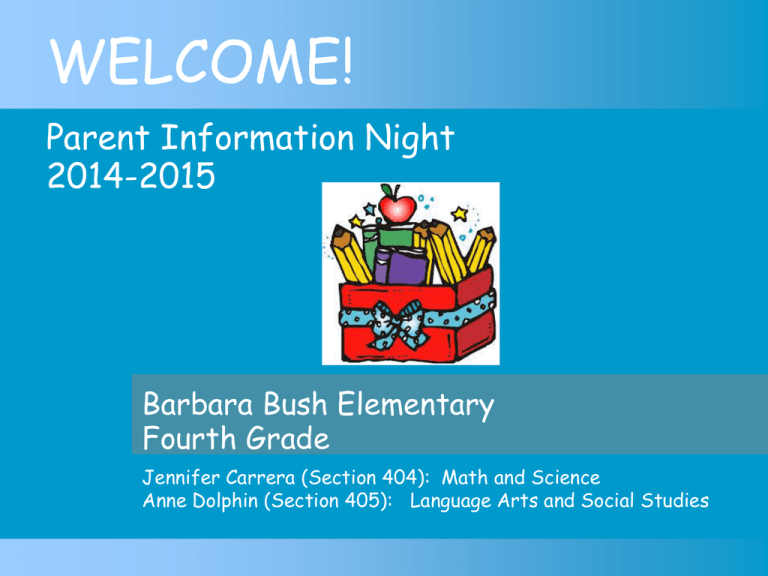 WELCOME!
Parent Information Night
2014-2015
Barbara Bush Elementary
Fourth Grade
Jennifer Carrera (Section 404): Math and Science
Anne Dolphin (Section 405): Language Arts and Social Studies
Meet Anne Dolphin
B.A. in Elementary Education - University of
Northern Colorado
This is my 20th year teaching. This is my 8th year
at Bush Elementary and 7th year in 4th grade.
My husband Ed and I have been married for 21
years and we have 2 children; Sarah, 17 at TWHS
& Andrew, 14 at TWHS - 9th Grade.
I enjoy reading, cycling, hiking, camping, hunting
and spending time with my family during my free
time.
Meet Jennifer Carrera
B.A. from University of Missouri (Biology,
Chemistry, and Psychology)
M.Ed. in Curriculum and Instruction from
University of Houston
This is my 16th year teaching and my 10th year
teaching 4th grade. Before becoming a teacher, I
worked in the quality unit of a pharmaceutical
company in St. Louis, Missouri for five years.
My husband, Steve, is from Ecuador. We
celebrated our 13 year wedding anniversary in
June.
Our son Gabriel is 3 years old.
Classroom Schedule
 Additional learning opportunities are offered each
morning at 7:30 (Razzkids, Mathletics, Study Hall,
and Moveable Minutes).
 Daily Schedule:
8:00-8:10
8:10-9:00
9:00-11:00
11:00-11:30
11:30-11:50
11:50-12:10
12:10-12:30
12:30-1:10
Enrichment)
1:10-3:00
3:00–3:05










Arrival/Announcements/Warm-Up
Specials
Switch Class
Lunch
Recess/Study Hall
Restroom/Switch
Warm-Up/Silent Reading
P.A.W.S. (Intervention and
Homeroom Class
Dismissal
Classroom Management
 Behavior Log
Reasons for signing log:
-Not following class or school rules
-Not prepared for class
-No homework
Consequences:
-Study Hall
-Walking or sitting out during Recess
Math and Science
Math
Multiplication facts need to be practiced and
memorized
New TEKS and new textbooks
Problem solving and process skills
Science
Focus is on hands-on investigation, problem
solving, and analyzing data through various
topics in physical, earth, and life science.




Reading
•
•
•
•
•
Various in-class novels/readings throughout
the year
Scheduled library time on Mondays
Book Club
Genre Study
Social Studies will often be incorporated into
Reading. Our emphasis is on Texas and its
history.
Reading
 Vocabulary
Based on prefixes/suffixes, and Greek and
Latin roots
WordMasters
Words typically given on Mondays
Test on Fridays
Reading
 Book Club
 1 book every 3 weeks
 Students choose books from a selection and
their choice puts them into a peer group
reading the same book
 Book Club reading should be completed at
home with one journal entry due per week
(DUE: EVERY THURSDAY)
 Students have choices for Book Club
response questions in their Journal.
 Students will meet on Thurs. to discuss
journal entries
Spelling
•
•
Spelling will be incorporated into the daily
writing grade and will not be a separate
grade on our report cards.
CISD supports the movement to develop
"Life-Long" spellers. Our spelling assessment
will be based on student knowledge of word
patterns and high frequency words rather
than the ability to memorize single word
lists.
Writing
 Nightly writing homework
 Scored using the 6 Traits Model and STAAR
rubrics
 INTENSIVE writing in 4 grade
 Facilitated through genre study and
incorporated into all subject areas
 Expository and Narrative Writing in addition to
th
Revising and Editing
Grading
 Reading, Writing, and Spelling are combined
into one grade.
 Report Cards are given at the end of every
grading period as set by the district.
 Progress Reports are given midway through the
grading period.
 Sign progress report or report card and return
1 copy in the envelope.
Tuesday Folders
 Tuesday Folders will be sent on Tuesdays.
 Sign comment sheet and discuss expectations
with your child if needed.
 Keep all papers unless noted otherwise from
teacher.
 If there is a Monday holiday, folders will go
home on Wednesday.
Homework
 Homework should take approximately 60
minutes
 Math and writing homework given daily M-Th
 A Reading STAAR packet, vocabulary, and
spelling will go home on Monday.
 Book Club Reading and Response Journal
 Memorization of multiplication facts (If
not 90% passing rate on weekly timed test,
students then practice facts nightly for a
minimum of 15 minutes in addition to regular
homework.)
STAAR Testing
 Writing STAAR test is on March 30
2015.
 Math and Reading will be on April 21
2015.
th
and 31st,
st
and 22nd,
***Students are monitored very carefully as their
promotion in 5th grade is contingent upon
success on Math and Reading STAAR.
Parent Conferences



Conferences can be scheduled before or
after school or during our conference period
from 8:30-9:00am. Phone conferences are
always an option, too.
Fall Conferences will be scheduled after the
first nine weeks or sooner if needed.
Spring Conferences will begin after STAAR
and continue to the end of May.
Transportation
 Send a note or fax a letter. (Emails sent to
bush@conroeisd.net will come in a a fax.) Please
be sure to include the date on any
correspondence.
 Notes are not needed for choir days unless they
are NOT going to choir that day.
 Teachers cannot accept email or phone calls as a
way to change transportation.
 Transportation must be changed before
2:30pm.
 Severe Weather-Your child will go home as you
have indicated on the PM Transportation Plan
turned in the first week of school. (Please turn
this in as soon as possible.)
Grooming
 Deodorant is very helpful. If your child isn't
currently wearing any.... 4th grade is a great
time to start!
 Proper shoes! Sneakers must be worn for PE so
students should arrive to school wearing them.
 Appropriate lengths for shorts and skirts is a
must. No spaghetti straps, inappropriate
words, or muscle shirts.
Treats and Goodies
 Birthday Treats can be given out in class in the
afternoons. Cookies and cupcakes CANNOT be
homemade and are acceptable as long as they
do not have any icing.
 Please make sure all items are pre-cut and
ready to distribute. We do not have utensils
for cutting or serving.
 Individual, prewrapped items from the store
would be preferred.
 See the following website for new guidelines:
http://childnutrition.conroeisd.net/smart%20s
nacks
Supplies Needed
Periodically, we may send requests for
additional supplies needed for the classroom.
All donations are greatly appreciated!
Thank you!
2014 - 2015
It is going to be a great year! Your child's success is
our success!
jcarrera@conroeisd.net
adolphin@conroeisd.net
Websites can be accessed through the CISD and Bush
Elementary homepages.