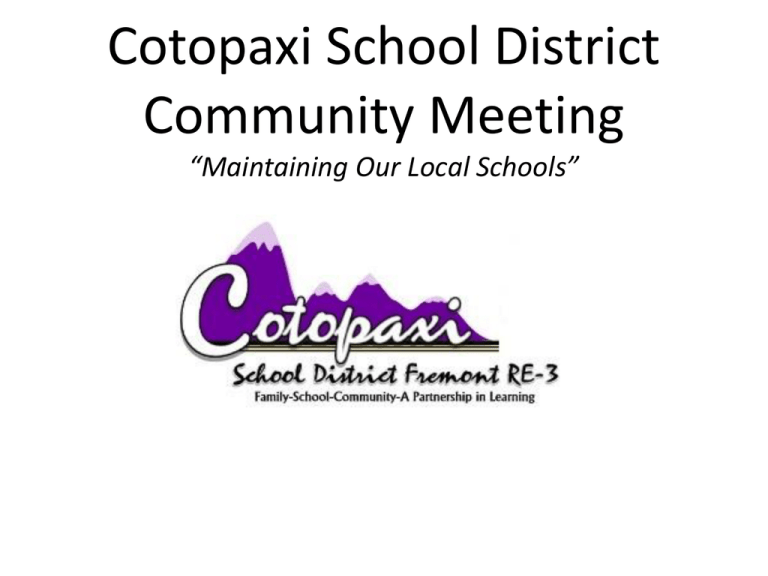 Cotopaxi School District
Community Meeting
"Maintaining Our Local Schools"
The Cotopaxi School District Board
of Education needs your help in
deciding if there should be a ballot
question concerning a Mill Levy
Override.
What is a Mill Levy Override?
Composition of District Mill Levy
• A mill represents 0.001 of one dollar. The mill levy is the "tax rate" that is
applied to the assessed value of a property.
• In Colorado a School District's mill levy can be comprised of many different
parts:
– General Fund Mill Levy: Set by the Colorado Department of Education based
on State Funding Act.
– Override Mill Levy: Locally voter approved increase in the mill levy for the
general fund or specific operating purpose.
– Bond Mill Levy: Locally voter approved increase in debt for capital projects.
District residents approved the bond in 1995.
– Abatement Mill Levy: Determined by the County based on refunds related to
individual taxpayer protests.
What is a Mill Levy Override?
• The District is not looking for a tax increase! It is a continuation of the
taxes you are already paying.
• The District currently levies 2.00 mills for the repayment of the 1995
bonds which is set to expire in 2016 with the retirement of the bond.
• The District is considering a mill levy override to take the place of the
current bond mill levy.
• The total tax rate that residents pay to the District will not increase.
• If taxpayers do not approve a mill levy override the tax rate would
decrease by the 2.0 mills. This would be approximately $15.92 for a
$100,000 home.
The Current Need
• The District has continued to receive less and less funding from the State
of Colorado. Since 2007 the District's annual funding has been reduced by
$1.4 million.
• More than 50% of our buildings were built prior to 1950 and are in need of
repair. We have continued to defer maintenance over the years as our
funding has been cut.
• In addition to maintenance needs we have instructional and technology
upgrades to ensure our students are prepared for a 21st century economy.
• Proceeds of the mill levy would be used to fund the District's highest
priority safety and security needs, energy efficiency improvements,
plumbing and structural updates, student transportation necessities,
educational materials, and technology upgrades.
District General Fund Revenues
• FY 2006/2007
General Fund
Revenues of $3.8
million
• FY 2013/2014
Revenues of $2.37
million
• Total revenues
down just over $1.4
million
Looks Great from the Outside
How would the Funds be used?
•
A majority of the funds will be used for critical maintenance projects. The
proposed renovations and campus improvements will have special focus on
student safety, energy efficiency, plumbing, transportation and educational
necessities including:
– Health, Safety, Security & Handicap Accessibility
– Repair Damaged Concrete Walkways & Drainage
– Improve Overall Energy Efficiency
– Upgrade Campus-Wide Fire-Safety Systems
– Upgrade Water Delivery & Plumbing Systems
– Update 20-Year-Old Transportation Fleet
– Acquire & Install Bus Barn Exhaust System
– Update Phone & Intercom Systems
Structural and Concrete Issues
Eroding cement in front
of the office/front
entrance
Cracking Sidewalk
Structural and Concrete Issues
Eroding cement due to
improper drainage
Concrete cracking around
pillar at high school
Flooring Issues with the Tile
Hallway tiles that are
cracking
Classroom with cracks
and bubbles from
moisture under the tiles
Flooring Issues with the Tile
Cracked and missing
pieces of tile just inside
the front door of the
office/school
Bubbles in the flooring
Locker-room Floor Issues
Missing tile just outside
of the locker room but in
the locker room hallway
Locker room floor has
been patched multiple
times
Roof and Ceiling Issues
Areas the roof has been
patched
Roof area has been
patched at least 4 times
Roof and Ceiling Issues
Library ceiling where the
roof leaked
Gutter Drainage Issues
How would the Funds be used?
• While a majority of our efforts will go toward addressing these longdeferred maintenance and much-needed repairs at Cotopaxi School
District, we are also focusing our attention on updating our educational
technology systems as well:
–
–
–
–
–
Update Computers & Servers
Install Wireless Capabilities
Adapt System(s) to Meet State Testing Requirements
Update 15-Year-Old Textbooks & Teaching Materials
Hire an Additional Junior High/High School Teacher
How is this different than the ballot
question in November 2013?
• In 2013 the District requested $250,000 for a mill levy
override.
• The proposed mill levy would only go into affect after the
bonds are retired in 2016. Effectively not raising taxes for
District residents.
• The amount being requested is about $106,000 per year.
Significantly less than what was requested in 2013.
Thank You
• The Board of Education, on behalf of students,
staff, and administration, would like to thank
you for your consideration. Cotopaxi has had
a long history of supporting our schools and
helped to make us one of the highest rated
Districts in the State of Colorado.
Questions?